January 2019 Cabernet Sauvignon As we finally get our first snow of 2019 it is just in time for our Cabernet Sauvignon tasting. Cabernet is a great wine to warm you up on a cold day, or to have with dinner and snuggle up by a warm fire. It is also one of the heaviest and drier wines available. We are going to taste wines from Chile, Argentina, California & Washington. We will pair it with Beef Tenderloin with Bearnaise Sauce, Steakhouse Baked Potatoes, Roasted Asparagus & Dark Chocolate Mousse Cake
6th/5th 2016 Piattelli Premium Reserve Cabernet Sauvignon, Mendoza, Argentina
5th/4th 2015 Errazuriz Max Reserva Cabernet Sauvignon, Valle de Aconcagua, Chile
4th/2nd 2015 Storypoint Cabernet Sauvignon, CA
2nd/6th 2016 Steele Red Hills Cabernet Sauvignon, Lake County, CA
1st/1st 2015 Black Stallion Cabernet Sauvignon, Napa Valley, CA
3rd/3rd 2016 Intrinsic Cabernet Sauvignon, Columbia Valley, WA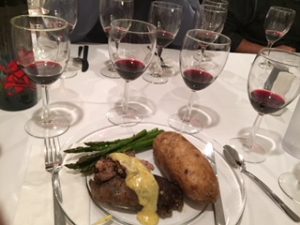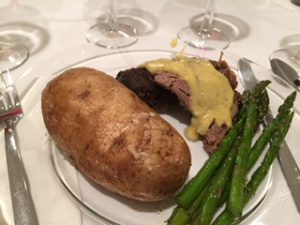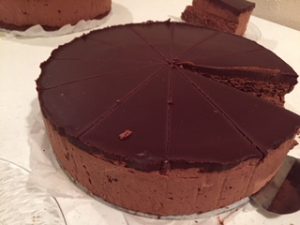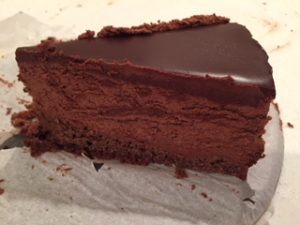 February 2019 Merlot It seems like winter is here to stay this year. Merlot is another great wine that is good for those cold winter evenings to warm you up from the inside out. It is also one of the 5 main grapes found in the traditional Bordeaux wines. Merlot tends to be higher in tannins, so on the good side it will lay down in a cellar and age well. On the bad side tannins are one of the things that causes it to be a little bitter or have a bite when you first taste a young merlot, if this happens let it breath, swirl it lots, use a decanter if you have one. Merlot will pair well with red sauces, beef of course, and this month we are pairing it with Chicken Marsals, Roasted Butternut Squash, Green Beans, and Raspberry Chocolate Souffles.
2nd/5th 2016 Canoe Ridge Expedition Merlot, Horse Heaven Hills, WA
3rd/4th 2016 Skyfall Vineyard Merlot, Columbia Valley, WA
1st/3rd 2012 Queen of Hearts Merlot Los Alamos Vineyard, Santa Barbara, CA
7th/2nd 2016 Gnarly Head Merlot, Central Coast, CA
5th/7th 2016 Menage a Trois Lavish Merlot, CA
4th/1st 2015 Wente Sandstone Merlot Livermore Valley, CA
6th/6th 2014 Charles Krug Merlot, Napa Valley, CA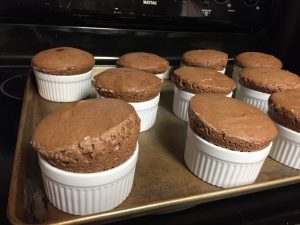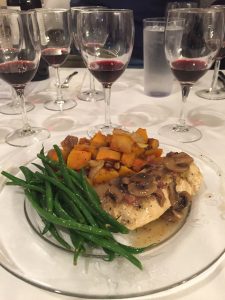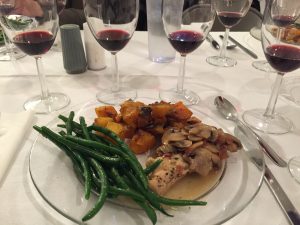 March 2019 Shiraz & Petite Sirah It seems like we are still stuck in a deep freeze, and the best way to warm up is from the inside out. Therefore, we need more red wine! As March roars in like a cold lion, we are going to taste both Syrah/Shiraz which will typically be a full bodied, brambly, wine sometimes with a peppery finish. We will also try a few Petite Sirah wines, these are technically a child to Syrah/Shiraz, it is inky purple, super smooth, full bodied red wine. When you start a bottle of Petite Sirah you have to be careful because 30 minutes later the bottle will be empty. Both of these should warm us up and hopefully help bring Winter to an end. We had Meatloaf (see recipe on the Recipe tab in this website), Smashed Red Potatoes, Roasted Carrots w/ Goat Cheese & Pistachios, Chocolate Mocha Cake.
1st/2nd 2014 Vina Robles Estate Petite Sirah, Paso Robles, CA
4th tie/1st 2015 Stokes Ghost Estate Petite Sirah, Monterey, CA
3rd/6th 2016 Boarding Pass Shiraz, Greece
2nd/3rd 2014 Tempus Two Varietal Series Shiraz, South Australia, Australia
4th tie/4th 2016 McGuigan The Plan Shiraz, South Eastern Australia, Australia
5th/5th 2015 Paxton MV Shiraz, McLaren Vale, Australia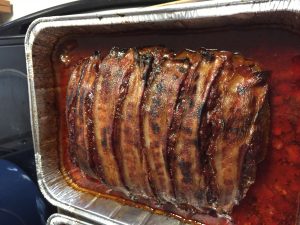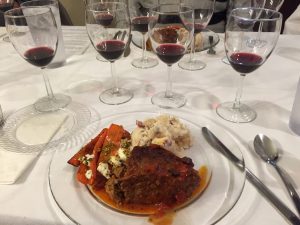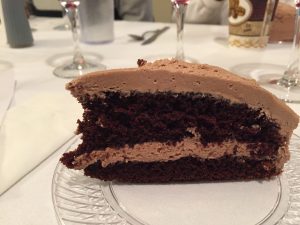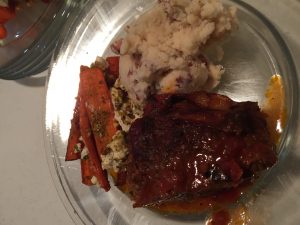 April 2019 Red Blends Well there is quite a dilemma this month, I have about 12-15 wines that I want to do and I have to pick just 7! There are so many good red blends on the market now and the prices are as HOT as this summer may be so which did I pick? Look below!
Red blends are usually easy to drink they are great for bbq's, picnics, drinking on the paitio watching the sunset, great with pizza and burgers etc. You just can't go wrong. I will try to have a variety also in that I don't want all of them to be the same grapes just blended in different amounts, & some may actually blow us away with their blends. We will pair these with BBQ Country Ribs over Rice, Roasted Brussel Sprouts w/ Bacon, Blueberry Cheesecake Bars.
4th/7th 2016 Domaine Petroni Red, Corse, France (50% Niellucciu, 35% Syrah, 15% Grenache)
1st/2nd 2015 Torre Oria 80 Years Red Blend, Rueda, Spain (Bobal & Monastrell)
3rd/3rd 2016 Kuleto Native Son Red Wine, Lake County-Napa County, California (36% Petite Sirah, 31% Merlot, 12.4% Zinfandel, 10.4% Malbec, 3% Tempranillo, 2.8% Cab Sauv, 1.75% Petite Verdot, 1.75% Syrah)
7th/6th 2016 Lubanzi Red, Ikhaya, South Africa (58% Shiraz, 36% Cinsault, 3 % Mourvedre, 3% Grenache)
2nd/1st 2015 Mercer Sharp Sisters Red Blend, Horse Heaven Hills, Washington (29 % Cabernet Sauv, 27% Syrah, 18% Merlot, 14% Petit Verdot, 10% Grenache, 2% Carignane)
5th/5th 2016 Broadside Proprietary Red Printers Alley, Paso Robles, California (50% Cabernet Sauv, 30% Merlot 20% Petit Verdot)
6th/4th 2017 Gundlach Bundschu Mountain Cuvee Red Wine, Sonoma County, California (74% Merlot, 7% Cabernet Sauvignon, 7% Cabernet Franc, 7% Petit Verdot, 5% Malbec) 18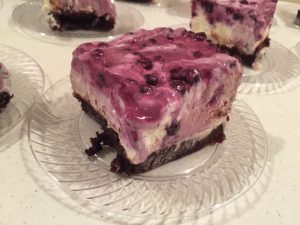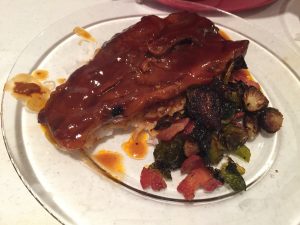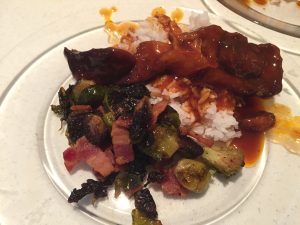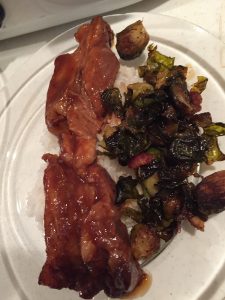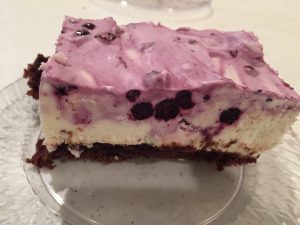 May 2019 Chardonnay As the sun comes up this morning driving thru the Flint Hills, it just seems like spring is finally here, even though the weather has not been telling us that. Therefore, I have decided that we will just force Spring to show up by drinking white wine! Chardonnay is a great place to start with it's beautiful golden color, sometimes you can have a nice crisp Chard, and other times it is creamy and smooth. Let's see what we find this year to usher in some sunshine and warmer temps. Pairing with Chicken, Spinach & Artichoke Lasagna, Asparagus Pancetta Puff Pastry Bundles, Salad & Creme Brulee.
3rd/2nd 2017 A to Z Chardonnay, OR
6th/4th Tie 2017 Forager Chardonnay, Willamette Valley, OR
2nd/3rd Tie 2016 Spellbound Chardonnay, CA
7th/4th Tie 2017 Noble Vines 446 Chardonnay, Monterey, CA
5th/1st Tie 2015 Outlot Chardonnay, Alexander Valley, Sonoma County, CA
4th/3rd Tie 2016 Sbragia Chardonnay, Dry Creek Valley, Sonoma County, CA
1st/1st Tie 2017 Bogle Phantom Chardonnay, Clarksburg, CA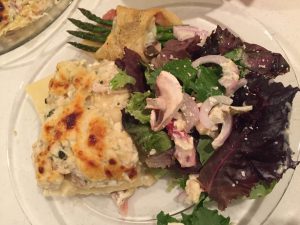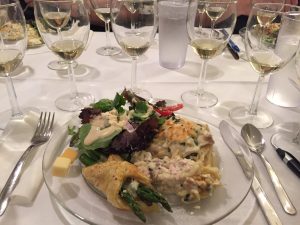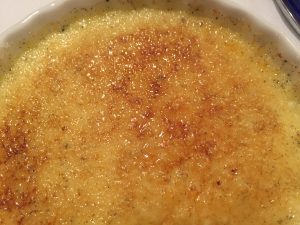 June 2019 Sauvignon Blanc, Finally some sunshine! June kicks off summer and we will be tasting Sauvignon Blancs this month, these wines will give you a kick on the palate! These are great wines for just sipping, there is so much flavor in these wines, lots of Lemon, Lime, Grapefruit, Passion Fruit, Gooseberry. Sometimes there is also grass or hay, melon or guava. These wines pair great with salads, and are great with seafood and with Chicken. These are great summer wines, come check them out! Here is what we paired it with: Mahi Mahi with Pineapple Salsa over Lemon Parmesan Orzo, and Luscious Key Lime Dessert
5th Tie/2nd 2017 Hess Select Sauvignon Blanc, North Coast, CA
4th/5th Tie 2017 Bliss Estate Sauvignon Blanc, Mendocino, CA
5th Tie/5th Tie 2016 Estancia Sauvignon, Monterey, CA
6th/4th 2017 Rombauer Sauvignon Blanc, Napa Valley, CA
1st/6th 2017 Wapisa Sauvignon Blanc, Patagonia, Argentina
2nd/1st 2018 Kono Sauvignon Blanc, Marlborough, NZ
3rd/3rd 2017 Taonga Sauvignon Blanc, Marlborough, NZ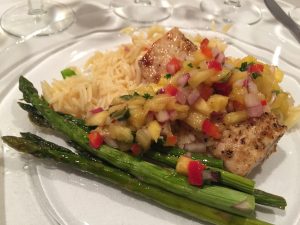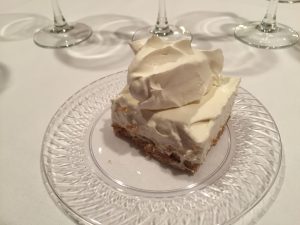 July 2019 Riesling & Moscato These are great wines for the hot summer days, sipping by the pool, or on the patio in the evening. Sweet wines are also great with a nice spicy dinner. We will pair them with Chicken & Cheese Stuffed Poblanos, Mexican Rice and Cannoli Cake.
2nd/1st 2016 Hammeken Cellars Piquitos Moscato, Valencia, Spain
3rd/3rd 2017 Stella Moscato, Sicily
6th/7th 2016 Sparkman Birdie Riesling, Columbia Valley, Washington
7th/6th 2016 Long Shadows Poets Leap Riesling, Columbia Valley, Washington
4th/4th 2016 State of Mind Riesling, Columbia Valley, Washington
1st/2nd 2016 Zen Garden Riesling, Pfalz, Germany
5th/5th 2017 Pierre Sparr Grand Reserve Riesling, Alsace, France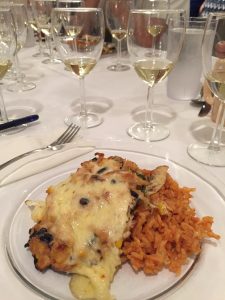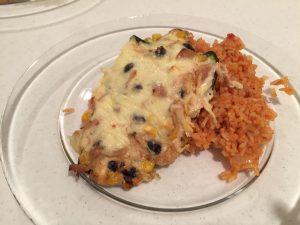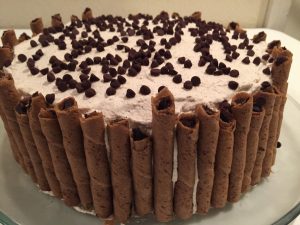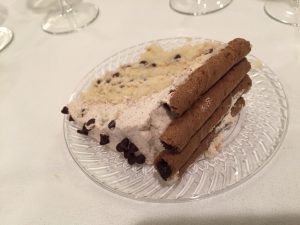 August 2019 Odd Whites & Rose These are the wines you want on those Hot August Nights of which we had one last Monday night. As you left the tasting, just opening the door at 8pm was like walking into a sauna, heat index was over 100 still. These are clean crisp wines, easy to just sip, but also great with salads you would have for lunch or something off the grill, (with a hint of BBQ sauce). I paired these wines with Hawaiian Chicken Kabobs over Pineapple Cous Cous, Spring Mix Salad w/ Pears & Almonds, for dessert we had No Bake Lemon Cheesecake Cream Pie.
3rd/1st Tie 2018 Arca Nova Vinho Verde, Portugal (50% Loureiro, 40% Arinto, 10 % Trajadura)
2nd/1st Tie 2018 Pine Ridge Chenin Blanc / Viognier, CA (78% Chenin Blanc, 22% Viognier)
4th/3rd 2017 Maso Canali Pinot Grigio, Italy (100% Pinot Grigio)
1st/2nd 2018 Ruffino Orvieto Classico, Italy (?Blend)
3rd/3rd 2018 Jean-Max Roger Sancerre Cuvee "La Grange Dimiere" Rose, France (100% Pinot Noir)
1st/1st 2018 Chateau Ste. Michelle Rose, WA (72% Syrah, 28% Merlot)
2nd/2nd 2018 Carol Shelton Rendezvous Rose, CA (62% Carignane, 36% Zinfandel, 2% Petite Sirah)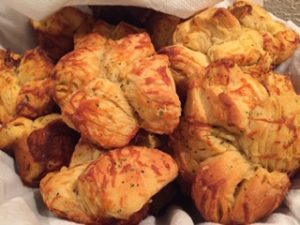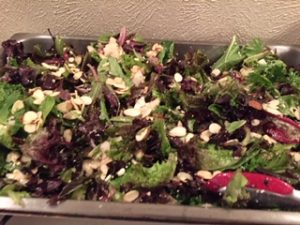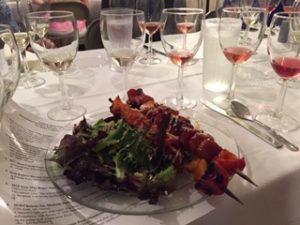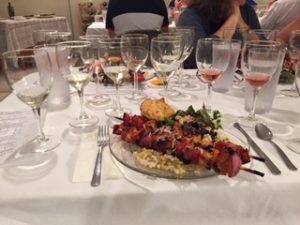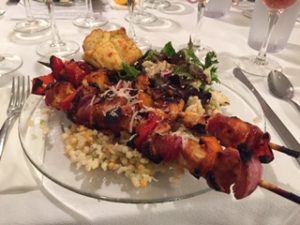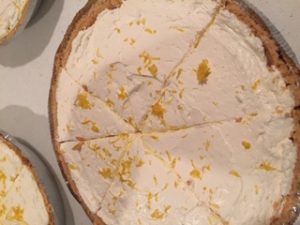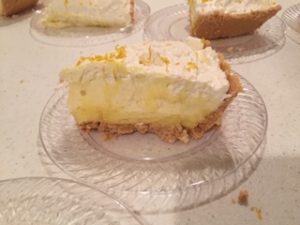 September 2019 South American Reds Now that summer is winding down, and the temperatures are teasing us by cooling off just a little, it is time to think about RED wines again! In September, we have been tasting Reds from South America the past few years. This means we will check out some Malbec for sure and possibly some Cabernet Sauvignon, or Red Blend from places like Argentina & Chile. These will be great wines for those tailgate parties, or as the evenings cool down sitting around the fire pit having happy hour with friends. We paired these wines with Grilled Beef Tenderloin w/ Chimichurri, Smoked Beef Sausage, Roasted Salt & Pepper Potatoes, Cheesy Corn & Cheesecake with Dulce de Leche.
1st/1st 2017 Root: 1 Carmenere, Colchagua Valley, Chile
6th/5th 2015 Los Ailos Syrah Malbec, Valle del Tulum, San Juan, Argentina (60% Syrah, 40% Malbec)
2nd/6th 2016 Black Cabra Cabernet Sauvignon, Mendoza, Argentina
5th/2nd 2016 Finca Decero Remolinos Vineyard Malbec, Mendoza, Argentina
4th/4th 2017 King Malbec Valle de Uco, Mendoz, Argentina
3rd/3rd 2016 Callejon del Crimen Gran Reserva Malbec, Valle de Uco, Mendoza, Argentina
Everyone loved at both tastings: 2018 Finca Las Moras Barrel Select Malbec Did Not vote on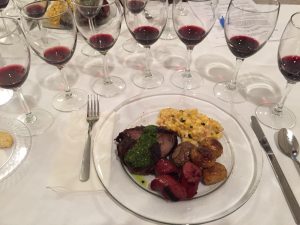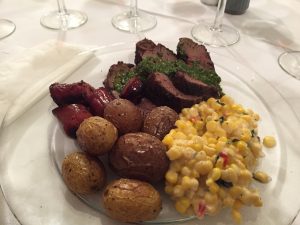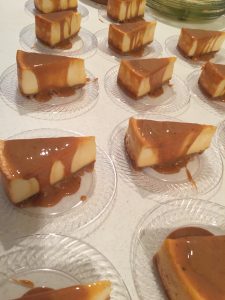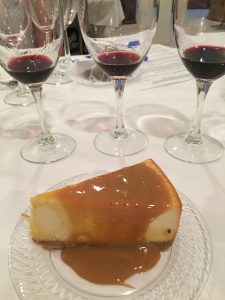 October 2019 Zinfandel When you wake up in the morning and it is cold out we are going to be wondering about that weekend BBQ or Tailgate we were planning. Not only will we need sweaters, blankets and a fire pit now we need some great easy to drink wine that will pair with our BBQ! This month we are going to check out Zinfandel wines, great w/ burgers, pizza, BBQ and even a good steak. This is a wine that can be juicy, brambly, jammy without being sweet. It is easy to drink and full of Raspberry/Blackberry/Mulberry and more flavors. Come find your favorite for the upcoming weekends. We will pair it with Grilled BBQ Pork Tenderloin, Fried Noodles, Broccoli-Cheese Casserole & Death by Chocolate Cheesecake
6th/2nd 2017 Soban Estate Rocky Top Zinfadel, Amador County, CA
1st/3rd 2017 Old Soul Old Vine Zinfandel, Lodi, CA
5th tie/6th tie 2016 Big Smooth Old Vine Zinfandel, Lodi, CA
5th tie/4th 2016 Brazin Old Vine Zinfandel, Lodi, CA
2nd/5th 2016 Gen5 Old Vine Zinfandel, Lodi, CA
3rd/6th tie 2015 Klinker Brick Old Vine Zinfandel, Lodi-Mokelumne, CA
4th/1st 2014 Rios-Lovell Estate Reserve Zinfandel, San Francisco Bay/Livermore, CA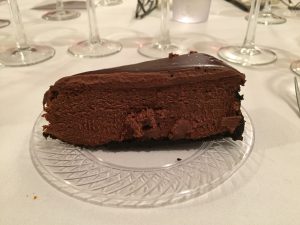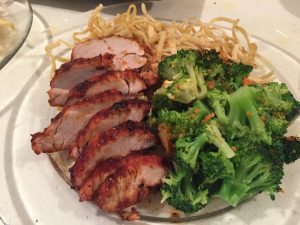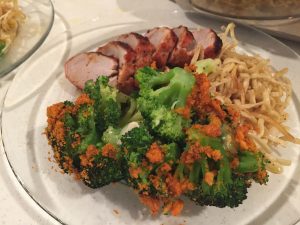 November 2019 Pinot Noir, this year has gone by so fast, and as the holidays approach we are always looking for wines that everyone will enjoy. Pinot Noir is a great red wine for everyone. It is a lighter bodied wine, most are light and not very dry; they are cherry, strawberry or raspberry in flavor. Pinot Noir is also know in France as Red Burgundy one of the great red wines of all times. So this month we will be tasting wines that should satisfy everyone! This is a great wine with Turkey, but it is also good with Pork and Salmon. I have decided to pair it with Salmon and a Butternut Squash Risotto, Roasted Asparagus and Gingersnap Spice Cake.
2nd/2nd 2018 Lifevine Pinot Noir, Willamette Valley, OR
1st/4th 2017 Stoller Estate Pinot Noir, Dundee Hills, OR
5th/1st 2017 Beringer Founders' Estate Pinot Noir, CA
3rd/3rd 2017 Mark West Black Pinot Noir, Monterey County, CA
4th/5th 2016 Chalk Hill Pinot Noir, Sonoma Coast, CA
6th/6th 2015 Joel Gott Pinot Noir, Santa Barbara County, CA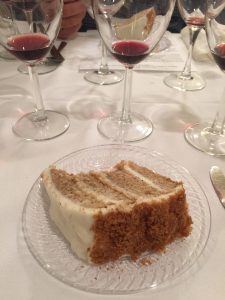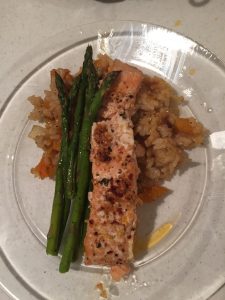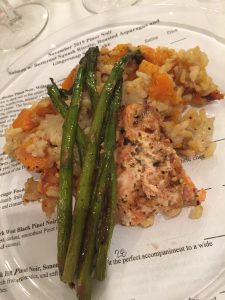 December 2019 Sparkling Tasting, This year we are tasting sparkling wines to get us ready for the holidays! We will have some traditional dry bubbles, and some sweet bubbles. We will pair these with appetizers and desserts! These are all under $25 so they are perfect for your upcoming holiday parties and dinners. Appetizers: Crab Bombs, Cranberry Pistachio Cheese Log, Brazilian Cheese Puffs, Olive Tapanade Pinwheels, Antipasti Bites. Dinner is a version of Chicken Cordon blue & Rice Pilaf. Desserts: Chocolate Eclair Cake, Dark Chocolate Ganache Tart, Cherry Pie Bars, Apricot Cream Cheese Cinnamon Rollups. Ok so I thought I had pics of the appetizers, but I don't see them in my phone anywhere so you will just have to follow the links in the names above to get to the recipes. Only big change I did was the pinwheels, I put it in tortillas vs stuffing in bread. Also, I just didn't bread my chicken, just roll it up use EVOO S&P and a sprinkle with dried Italian Herb seasoning, Enjoy!
We broke out the tasting by bubbly w/ appetizers and bubbly with desserts, hence the voting result below.
2nd/2nd Piper Sonoma Brut, California (70% Chard, 20% Pinot Noir, 3% Pinot Blanc, 7% Aged Rsv Blend)
1st/3rd JCB No. 21 Cremant de Bourgogne Brut, France (Pinot Noir, Chardonnay)
3rd/1st Juve & Camps Reserva Milesime Cava Brut, Spain (100% Chardonnay)
4th/3rd A to Z Wineworks Bubbles Rose Wine, Oregon (90% Pinot Noir, 10% Chardonnay)
3rd/4th Perlada Brut Rose Cava, Spain (69% Garnatxa, 17% Pinot Noir, 14% Trepat)
2nd/1st Bottega Petalo Il Vino dell' Amore Moscato Spumante, Italy (Moscato)
1st/2nd CHIC Barcleona Rose Cava, Spain (100% Trepat)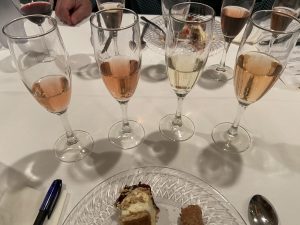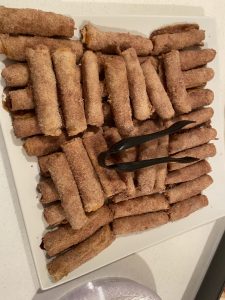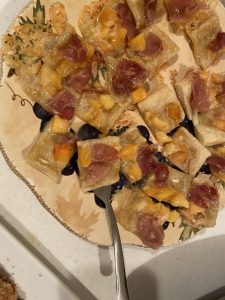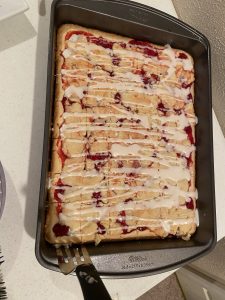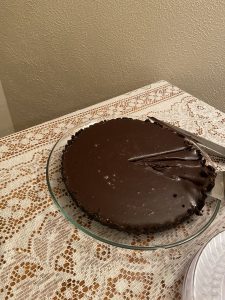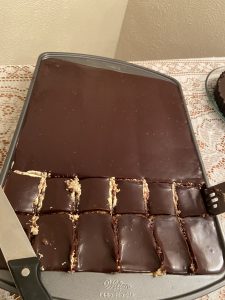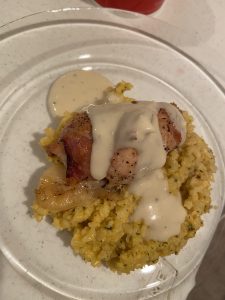 Google+