January 2016, What wine do you drink when the temperature outside is single digit and the wind chill is -teens? Cabernet Sauvignon of course. This is considered to be the big, heavy. dry red that will warm you up on those cold winter nights. This month we will be tasting the following wines, and pairing them with Beef & Barley Stew.

Avalon 3rd/6th/1st
The Rule 1st/2nd/5th
Canoe Ridge Expedition 2nd Tie/1st/2nd
Robert Goyette 4th Tie/3rd/3rd
Manuscript Lmtd Edition 4th Tie/4th/4th Tie
Summers Andiana's Cuvee 2nd Tie/5th/4th Tie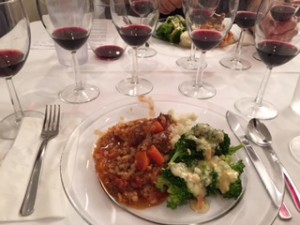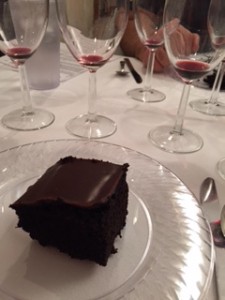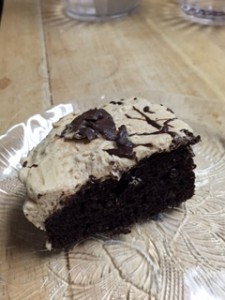 Paired with Beef & Barley Stew, Boursin Mashed Potatoes, Broccoli & Chocolate Espresso Cake
February 2016 Even as we experience a milder winter this year, we can't help but want those elegantly smooth red wines to warm us up. This month we are tasting Merlot, a grape that was skyrocketing to the top of everyone's favorite list until the movie Sideways came out in the early 2000's which put Pinot Noir on the fast track and destroyed Merlot's fame. Merlot however is the primary of the 5 grapes in Bordeaux and is not going away totally. It has been making a slow comeback over the past couple years and this month lets taste some and see what we think.
Esser Monterey County Merlot 2nd/1st
Geyser Peak California Merlot 6th/4th
Benziger Sonoma County Merlot 4th/5th
Decoy Sonoma County Merlot 3rd/3rd Tie
Goldschmidt Chelsea Merlot, Alexander Vly 5th/3rd Tie
Seven Falls Wahluke Slope Merlot, WA 1st/2nd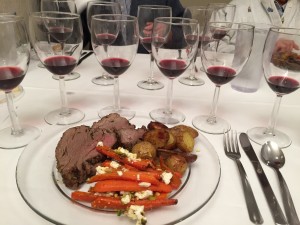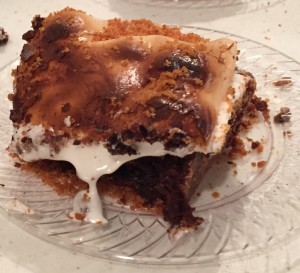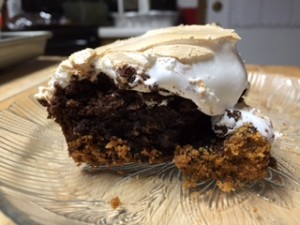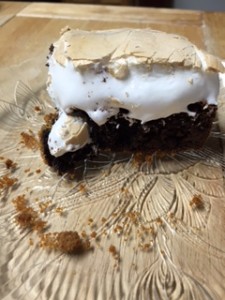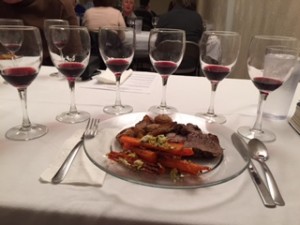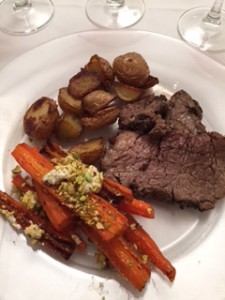 Paired with Garlic, Rosemary, & Thyme Roasted Beef Tenderloin, Roasted Potatoes, Roasted Carrots w/ Goat Cheese & Pistachios, & The Ultimate Indoor S'mores.
March 2016 So it seems like spring may be here for good! Which means it is time to break out the grill and start barbecuing. A great wine to not only go with pizza but most anything off the grill are red blends. This month we will check out 6 different blends and see how they fair against BBQ Chicken, Fried Noodles, Bourbon-Honey Corn & Blueberry Crumb Cake.
1st/2nd Paxis, Portugal (Tinta Roriz, Caladoc)
5th Tie/3rd Marietta Christo, California (69% Syrah, 18% Grenache, 12% Petite Sirah, 1% Viognier)
2nd/1st Red Rock Reserve Winemaker's Blend, California (50% Petite Sirah, 31% Zinfandel, 19% Cab Sauv)
5th Tie/4th Guardian Chalk Line, Washington (40% Cab Sauv, 29% Merlot, 20% Syrah, 8% Cab Franc, 3% Petit Verdot)
4th/6th Brotte Domaine Barville Chateauneuf-du-Pape, France (Grenache Noir, Syrah, Mourvèdre)
3rd/5th McManis North Forty, California (Petite Verdot, Tannat)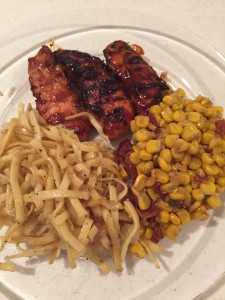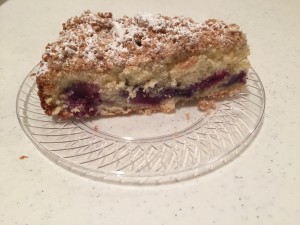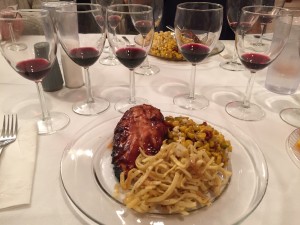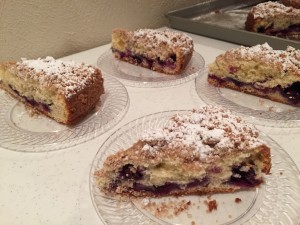 Couple extra pictures: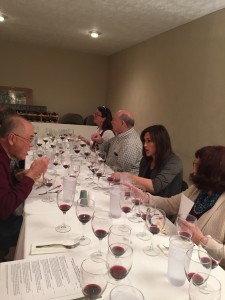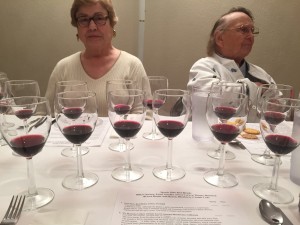 April 2016 Shiraz is on everyone's mind this month. Another great wine for the upcoming spring and summer season of BBQ and Grilling. They are now saying that Syrah orginated in France vs the long held belief that it orginated in Persia. Syrah is well known in France, yet it is Australia that seems to have put Shiraz on the map! Lets check out some great Aussie wines and maybe one from the good old USA. What would you pair with this besides pizza and burgers, I'm thinking Stuffed Flank Steak, Parmesan Risotto, Peas with Pancetta, & Wine Soaked Pears w/ Mascarpone!
4th/3rd 2013 Michael David 6th Sense Syrah, Lodi, CA
6th/2nd 2013 Alexander Valley Vineyard Estate Syrah, Sonoma County, CA
7th tie/1st tie 2013 J. Lohr South Ridge Syrah, Paso Robles, CA
3rd/4th tie 2012 Kaesler Stonehorse Shiraz, South Australia
1st/1st tie 2012 Kysela Pere & Fils Rubus, Barossa, Australia
7th tie/5th 2012 Pyren Vineyard Broken Quartz Shiraz, Pyrenees, Australia
5th/6th 2013 Fowles Are You Game Shiraz, Australia
2nd/4th tie 2012 Grand' Arte Shiraz, Portugal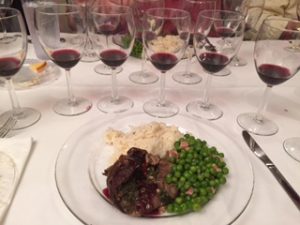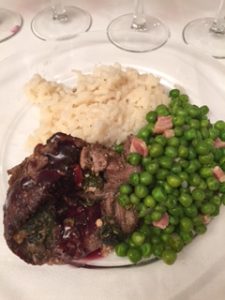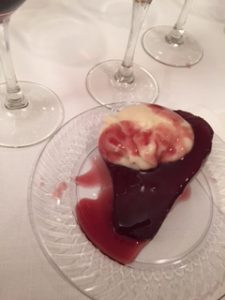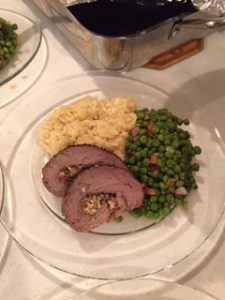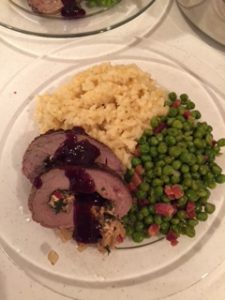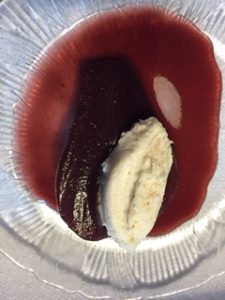 So some have asked for recipes, Wine Poached Pears is on Food Network by Michael Chiarello but I always tweek some, peal, halve, core pears. I used Shiraz and just enough water to cover my pears so maybe half the amount of water. I also added star anise. I cooked 20-30 min then put all into container in fridge for 18-24 hrs. a couple hrs before serving pour off some juice strain and simmer to reduce by half, used corn starch to thicken a little. I added 8oz cream cheese to mascarpone and addl powder sugar to thicken. http://www.foodnetwork.com/recipes/michael-chiarello/red-wine-poached-pears-with-mascarpone-filling-recipe.html
The flank steak I pound out some, spread Chimichurri, sauteed onions & spinach, Ground Pistachios, Feta, Roasted Red Pepper strips. Roll and tie, then smear a little dijon mustard on outside and fresh ground black pepper. Bake at 425 for 20 minutes to brown then reduce and finish at 375. Make sure you put seam side down.
The peas… cut up and cook off pancetta and set aside, (like bacon pieces) sautee onions, add frozen peas, slight amount of water, heat peas. Right before serving mix in Pancetta.
Risotto, in week 2 basic recipe, use veg broth, added Italian seasoning while simmering. start with onions and risotto, add broth and stir constantly per directions. and finished with finely grated parm.
May 2016 Chardonnay
So in May we start back tasting white wines and we are starting with Chardonnay. For the longest time this was known as White Burgundy wine. This month we are only going to have 1 unoaked Chard, which have been growing in popularity the last couple years. Instead we are going back to old school, oaked Chards. Several of these are coming from the central region of California (south of San Francisco) vs only Napa/Sonoma. These are great wines that will hold up to food and be wonderful for meals this summer when you want something that is not heavy and overpowering. Check these out!
7th/1st 2014 Baer Shard Unoaked Chardonnay
1st/3rd tie 2014 Sean Minor Sonoma Coast Chardonnay
6th/5th 2013 Atlas 'Oro Bello' Chardonnay
2nd/4th 2014 Laetitia Estate Chardonnay
4th/3rd tie 2014 Harken Barrel Fermented Chardonnay
3rd/2nd 2015 JaM Cellars BUTTER Chardonnay
5th/3rd tie 2013 Hindsight Napa Valley Chardonnay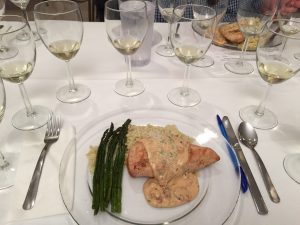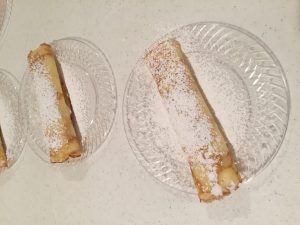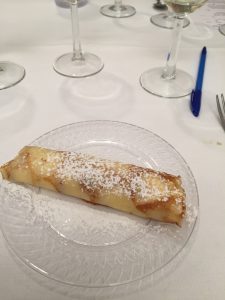 We will pair it with Grilled Chicken w/ Sun-dried Tomato Cream Sauce, Rice Pilaf, Asparagus, & Vanilla Crepes with Lemon Cheesecake Mousse. So for those of you that have the recipe links from your wine sheet, here are some of the tweeks I made: The Crepe I cut open a vanilla bean and added the yummy black seeds inside. The Lemon filling, I used Lemon Curd. The sun-dried tomato cream sauce first I did not cook the chicken in the sauce. I just made the sauce on the stove top, I did use a cornstarch slurry to thicken it. I used one 10 ounce jar of drained sun-dried julienne tomatoes. I also used more cream then what the recipe called for,(1-2cups depending on amount I needed, taste it season a little more if needed). I started with the recipe and probably added about a cup maybe a little more of cream, I also did not measure fresh basil but used approx. 1 cup and put in at last minute. At the 2nd tasting, I must say I forgot the fresh basil, so if you were at that tasting, make sure you add it, even though good without/it is good with.
June 2016 Now that we are starting to hit 90 degrees we need a good white wine to chill out with when we get home and not weigh us down at dinner. Sauvignon Blanc is a great wine for such an occasion. One of the best regions for Sauv Blanc is New Zealand so lets check out a couple new to the state wines from there. We should also throw in a couple from the west coast. There should be some definitive differences between the 2 terriors. There is a lot that can be paired with Sauvignon Blanc one of my favorites is to just have a salad but we need to do more than that. Let's try Grilled Pineapple and Pork Tenderloin, whipped Sweet Potatoes, and Colorful Corn Salad. Dessert just begs for Key Lime, so after a couple experiments, I ended at Key Lime Bars
4th/5th Columbia Crest H3 Sauvignon Blanc, Washington
2nd/4th Chat Ste. Michelle Horse Heaven Hills Sauvignon Blanc, Washington
1st/1st St. Francis Sonoma Coast Sauvignon Blanc, California
6th/2nd tie Mud House Marlborough Sauvignon Blanc, New Zealand
3rd/2nd tie Hay Maker Marlborough Sauvignon Blanc, New Zealand
5th tie/6th Infamous Goose Marlborough Sauvignon Blanc, New Zealand
5th tie/3rd Spy Valley Marlborough Sauvignon Blanc, New Zealand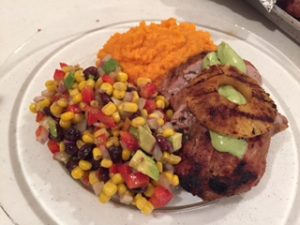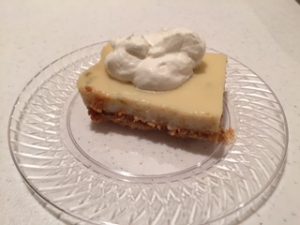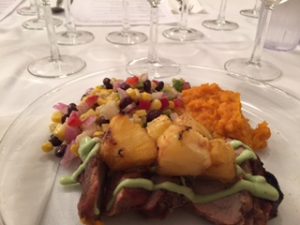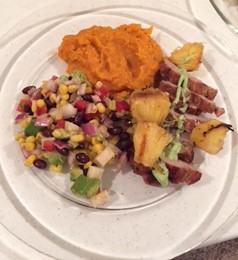 July 2016 So when it get hot and trust me it is HOT in KS right now, what you really want is something nice and cold. Welcome Moscato, a grape that has taken the US wine market by storm the last couple years. Most of it comes from Italy, primarily the Asti region in Piedmont region of Italy. There is also some domestic Moscato and even local KS Moscato worth checking out, however it is hard to beat the Italian ones. These super sweet wines with a little effervescent are great to sip on with some appetizers or with a spicy meal. They can also be dessert in and of themselves or pair with a nice sweet. This month for dinner we pair a Thai Chicken Potsticker Sandwich, Fried Garlic Green Beans, Watermelon & Feta, and for dessert Creme Caramel.
6th Tie/3rd Grace Hill El Gato Moscato, KS
6th Tie/5th Barefoot Moscato, CA
2nd/2nd Batasiolo Moscato d' Asti, Italy
1st/1st Cascinetta Vietti Moscato d'Asti, Italy
4th/4th Tie Saracco Moscato d'Asti, Italy
3rd/4th Tie Elio Perrone 'Sourgal' Moscato d'Asti, Italy
5th/6th Cerdon Renardat Fache, France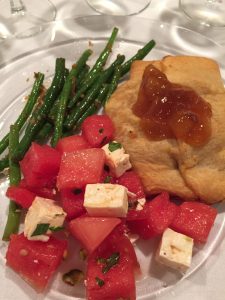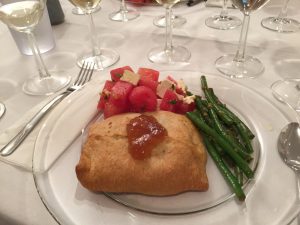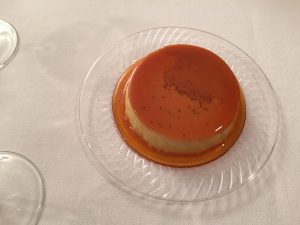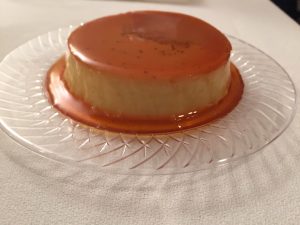 August 2016 So on those hot August nights you want something cold to drink. There are lots of white wines on the market and many of them we never try. This month I think we should taste some of those white wines and some rose wines also. The whites will be off dry wines and the rose also off dry. Pairing these wines can go all over the spectrum but I'm thinking something easy (I know you are saying sure) but I'm thinking grilled Chicken with a great pasta sauce and cheese, Salad, and Crab! Dessert is a surprise right now.
1st/1st 2015 Seaside Rose Vinho Verde, Portugal
3rd/2nd 2015 Squadra Rosato, Sicily, Italy (100% Nero D'Avola)
2nd/3rd 2015 Chateau Castel des Maures Cuvee Jeanne Rose, Provence, France (50% Grenache, 50% Cinsault)
1st/1st 2014 Pine Ridge Chennin Blanc + Viognier, California (80% Chennin Blanc, 20% Viognier)
2nd/4th 2014 Miner Viognier, California
3rd/2nd 2014 Vietti Arneis, Sicily, Italy
4th/3rd 2014 Gotas de Mar Albarino, Rias Baixas, Spain
2014 Penner-Ash Viognier, Oregon Not voted on just served as an extra wine at tasting due to price BUT everyone loved it!! (First tasting only)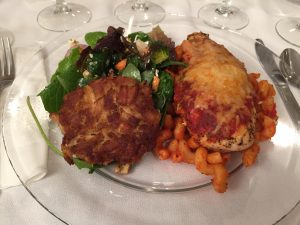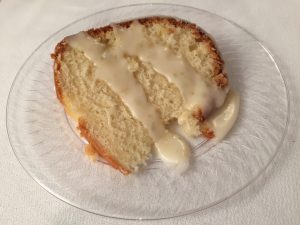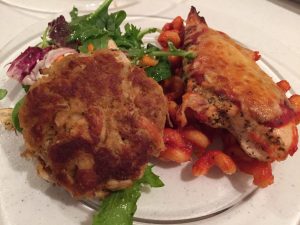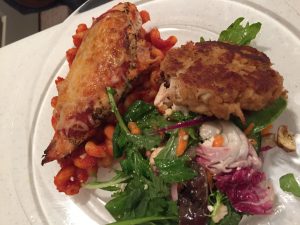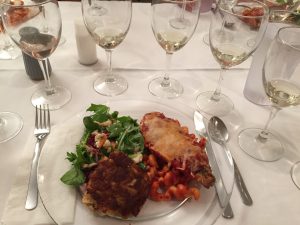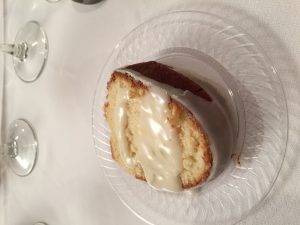 September 2016 In September it is time to go back to red wine, those cooler fall evenings are upon us. It is also tailgating time, and backyard grilling dominate the those wonderful fall evenings and weekend get together. Malbec is a great wine for this time of year and it goes perfect with grilled meats. Malbec is typically a small portion in the Bordeaux blend, but in Argentina it has taken off as a stand alone varietal. There are a few domestic wineries making Malbec but Argentina has the dominate proportion and that is where we will start this month, checking out these great wines. Malbec is generally not a very dry red wine, it usually pretty fruit forward but not necessarily sweet, a very good pairing for grilled meats
3rd/1st 2011 Alamos Seleccion Malbec, Mendoza, Argentina
2nd/7th 2011 Mendoza Vineyards 1907 Malbec, Mendoza, Argentina
1st/2nd 2013 Tapiz Alta Collection Malbec, Mendoza, Argentina
4th/5th 2013 Trapiche Broquel Malbec, Mendoza, Argentina
5th/6th 2013 Antigal Uno Malbec, Mendoz, Argentina
6th/3rd 2014 Fabre Montmayou Reserva Malbec, Mendoza, Argentina
7th/4th 2014 Agua de Piedra Gran Seleccion Malbec, Mendoza, Argentina
So at the 2nd tasting we had a special guests join us Walter Seligman from Hammeken Cellars and Steve Ewing from Legacy Beverage Partners. Walter brought 4 wines with him so we sampled those also. They were all excellent, so check them out also.
2012 Hammeken Cellars Pasas Gran Pasas Monastrell, Jumilla, Spain
2013 Hammeken Cellars Tosalet Vinyes Velles, Priorat, Spain
2013 Hammeken Cellars Picos del Montgo Garnacha, Carinena, Spain
Hammeken Cellars Oraculo Tempranillo, Ribera Del Duero, Spain (this is a must have for the upcoming holiday season)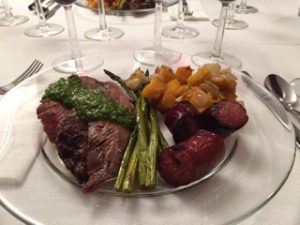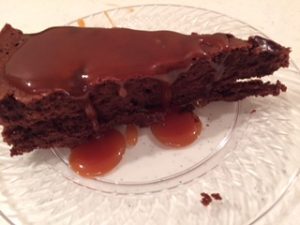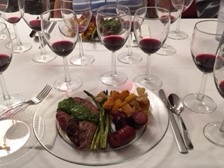 October 2016 As the leaves start to turn bright yellow and Red. The evenings are cooling down and you are looking for something easy to drink by the fire pit or at your tailgate parties zinfandel is the answer. This is a great wine to pair with anything BBQ or from the grill. It is not a normally a dry wine so it is a red wine that lots of people enjoy. I'm thinking a little BBQ pulled pork, Baked Beans, Broccoli and Cheese Casserole and Chocolate Raspberry Tiramisu Dessert.
1st/1st The Immortal Zin
5th/6th H. Mynors Zin
6th/5th Neal Rutherford Dust Zin
4th/2nd Peachy Canyon Westside Zin
3rd/4th Bonebreaker Zin
2nd/3rd 1000 Stories Bourbon Barrel-Aged Zin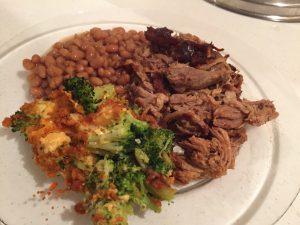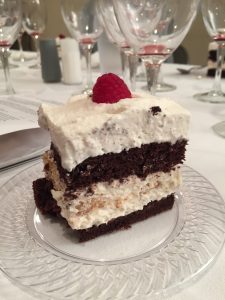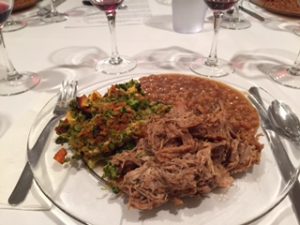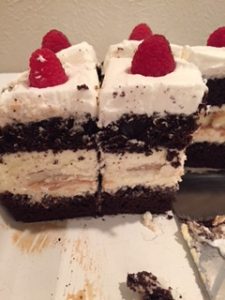 November 2016 Many of us are wondering when it will actually cool down? With the weather still on the warm side it is nice to have a little lighter red to drink with dinner still. Pinot Noir is a great red wine, in France it is known as Burgundy, one of the greatest reds. In the US we love it because it is a fairly easy to drink wine that is not necessarily dry. It pairs well with a multitude of meals from Chicken, Turkey, & Pork. This month we are going to taste several Pinot Noirs from California and Oregon.
5th/1st 2014 Run Riot Pinot Noir, California
3rd Tie/3rd 2015 McManis Pinot Noir, California
4th Tie/5th Tie 2013 Bailyanna Firepeak Pinot Noir Edna Valley, California
1st/5th Tie 2014 Wines by Joe Pinot Noir, Oregon
2nd/2nd 2014 Elouan Pinot Noir, Oregon
3rd Tie/4th 2014 Soter North Valley Pinot Noir, Oregon
4th Tie/5th Tie 2013 Fallia Sonoma Coast Pinot Noir, ­­­­California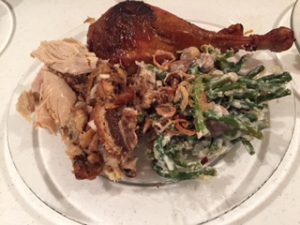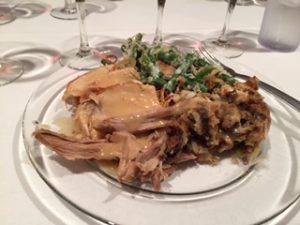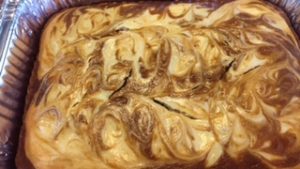 December 2016 it is always fun to alternate between Sparkling wines and Dessert wines in December so we can keep up to date on different things. This year it is DESSERT WINES! These are wines that quite frankly are dessert in and of themselves, however you can pair them with desserts and have double the fun, calories and sweetness. This is what we do for this tasting double up, sweet wines and lots of desserts. Of course we should have a little bit of normal food to help balance out the sweetness but not to much. See the list of wines below, then pictures of desserts which I will try to make so that when you click on the dessert picture it will take you to the website of for that recipe. So at the first tasting we also had the Hildalgo Triana Pedro Ximenez (what I call motor oil took 2nd place). This is one of my favorite dessert wines but the distributor is out of it so if you find it at a store I would recommend getting it, as it will be awhile before there is more available again.
3rd/4th Tie/3rd Tie Grace Hill F5 Sweet Red Wine
1st/3rd/2nd Quinta do Noval Black Port
4th/2nd/4th Taylor Fladgate 10 Yr Tawney Port
6th Tie/4thTie/5th Redstone Meadery Mountain Honey Wine
6th Tie/5th/3rd Tie St. James Cranberry
5th/1st/1st Chocovine
Google+