Monday Night Wine
is a fabulous group of friends I have & we get together a couple Monday nights each month to taste wine. Each month we try a different varietal and I pair it with a dinner, as the wine will change once you introduce food to your palate.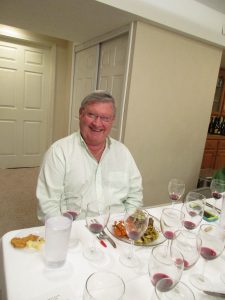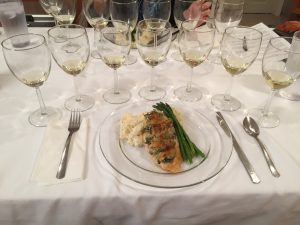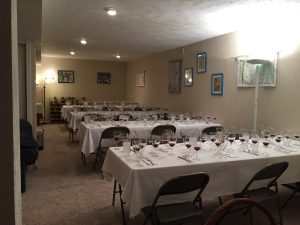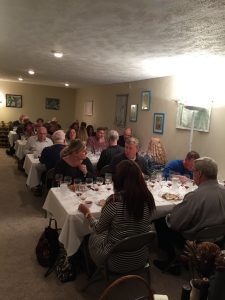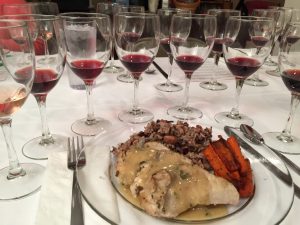 January 2022 Cabernet Sauvignon As we start round 2 of snow with below zero wind chills it is time for us to stay inside and warm up with a glass of Cabernet Sauvignon. Cabernet is considered to be a dry and heavier red wine, but we will taste some that hopefully are smooth and easy to drink aslo. Normally you would pair this with some sort of Beef dish, but we like to just sip it in the evening in front of a fire also. We paired our wines this month with an old fashioned dinner, Swiss Steak over Rice with Sweet Carrots and Chocolate Cake.
4th Tie/3rd 2018 Mind & Body Cabernet Sauvignon, CA
6th/2nd NV Big Red Monster Lot: #3 Cabernet Sauvignon, Paso Robles, CA (Cab Sauv, Petite Sirah, Tannat)
5th/1st 2018 Perrin + Dobbs Pitch Black Cabernet Sauvignon, Paso Robles, CA (Cabernet Sauvignon 85%, Syrah 15%)
4th Tie/4th 2019 Grounded Cabernet Sauvignon, CA (75% Cab Sauv, 24.5% Merlot, 0.5% Cab Franc)
2nd/5th 2018 Louis M. Martini Cabernet Sauvignon, Sonoma County, CA
3rd/6th Tie 2018 Chat. Ste. Michelle Indian Wells Cabernet Sauvignon, Columbia Valley, WA (85% Cab Sauv, 13% Syrah, 1% Merlot, 1% Cab Franc)
1st/6th Tie 2017 Long Shadows Chester Kidder Red Wine, Columbia Valley, WA (68% Cab Sauv, 26% Syrah, 6% Petit Verdot)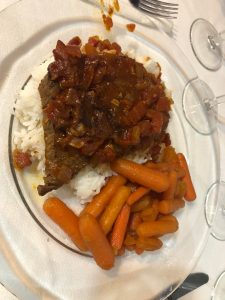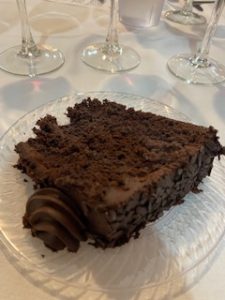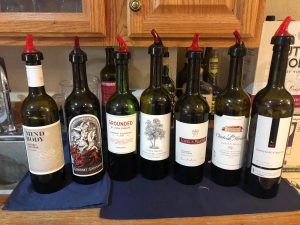 February 2022 Merlot We used to say this was a wine that could have a description that was a paragraph long, as the winemakers tasting notes included every aroma or flavor and finish there is. Today it makes me think of the weather forecast for Wednesday, It could be 2 inch but maybe 6, however there is a chance it's 10-12. So there might be tar and leather, mint and chocolate, herbs and cherries all could be a characteristic of Merlot. This month we are pairing our Merlots with Rustic Shepard's Pie, Roasted Green Beans and Chocolate Wine Cake (see recipe in pic below).
3rd/1st 2019 Blackstone Winemaker's Select Merlot, CA
5th/6th tie 2019 Brady Vineyard Merlot, Paso Robles, CA
7th/6th tie 2018 Chat. St. Jean Merlot, CA
1st/3rd 2018 H3 Merlot, Horse Heaven Hills, WA (91% Merlot, 9% Syrah)
6th/5th 2019 Hahn Merlot, CA
4th/4th 2018 Markham Vineyards Merlot, Napa Valley, CA (Merlot, & Cabernet, Petite Sirah, Syrah)
2nd/2nd 2018 Whitehall Lane Merlot, Napa Valley, CA (79% Merlot, 13% Cabernet Sauvignon, 6% Malbec, 2% Petit Verdot)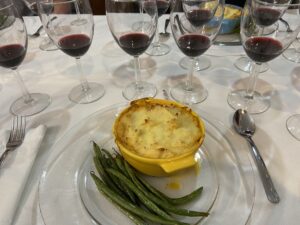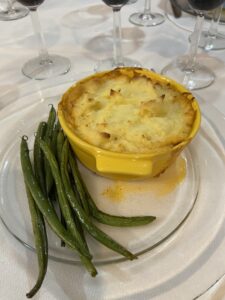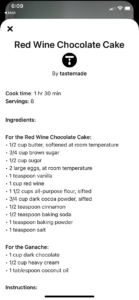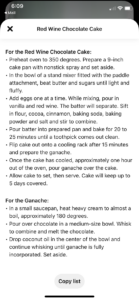 March 2022 Odd Reds It is so nice to be sitting here enjoying the sunshine and warmer weather, therefore we need to start thinking about wines that we can enjoy with dinner on the patio or relaxing in the evening around a fire pit. This month we will be tasting a variety of red wines. I'm thinking a Syrah/Shiraz, Petite Sirah, Tempranillo, Granacha these are wines that we find lots of times in blends or finishing off the last 20-25% of a Cab or Merlot. These wines are sometimes darker, denser, lighter, fruitier, etc. We paired these wines with Meatloaf, Roasted Butternut Squash & Onions, Asparagus and Cherry Yum Yum.
1st/4th 2019 Borsao Seleccion Garnacha, Aragon, Spain (Grenache, Tempranillo)
2nd/3rd tie 2020 Brecca Garnacha De Fuego, Aragon, Spain (100% Garnacha)
7th/5th 2016 Sierra Cantabria Crianza, Rioja, Spain (100% Tempranillo)
4th/6th 2016 Cvne Cune Reserva, Rioja, Spain (85% Tempranillo, 15% Garnacha Tinta, Graciano & Mazuelo)
5th/3rd tie 2017 Borsao Zarihs Shiraz, Campo de Borja, Spain (Syrah)
6th/1st 2017 Criss Cross Petite Sirah, Clarksburg, CA (88% Petite Sirah, 9.3% Syrah, 1.3% Montepulciano, 1.4% Other Varietals)
3rd/2nd 2016 Langman Estate Raymond's Rows Petite Sirah, Sierra Foothills, CA (94% Petite Sirah, 6% Syrah)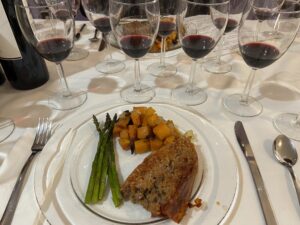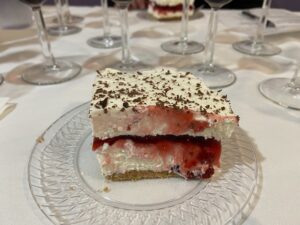 April 2022 Red Blends Ah, to wake up after the thunderstorms came through last night, realizing spring is here! With the arrival of spring we are out on the patio in the evenings, spending weekends out at the lake enjoying a glass of wine around the firepit, picnic or at a family get together. Red Blends are generally easy to drink and pair well with BBQ, burgers or pizza and can be a little easier on the pocket book (or not), so let's see if we can find a few new favorites for this year. This year we paired our Red Blends with Teriyaki Beef Kabobs, Roasted Carrots w/ Goat Cheese & Pistachios, Corn Pudding and Chocolate Cake.
4th/1st NV Meiomi Red Blend California (it is a secret)
5th/4th 2019 Rebellious Red Blend, California (44% Zin, 23% Cab Sauv, 8% Merlot, 7% Syrah, 7% Mourvedre, 7% Petite Sirah, 3% Malbec, 1% Sauv Blanc)
6th tie/5th 2019 Kokomo Red Wine Cuvee, North Coast, California (35% Grenache, 23% Zin, 18% Carignan, 12% Petite Sirah, 12% Syrah)
3rd/3rd tie 2019 Vina Robles The Arborist Estate Red Blend, Paso Robles, California (Huerhuero Syrah 45% Huerhuero Petite Sirah 29% Jardine Petite Sirah 3% Creston Valley Petite Sirah 8% Huerhuero Grenache 10% Huerhuero Tannat 5%)
2nd/3rd tie 2018 J. Lohr Pure Paso Proprietary Red Wine, Paso Robles, California (69% Cab Sauv, 27% Petite Sirah, 2% Syrah, 2% Malbec)
6th tie/6th 2018 Lone Birch Estate Red Blend, Yakima, Washington (45% Merlot, 30% Syrah, 25% Cab Sauv)
1st/2nd 2020 Fidelity Red Wine Alexander Valley, Sonoma County, California (71% Merlot, 14% Cab Sauv, 7% Petit Verdot, 4% Cabernet Franc, 4% Malbec)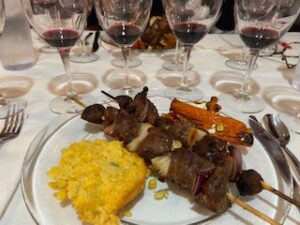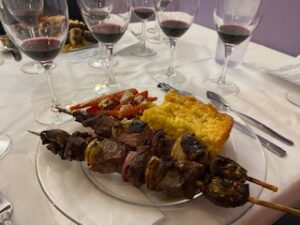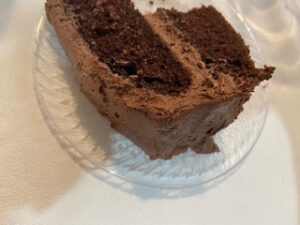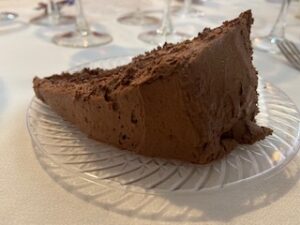 Bottom of the Page.
Save
Save
Save
Save
Save
Save
Save
Save
Save
Save
Save
Save
Save
Save
Save
Save
Google+