Monday Night Wine
is a fabulous group of friends I have & we get together a couple Monday nights each month to taste wine. Each month we try a different varietal and I pair it with a dinner, as the wine will change once you introduce food to your palate.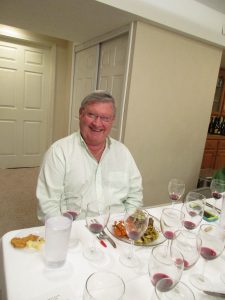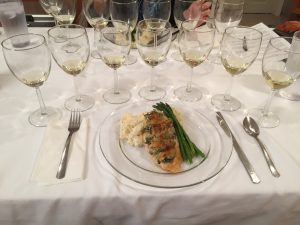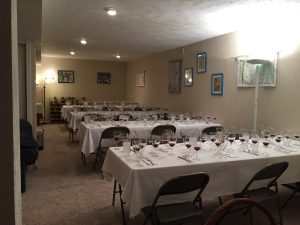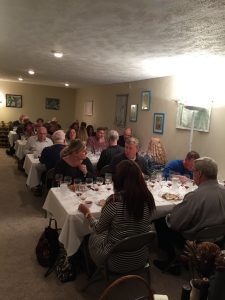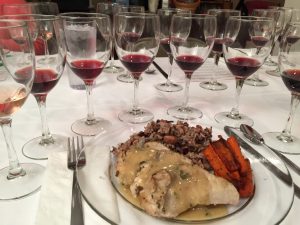 January 2021 Cabernet Sauvignon As we look forward to starting a NEW YEAR and a possible snow storm to bring it in, we will be tasting one of the favorite red wines to warm you up on these cold winter nights and bring a smile to your heart. Cabernet Sauvignon is not one of the oldest grapes but it is one of the most well known and popular. In general it is a dry red wine that pairs well with stews and steaks. This month we paired it with a wonderfully grilled steak, Steakhouse Baked Potatoes, Steakhouse Baked Potatoes, Roasted Carrots w/ Goat Cheese & Pistachios, Chocolate Souffle w/ Raspberry.
4th/2nd Tie 2016 Trim Cabernet Sauvignon, CA
3rd/4th Tie 2017 McNab Ridge Winery Cabernet Sauvignon, Mendocino County, CA
5th/3rd 2015 No Curfew Cabernet Sauvignon, CA
6th Tie/2nd Tie 2018 Sean Minor 4B Cabernet Sauvignon, Paso Robles, CA
6th Tie/4th Tie 2018 Omen Cabernet Sauvignon, Paso Robles/Sierra Foothills, CA
1st/2nd Tie 2018 Chapel Hill The Parson Cabernet Sauvignon, Adelaide, Australia
2nd/1st 2018 Silver Ghost Cabernet Sauvignon, Napa Valley, CA
* 2018 7 Cellars The Farm Cabernet Sauvignon, Paso Robles, CA (this wine was tried week 1 but did not pass the taste test to make it to week 2
Bottom of the Page.
Save
Save
Save
Save
Save
Save
Save
Save
Save
Save
Save
Save
Save
Save
Save
Save
Google+