Monday Night Wine
is a fabulous group of friends I have & we get together a couple Monday nights each month to taste wine. Each month we try a different varietal and I pair it with a dinner, as the wine will change once you introduce food to your palate.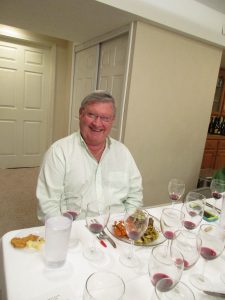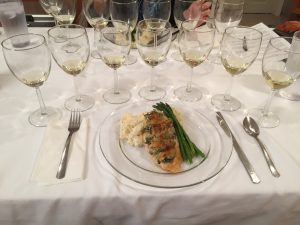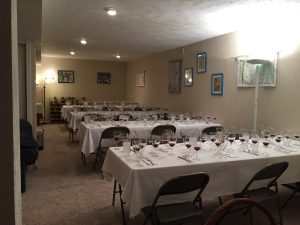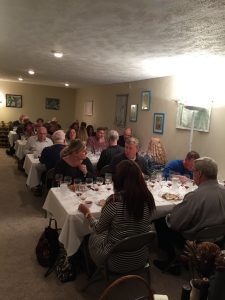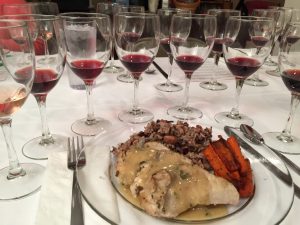 January 2023 Cabernet Sauvignon sThis year the temps have been fairly mild, but the excitement for Cabernet Sauvignon is off the charts high! We had 2 tastings that were totally booked full. Cabernet is a good heavy dry red that not only gives you some good fruit but also pairs well with most beef dishes and can still be enjoyed with cheese and crackers. This month we paired our Cabernet Sauvignon with Meatloaf, (note this recipe is on my website here, go to recipe tab and scroll down) Mashed Potatoes, Broccoli and Cheese Casserole and French Chocolate Tart (note I used vanilla wafers crumbs w/ butter vs making crust.
3rd/3rd tie 2019 Kate Arnold Cabernet Sauvignon, Columbia Valley, WA (80.5% Cabernet Sauvignon, 9% Merlot, 8% Syrah, 2% Malbec, .5% Cabernet Franc.)
4th tie/2nd 2019 Mettler Estate Cabernet Sauvignon, Lodi, CA (Cabernet Sauvignon)
2nd/4th 2019 Priest Ranch Estate Cabernet Sauvignon, Napa Valley, CA (100% Cabernet Sauvignon)
1st tie/3rd tie 2019 Raymond Sommelier Selection Cabernet Sauvignon, North Coast, CA (82% Cabernet Sauvignon, 18% Merlot)
4th tie/1st 2019 Vina Robles Estate Cabernet Sauvignon, Paso Robles, CA (42% Creston Valley Cabernet Sauvignon, 42% Huerhuero Cabernet Sauvignon 16% Huerhuero Petit Verdot)
1st tie/5th 2020 Angeline Cabernet Sauvignon, CA (100% Cabernet Sauvignon)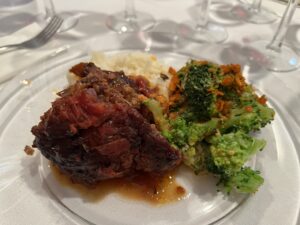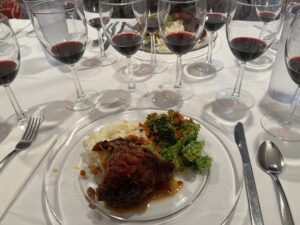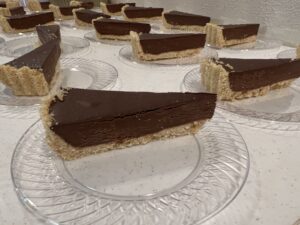 B
February 2023 Merlot We used to say this was a wine that could have a description that was a paragraph long, as the winemakers tasting notes included every aroma or flavor and finish there is. So there might be tar and leather, mint and chocolate, herbs and cherries all could be a characteristic of Merlot. This month we are pairing our Merlots with Baked Chicken Parmesan, Roasted Butternut Squash & Onions, Green Beans and Death by Chocolate Cheesecake.
4th tie/3rd 2017 Chateau Auguste Rouge, Bordeaux (80% Merlot, 10% Cab Sauv, 10% Cab Franc)
6th/5th tie 2018 Chateau Jalouise Beaulieu, Bordeaux (83% Merlot, 10% Cab Franc, 7% Cab Sauv)
1st/ 5th tie 2019 Columbia Crest H3 Merlot, Horse Heaven Hills, WA (86% Merlot, 14% Cab Sauvi)
5th/1st 2020 Airfield Merlot, Yakima Valley, WA
2nd/2nd 2018 St. Francis Merlot, Sonoma County, CA (100% Merlot)
4th tie/6th 2019 Alexander Valley Vineyard Merlot, Sonoma County, CA (89% Merlot, 11% Cab Sauv)
3rd/4th 2019 Robert Hall Merlot, Paso Robles, CA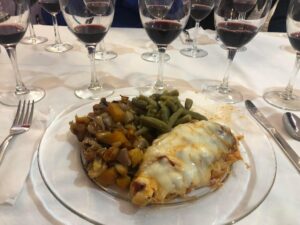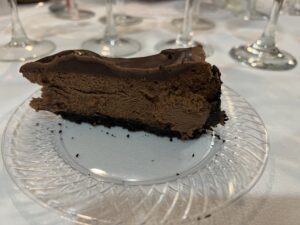 March 2023 Odd Reds & Petite Sirah This is one of my favorite tastings. The odd red wines are ususally used as blending grapes for different characteristics they offer to that blend others are just small production grapes that stand on their own also which is what we have in this tasting. I also have found over the years that Petite Sirah is one of our all time favorite grapes. It is full bodied and very smooth to drink, and I love the inky purple color!
2nd/3rd 2019 Brunn Blauer Zweigelt, Niederosterreich, Austria (1.0L) (100% Blauer Zweigelt)
5th Tie/7th 2019 Andis Barbera d' Amador, Sierra Foothills, CA (100% Barbera)
5th Tie/6th 2018 Tagua Gran Reserva Carmenere, Rapel Valley, Chile (100% Carmenere)
3rd Tie/5th 2019 Luke Syrah Wahluke Slope, Columbia Valley, WA (100% Syrah)
4th/2nd 2019 San Simeon Petite Sirah, Paso Robles, CA (Petite Sirah)
1st/4th 2020 Parducci Small Lot Petite Sirah, Mendocino County, CA (84% Petite Sirah, 9% Merlot, 7% Syrah)
3rd Tie/1st 2020 Shannon Ridge High Elevation Collection Petite Sirah, Lake County, CA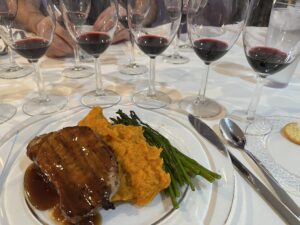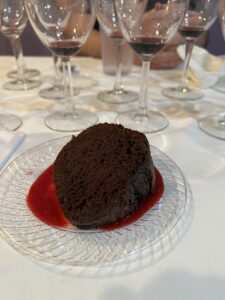 April 2023 Red Blends
This is a favorite tasting of red wine lovers. Red blends are smooth and easy to drink they are also very reasonably priced. These are the wines you want to have with a backyard BBQ or a picnic red wine. They are also great wines to take to a party as they are generally not very dry and are very smooth and easy to drink. So pick up a red blend for your next tailgate or party. We paired
BBQ Pork Tenderloin, Fried Noodles,
Roasted Brussel Sprouts w/ Bacon & Blackberry Pie Bars with our wines this month.
1st/3rd Tie 2017 Silent Oak Reserva Red Blend, Tejo, Portugal (Touriga Nacional & Alicante Bouschet)
5th Tie/5th 2020 Matchbook Pillars of Hercules Red Blend, Dunnigan Hills, CA (54% Petite Sirah, 27% Petit Verdot, 19% Teroldego)
5th Tie/4th 2017 Belasco de Baquedano LLAMA Old Vine Blend, Mendoza, Argentina (50% Bonarda, 50% Malbec)
4thTie/6th 2021 Domaine La Solitude Cotes du Rhone, France (Grenache noir 50%, Syrah 40%, Mourvèdre 10%)
3rd/3rd Tie 2020 High on the Hog Red Wine, Paso Robles, CA (48% Grenache, 26% Petite Sirah, 7% Syrah, 7% Zinfandel, 5% Mourvedre 5% Malbec, 2% Lagrein)
4th Tie/1st 2020 Lapis Luna Red Wine Blend, Lodi, CA (35% Cabernet Sauvignon, 35% Merlot, 25% Malbec, 5% Barbera (93% Mendocino7%Rockpile))
2nd/2nd 2019 Charles & Charles Double Trouble, WA (58% Syrah42% Cabernet Sauvignon)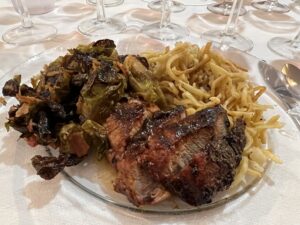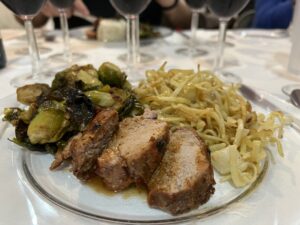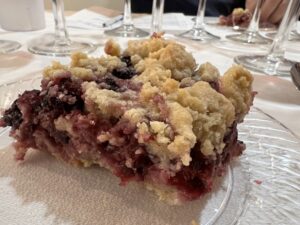 May 2023 Chardonnay
Time for those white wines we all love. Chards can be creamy and buttery or they can be crisp with nuts, apples, or melon flavors. No matter how you like them we are going to have a good mix with these wines. We paired our wines this month with Grilled Chicken w/ Garlic Herb Sauce over Rice,
Garlic-Parmesan Roasted Cauliflower
and
Raspberry Ricotta Cake
.
6th/5th NV Bota Box Breeze (Low Cal/Carb) Chardonnay, CA
5th/2nd Tie 2021 Balletto Teresa's Chardonnay Unoaked Russian River Valley, CA (100% Chardonnay)
2nd Tie/1st 2019 Chemistry Chardonnay, Willamette Valley, OR (100% Chardonnay)
2nd Tie/2nd Tie 2021 Raeburn Sonoma Chardonnay, Sonoma County, CA (100% Chardonnay)
4th/3rd Tie 2021 Sonoma-Cutrer Sonoma Coast Chardonnay, Sonoma County, CA (100% Chardonnay)
3rd/4th 2021 Ten to Life Russian River Valley Chardonnay, Sonoma County, CA (100% Chardonnay)
1st/3rd Tie 2019 Farmstead Long Meadows Ranch Chardonnay, Napa Valley, CA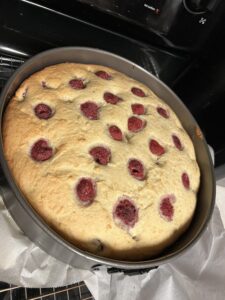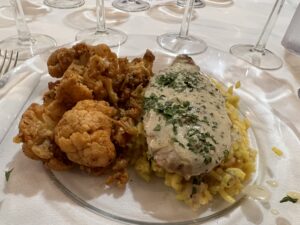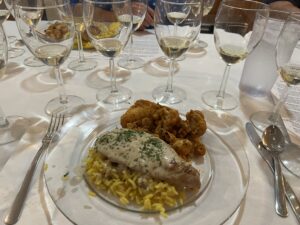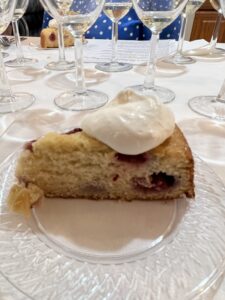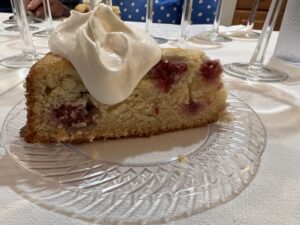 June 2023 Sauvignon Blanc As we move forward into summer, we all want to drink something cold. That's where Sauvignon Blanc comes in! This is a great wine to have by the pool or on the patio in the evening on those hot days. Sauvignon Blancs are typically full of flavor from lemon, grapefruit, passion fruit, to jalapeno in some of them. They pair well with salads and grilled chicken or shrimp. It is a great pair with crab also. These are easy to drink wines that will be fun to taste and find a few new favorites for the summer. We paired our wines this evening with: Grilled Chicken w/ Lemon Dill Sauce, Parmesan Risotto, Creamy Asiago Bacon Wrapped Roasted Onions, Grilled Asparagus and Passion Fruit Crème Brulee
2nd/1st 2021 Gen 5 Sauvignon Blanc, Lodi, CA (99% Sauvignon Blanc, 1% other whites)
1st/5th 2022 Daou Sauvignon Blanc, Paso Robles, CA (100% Sauvignon Blanc)
3rd/4th 2022 Dry Creek Vineyard Fume Blanc, Sonoma County, CA (100 % Sauvignon Blanc)
5th Tie/3rd Tie 2022 Babich Black Label Sauvignon Blanc, Marlborough, NZ (100% Sauvignon Blanc)
5th Tie/2nd 2022 Greywacke Sauvignon Blanc, Marlborough, NZ (100% Sauvignon Blanc)
4th/3rd Tie 2022 The Infamous Goose Sauvignon Blanc, Marlborough, NZ (100% Sauvignon Blanc)
6th/3rd Tie 2022 Nautilus Sauvignon Blanc, Marlborough, NZ (100% Sauvignon Blanc)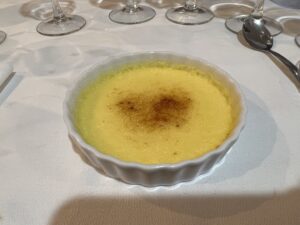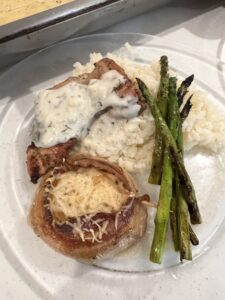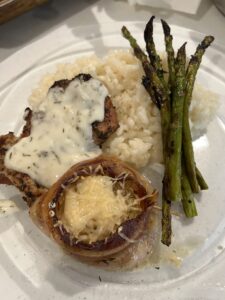 July 2023 Rose Wines in July this year we are going to mix it up a little. This year we are going to do all Rose wines. Some of these may lean a little sweeter, others a little drier, but in general they are clean and crisp and something you can enjoy sipping on or with a meal on these warm summer days. I paired these wine with Grilled Chicken over Grilled Red Pepper, Onions & Broccoli, Roasted Butternut Squash & Sweet Potatoes, Raspberry White Chocolate Mousse. I also made Mascarpone Stuffed Dates w/ Pistachios (not pecans).
1st/6th 2022 Martin Ray Rose of Pinot Noir, Sonoma/Monterey, CA (100% Pinot Noir)
6th/7th 2022 Maison Saleya COTEAUX-D'AIX-EN-PROVENCE Rose, France (70% Grenache, 25% Syrah, 5% Cinsault)
7th/4th 2022 ZaZa Garncha Rose, Spain (100 % Garnacha)
4th/2nd 2022 Chateau La Nerthe Les Cassagnes Rose, Cote-Du-Rhone, France (60 % Grenache, 30% Mourvèdre, 20% Cinsault)
5th/5th 2022 Chateau D'Aqueria Tavel Rose, Cru des Cotes-Du-Rhone, France (50% Grenache, 25% Syrah, 15% Clairette, 10% Cinsault)
2nd/3rd 2022 Chateau Berne Romance Rose, France (Grenach noir, Cinsault, Syrah, Merlot)
3rd/1st 2021 Grgich Hills Estate Rose, Napa Valley, CA (42% Cabernet Sauvignon, 33% Zinfandel, 20% Merlot, 4% Cabernet Franc, 1% Sauvignon Blanc)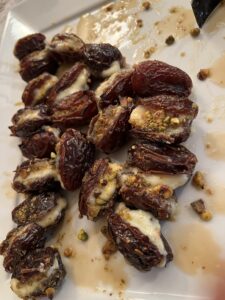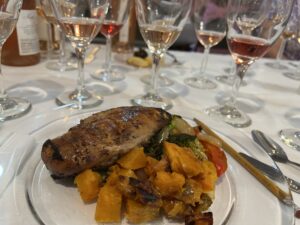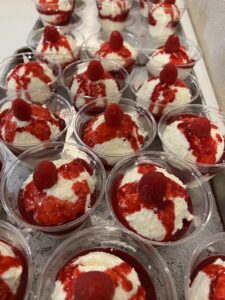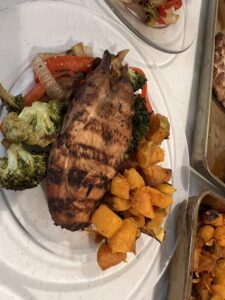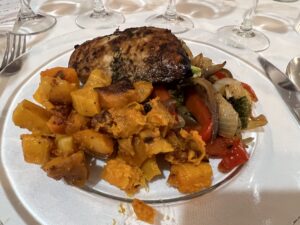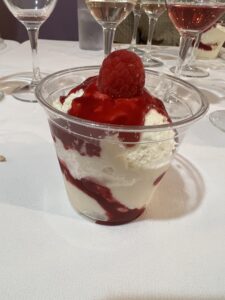 Bottom of the Page.
Save
Save
Save
Save
Save
Save
Save
Save
Save
Save
Save
Save
Save
Save
Save
Save
Google+