For food pairings at the moment see Monday Night under the Wine tab above.
This morning we had the opportunity to go harvest grapes and help press the grapes in the beginning process of making wine. We were talking about some food recipes and since I have yet to really figure out how to use the 'recipe' function of wordpress, I am going to do this the old fashioned way so that people can find the recipes I made and recommended.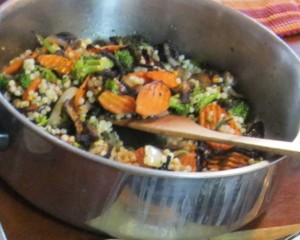 Grilled Vegetable Couscous w/ Lemon Vinaigrette
I don't really have an official recipe for this, but here it goes.
Cut up into 1′ pieces or so, broccoli, slices of red bell pepper, slices green bell pepper, Onions Red and Yellow rough chopped, mushrooms, asparagus, cauliflower (optional), carrots cut diagonally about 1/8 inch thick. Add whatever else you want, drizzle with olive oil, use a dash of salt and fresh ground pepper. Toss this all together to coat, pour into a grill basket and grill, stirring occasionally until veggies are soft and starting to caramelize. To make the couscous, use pearl or israeli couscous, make according to directions. To make the vinaigrette, use about 1/4 cup lemon juice and about 1/3 cup of extra virgin olive oil, pinch of salt and fresh cracked pepper. Whisk to emulsify, taste and adjust if you need a little more lemon flavor add more juice or zest, whisk and re-taste. I usually don't use all of the vinaigrette on this dish but have if I need it. So once the couscous is cooked and has set a couple minutes, add some lemon vinaigrette stir, add veggies stir. Serve warm or at room temperature.

This is the couscous I used.
The second recipe I was talking about was the Roasted Cauliflower recipe I found on Bon Appetite Website.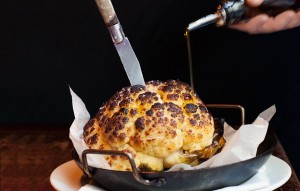 Whole Roasted Cauliflower with whipped goat cheese
Google+