What to drink for my birthday?
I pulled a 2009 Buoncristiani The Core Cabernet Sauvignon from Napa Valley to go with the steak I grilled.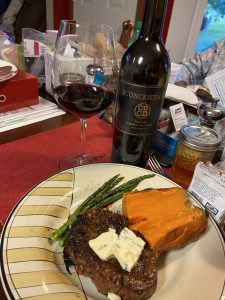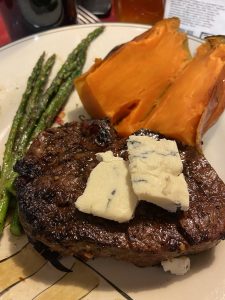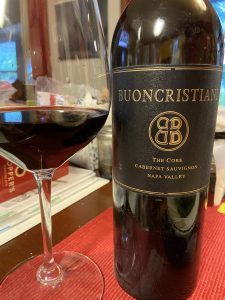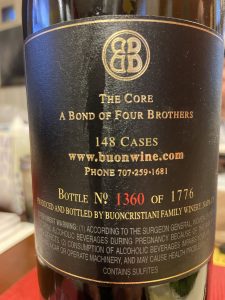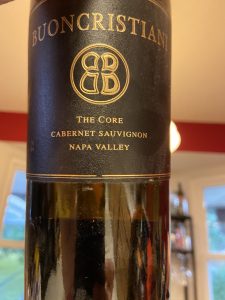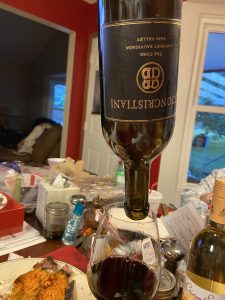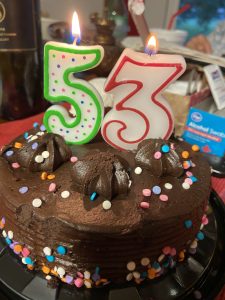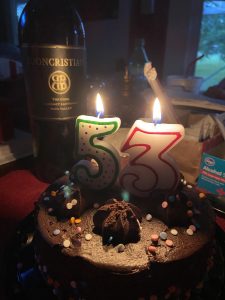 Wine made by a Top Gun Instructor!
We found this wine on our trip last fall to Paso Robles. It was so good I ordered an entire case the next day!
2008 Volatus Reserve Red Wine, Paso Robles, CA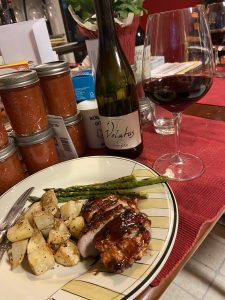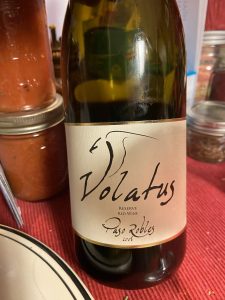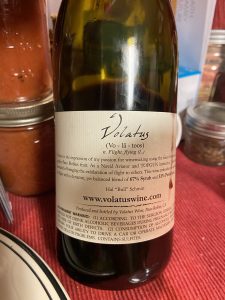 Pizza and wine…oh so good!
This was a wine we picked up on one of our trips to Washington State and the Red Mountain Appelation.
2012 Fidelitas Champoux Vineyard Red Blend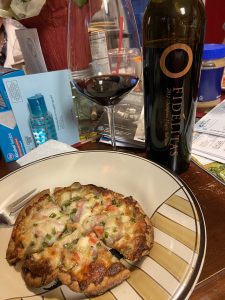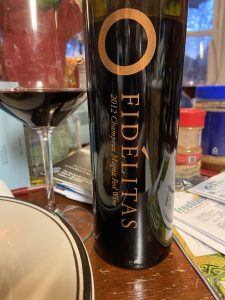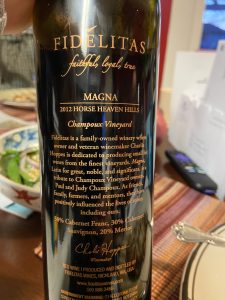 It's National Drink Wine Day Feb 18, 2020
We can't let this day go by without a little wine! Curt and Susan came over for dinner (actually they brought dinner!) it was delicious! We opened a few new wines from the cellar and tasted on others that were left from the past week!
New wines were:
Chat Ducla (Bordeaux),
Solis Zinfandel (Calif),
Silenus Petite Verdot (Napa Valley),
Park Farm Winery Vintners Rsv Marechal Foch (Iowa),
Renwood Zinfadel Amador Ice (Calif)
Wallace River City Port (Iowa)
The rest were all left over from last Saturday evening & Monday evening. The only bad one in the group was the Wallace Port.
I was shocked at how good the Chat Ducla still was after 20 years.
Raid the Cellar with friends Feb 15, 2020
So every month I call them the 'Jurgen's girls' come to my wine dinners. Over the years I have had a chance to know these wonderful ladies and so enjoy getting to visit with them and spend time with them. This is the second time we have done this dinner the other one was about a year and a half ago. Tonight the ladies brought their spouses and we had a wonderful evening! Here are the wines we pulled from the cellar to enjoy over the evening.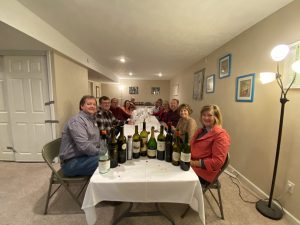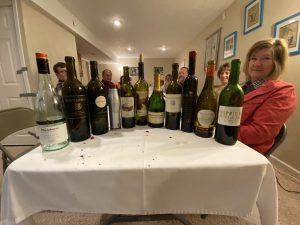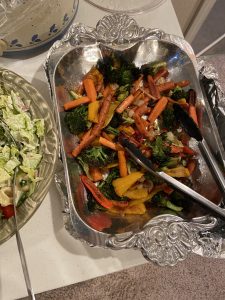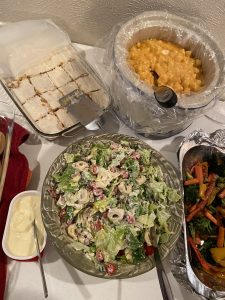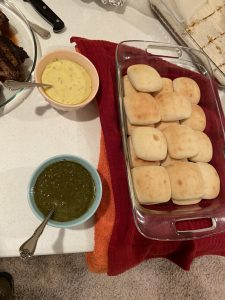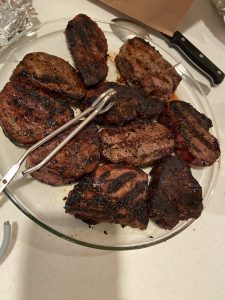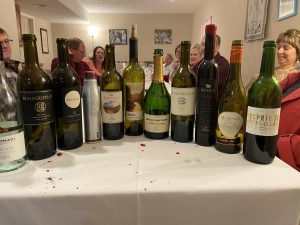 Dinner with old friends Dave & Anita Aug 28, 2019
This evening we had a chance to catch up with a great couple that used to attend my wine dinners in Wichita 10 yrs ago. They would also come over for dinners to visit about current books, jobs, pets and wine. So this evening we picked up a couple of great wines from Auburn Wine & Spirits. We had the 2015 Round Pond Estate Kith & Kin Napa Valley Cabernet Sauvignon. and Tait The Ball Buster Barossa Valley Shiraz/Cabernet and a wonderful dinner at Bella Luna Cafe in Wichita. We have to get together again soon!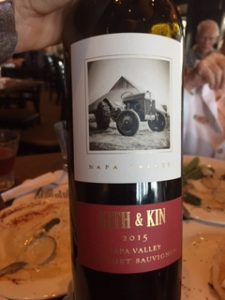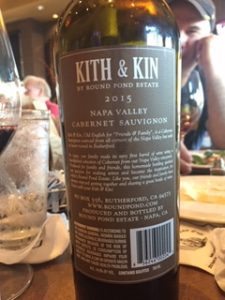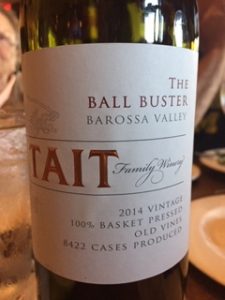 Another night w/ the winos… friends in the industry!
It has been over a year since we have gotten together, way too long…. we have to do this more often. Loved having Grant & Cynthia over along with Stacy and a friend of his. When you raid the cellar you must do it in style. There were 6 of us and I think we ended up opening up tasting and drinking 17 wines! Not bad for a casual dinner. Steak, Potatoes, Slaw, Corn & Chocolate dessert. Oh and the wines!
Wines:
1997 Homewood Merlot, California
1999 Chateau Du Val d'Or Grand Cru Bordeaux Red, St. Emilion, France
2004 Washington Hill Cabernet Sauvignon, Columbia Valley, WA
2000 Chat La Croix de Marbuset St. Estephe Bordeaux Red, St. Estephe, France
2013 Summers Winery Petite Sirah, Knights Valley, CA
2005 Chantal Proprietors Reserve Pinot Noir, Michigan
2008 Chateau Morillon St. Emilion Grand Cru (Merlot) Bordeaux, France
2009 Chateau Caustaut La Grangoette (Red Blend 70merlt/30cabsauv), Bordeaux
2011 Canoe Ridge Vineyard Block 2 Cabernet Sauvignon, Columbia Valley, WA
2015 Bella The Crossing Red Blend (34 Carign/25S/25Z/8G/8PV), Sonoma Co, CA
2012 Bella Rocky Ridge Vineyard Rockpile Zinfandel, Sonoma Co, CA
2000 Chateau de Tayac Labory Margaux, (60CS/35ME/4CF), Margaux, Bordeaux
We also had Ports from
Heitz Ink Grade Port, CA
Quady Starboard Batch 88, CA
Disznoko Tokaji 5 Puttonyos, Hungry
Grahams 10yr Tawny Port, Portugal
Croft 10yr Tawny Port, Portugal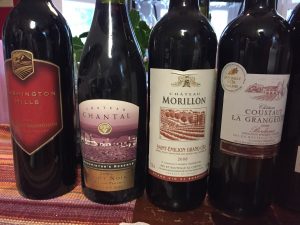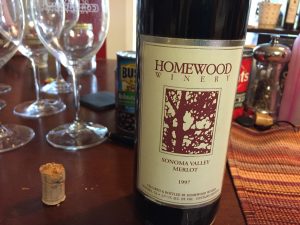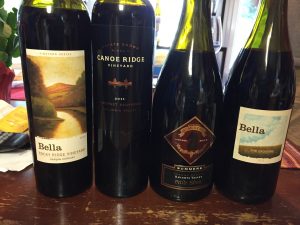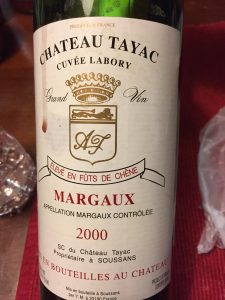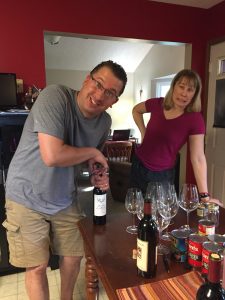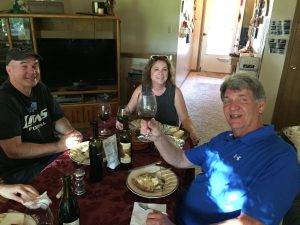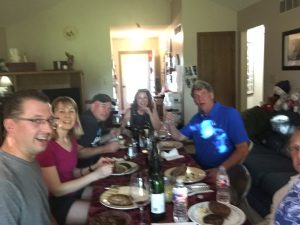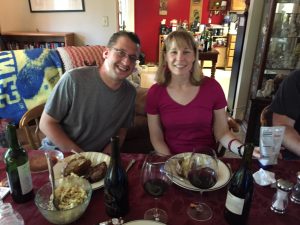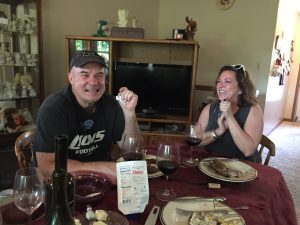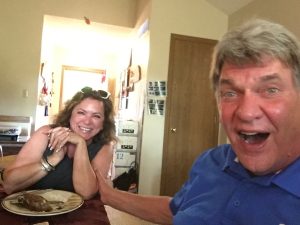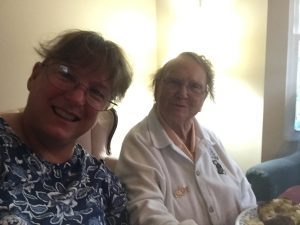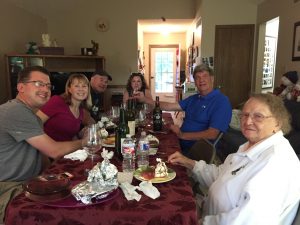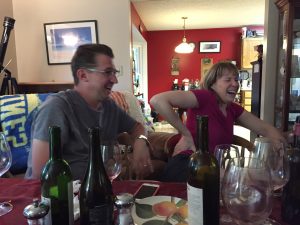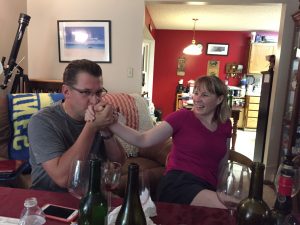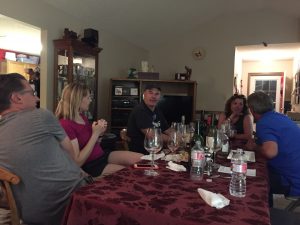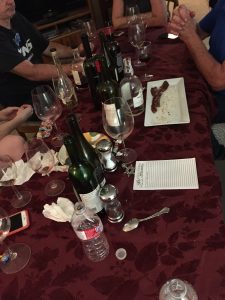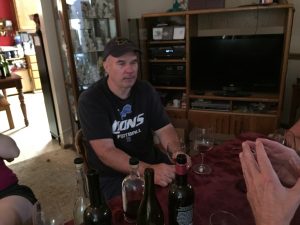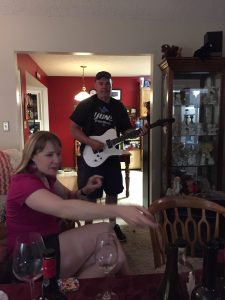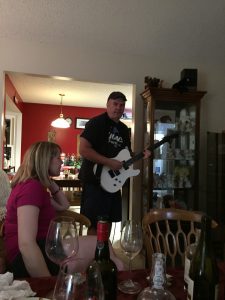 Raid the Cellar Dinner w/ Fr. Zarse for Christ the King 2017
This year we decided to donate a Raid the Cellar Dinner with Fr. Zarse at our house, to Christ the King Catholic Church. We had a great night getting to know some new parishioners, that happen to be very close neighbors! We started with several appetizers including Margarita Pizza, and Chorizo stuffed dates wrapped in bacon glazed with balsamic. Dinner was Steaks, boursin mashed potatoes, roasted asparagus, roasted carrots with goat cheese & pistachios. Dessert was chocolate olive oil cake with blueberries. After dinner we went out to the patio around the fire pit and finished off even more wines that were left from a previous tasting.
Here are the wines they picked out and other pics
Failla Hirsh Vineyard Pinot Noir
Buoncristiani Dolcetto
Castello di Poggio Moscato di 'Asti
Whalebone Cabernet Sauvignon
NxNW Walla Walla Cabernet Sauvignon
Blackbird Vineyard Arise
Buoncristiani Napa Cabernet Sauvignon
Grahams 6 Grapes Port
Triana Pedro Ximenez Sherry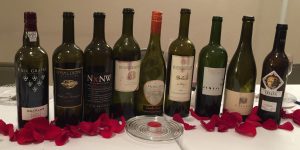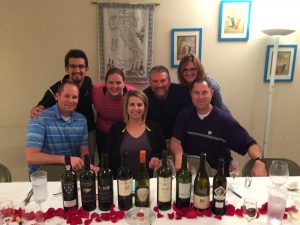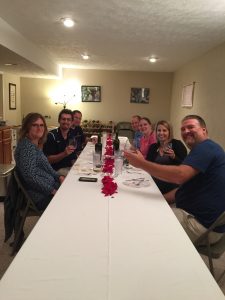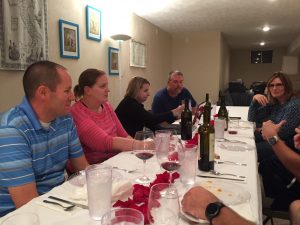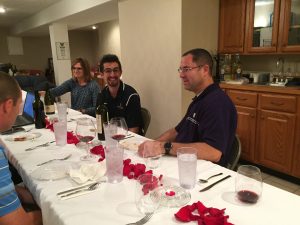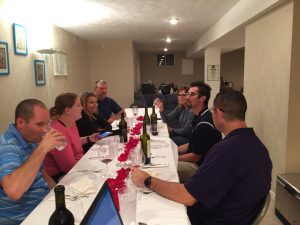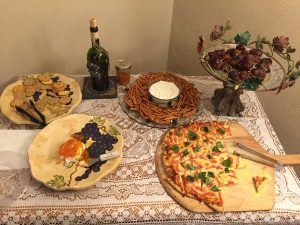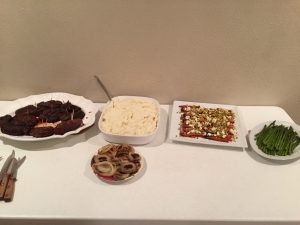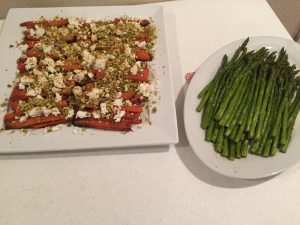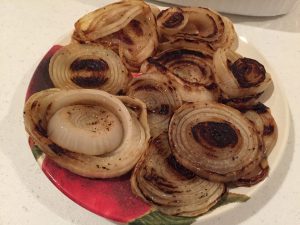 Winemaker Dinner at our House March 7th
So earlier this month we had a special winemaker's dinner at our house! The wine was fabulous and the winemaker was excited to have a great review on his wine! So now here is the rest of the story…. when we went to Washington state last fall, we went to Northstar Winery and participated in their blending program. Bill made and awesome Merlot and I made a Red Blend. Bill wanted to have Randy Cotton come over and be the one to review his Merlot. Thus last Monday, Randy & Terry Cotton came over for dinner and we had a great line up of wines featuring Bills Merlot. Randy ultimately gave Bill great reviews on his wine! Here is the lineup of wines and we paired it with a great steak!
2014 Cerdon Renardat Fache
2007 Alexander Valley Vineyard CYRUS
2012 Henry Earl Estate Red Mountain Merlot
2014 Northstar Bill's Blend Merlot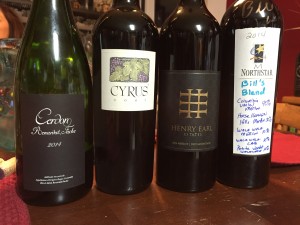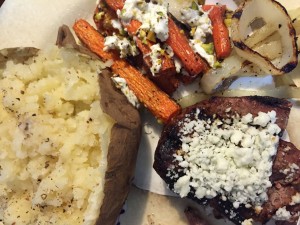 February 22, 2016 Raid the Cellar Dinner w/ Friends
The last several years we have donated a Live Auction item Called Raid the Cellar Dinner for Ronald McDonald House of NE Kansas. Last fall this dinner went for an amazing amount! The person who lost out, still wanted to donate a very nice sum to RMH and asked if we would do a second dinner, which we agreed to do. Thus Saturday night happened! We had a great time, and with such nice February weather we ended up on the patio fireside! Considering they love red wines we ended up having Grilled Filets, Potatoes, & Carrots w/ Triple Chocolate Tart for Dessert. The wines we had were fantastic, we started with bubbly and ended with Port. Here are the specific wines:
2011 Gerard Bertrand Cremant de Limoux
2013 Buoncristiani Rosato
2011 Whalebone Cabernet Sauvignon
2007 Miner Vineyards La Diligence Stagecoach Vineyard Syrah
2009 Abundance Vineyards Mencarini Vineyard Petite Sirah
2013 Bella Big River Ranch Zinfandel
2010 Bogle Petite Sirah Port
?V Stella Rosa Black Semi-Sweet Red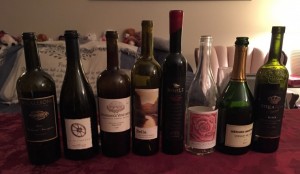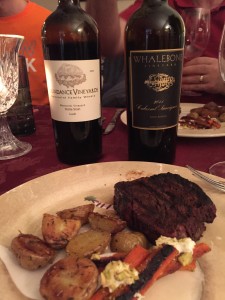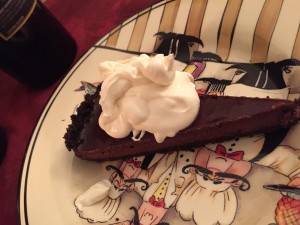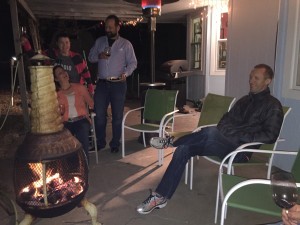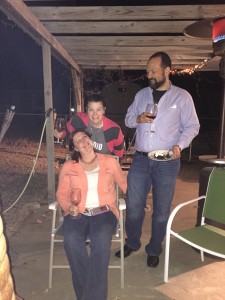 February 14, 2016 Valentine's Dinner
This year for Valentine's Dinner Bill and I had 2006 Cliff Lede Moon Sympathy Cabernet Sauvignon, oh so velvety smooth, it was like a melody playing in your heart! We paired this with Espresso Balsamic Bacon Wrapped Filets, Grilled Lobster Claws, Baked Potatoes & Dark Chocolate Fudge! The only word is Excellent!!! Love pulling a great wine from the cellar for dinner. Thanks to Cliff Lede Vineyards for making a fabulous wine! And to Bill for Grilling such a great dinner!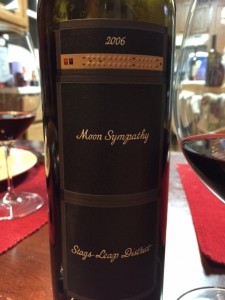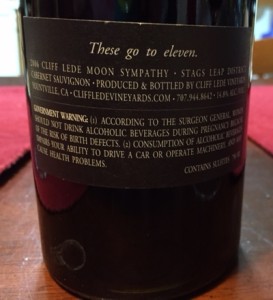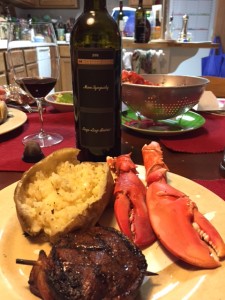 February 8, 2016 WOW what a treat!
So as Monday nights Merlot tasting was coming to an end, some really great friends brought a bottle of wine they found in the back of their liquor cabinet before the holidays. They picked it up in the early 1990's on a trip to Australia, so it is somewhere around 25 years old. They brought this Kaesler Port over for me to try, it was wonderful! Thank you for sharing!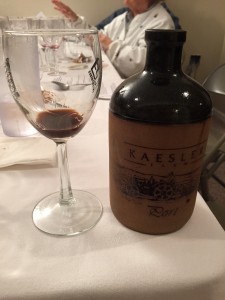 January 2016 Dinner with a VIP
So once again we had Fr. Zarse over for dinner and let him pick from the wine list, at first he wanted just the $15 Cabernet but I told him no! We were going to have meatloaf and that needed a much better Cabernet, so he picked the 2008 Buoncristiani The Core, and 2008 Six Degrees Cabernet from winemaker Ryan Waugh. I also pulled Vina Robles Creston Vineyard Petite Sirah. So we had 3 great wines, wonderful conversation & company, and Meatloaf!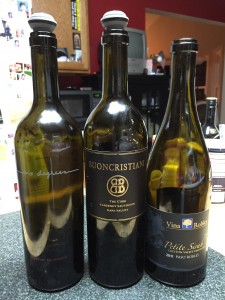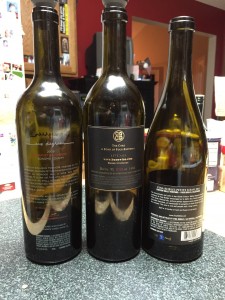 July 6, 2015 Great Dinner with our priest Fr. Zarse
Tonight we had an awesome evening tonight! We had Fr. Zarse form our church,Christ the King, over for dinner and had a great time. Not only did we have some great conversation and thought provoking conversation. We found out that he really enjoys wine and steak, but the Chocolate Souffle was probably the show stopper. Unfortunately I didn't take pics of the food. We were so consumed in conversation I totally forgot pic of food, but the Steaks, Grilled Spaghetti Squash, Grilled Asparagus and Chocolate Souffles were great! We opened our first bottle of 2006 Bouncristiani 'The Core' Cabernet Sauvignon. OMG!!!! It was so good we decanted it for 3 hours prior to dinner, and I'm on the last sip now 7 hours later it is so smooth. Wow!!! We also had the 2014 Buoncristiani Rosato, and 2009 Bouncristiani Petite Sirah, both of these were phenomenal also! We had the Rosato as an appertif with cheese & crackers and Margarita Pizza, and the Petite Sirah with the Steak and dessert along with 'The Core'. We also pulled out 'the motor oil' the 1985 Don PX to taste with dessert. Look forward to having Fr. Zarse over again and raid the cellar for some more good wine and some great food and conversation.
July 5, 2015 Ronald McDonald House Fundraiser!
So on July 5th we had a bunch of friends come over for a charity event for Ronald McDonald House here in Topeka. We asked that they gave a donation for the house and raided our wine cellar and had a plethora of food. Unfortunately I didn't take a picture of all the food. Needless to say we raised a lot of money for Ronald McDonald House and hope that everyone can join us for the Ronald McDonald House Denim & Diamonds Gala event! I did get a picture well 4 pics if you want details of the wines we pulled from the cellar for the event! see below:
April 20, 2014 Easter Dinner
Bill and I spent Easter at home with just two of us this year. We decided to use the Roasted Garlic & Basil Tomato Sauce we canned last fall and make our version of Grilled Chicken Parmesan with Basil Fetuccini and Grilled Aspargus. We paired Brian Carter Cellars Tuttorosso (see label below) with our dinner. This is a Sangiovese primary blended with Cabernet and Syrah from Washington. It was a great pairing , the sangiovese held up really well against the garlic and tomato.
April 10, 2014
A friend of mine, Sonja and I had a chance to go to Kansas City, MO to Michael Smith Restaurant for a wine dinner with Vina Robles Winery wines, from Paso Robles, CA. What a great night, not only was the food excellent and the wines fantastic! I have been drinking Vina Robles wines for many years but it was great to go to a wine dinner and not have to cook. Here are some pictures from our evening and a list of the wines we tasted.
Unfortunately, I did not get a pic of the salad but it was wonderful. Here are the wines:
Vina Robles Sauvignon Blanc
Vina Robles Roseum Rose
Vina Robles Cabernet Sauvignon
Vina Robles Syree (Syrah)
Vina Robles 4 Red
April 9, 2014
When I had a chance to visit with a new friend, Jane over dinner. She said that she enjoyed Pinot Grigio so I grabbed a bottle of Chehalem Winery Pinot Gris out of Oregon. This was a great wine to have with our soup and pizza. It was nice and crisp with a slight citrus backbone but not overwhelming at all. This would be a great wine to have on the patio this spring or summer with a salad or light dinner/cheese & crackers.
March 23, 2014
I have tasted many wines this past week and am trying to figure out how to present them to you so that you can find out more about them and taste some of them if you are interested….
Wednesday, March 20, 2014 I tried several new wines that have just arrived in the state.
Stratton Lummis Chardonnay ~ Cabernet Sauvignon ~ Riddler
2003 Kendall Jackson Stature ~ paired with filet, grilled onion, grilled sweet potato fries and corn. Tasted on Thurs, March 20, 2014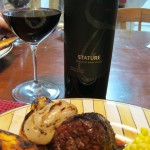 Friday night, March 22nd, we had a dinner party at our house to raid the cellar here is pics of the wines and food. Wines will be listed below Pictures.
First lets try just inserting pic and see what happens:
NOW What happens when I put the Name to be clicked on, so it will open up the picture:
Atlas Peak Napa Valley Cabernet Sauvignon
I can't figure it out so made it go to website for now…..
Save
Save
Save
Google+