So this is the Food Pairings Page. I want it to have a submenu to select either food categories or wine categories to view individual items.
Every year we plant a garden and hopefully we get to partake of some of our hard work. Last night we were able to do that with our first picked crop of green beans, fresh spinach and arugula. We grilled a couple filets (I put blue cheese on top to finish mine) and in the grill basket put a couple cloves of garlic sliced, an onion thinly sliced and the green beans, tossed with a little evoo, s & p.
We also love to make Guacamole so that was our appetizer for the evening. The wine, 2006 Stephen & Walker Zinfandel was Excellent, great fruit on it still, and some pepper on the finish. This was the perfect time to drink this wine, and it paired well with the BBQ Pork Tenderloin with our Grilled garden Green Beans & Onions.
Pictured below, I am using the Simmer King to make my grilled cheese sandwich. I use this to make so many things now, it raises my pan off the heat just enough to keep it from burning or getting to hot. Click here to go to the Simmer King website and read more about it.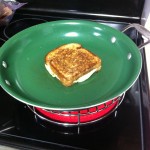 Basil Pesto Provolone Grilled Cheese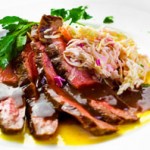 BBQ Flank Steak with Molasses Bourbon Demi Glace
from Chat Ste. Michelle
Google+