January 2020 Cabernet Sauvignon As winter finally seems to rear its head we are going to taste some Cabernet Sauvignon. A great wine to warm you up on a cold day, or to have with dinner and snuggle up by a warm fire. It is also one of the heaviest and drier wines available. We are going to taste wines from California & Washington. We will pair it with Steaks, Steakhouse Baked Potatoes, Roasted Asparagus & Dark Chocolate Mousse Cake
1st tie/1st tie 2016 Predator Cabernet Sauvignon, Lodi, California
4th/4th 2016 The Cult Cabernet Sauvignon, California
5th/3rd tie 2016 Northwest Ridge Cabernet Sauvignon, Columbia Valley, Washington
2nd/1st tie 2016 Mercer Family Reserve Cabernet Sauvignon, Horse Heaven Hills, WA
1st tie/2nd 2017 Clos de Napa Cellars Rutherford Cabernet Sauvignon, Napa Valley, CA
3rd/3rd tie 2017 Crossfork Creek Cabernet Sauvignon, Yakima Valley, WA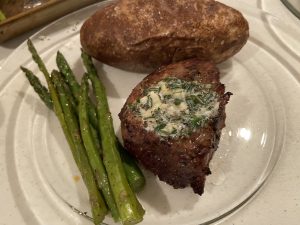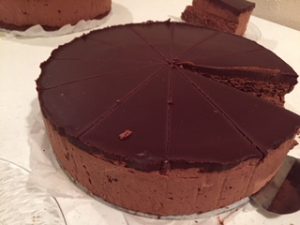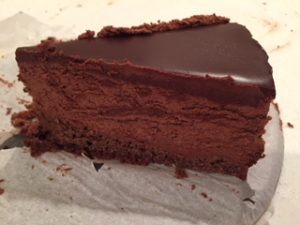 February 2020 Merlot was the darling at the turn of the 21st century, and was knocked off it's throne in 2004 by the movie Sideways. Over the past 15+ years Merlot has made a silently slow comeback. There are new world style from California and Washington, and old world from Bordeaux region in France. Today's Merlot is not the everyday priced wine as we would like, while we found some good ones this month for under $25, most are $30 to $40. Merlot can be bitter upfront due to higher tannins, but once it has aged a little or decanted a little, it is very smooth and typically have descriptions that go on forever. This month we paired our Merlots with Lasagna, Broccoli, Garlic Bread, & Chocolate Bunt Cake with Cheesecake filling.
1st/1st tie 2017 William Hill Central Coast Merlot, CA (13.9% APV label)
3rd/6th 2016 Robert Hall Merlot, Paso Robles, CA
5th/5th 2016 Chloe Merlot San Lucas Vineyard, Monterey County, CA
2nd/2nd 2016 St. Francis Sonoma County Merlot, Sonoma County, CA
6th/3rd 2016 Kennedy Shah Merlot, Columbia Valley, WA
4th/NA 2015 La Lecciaia Merlot, Tuscana, Italy
NA/4th 2016 Atlas Peak Santa Margarita Ranch Merlot, Paso Robles, CA
NA/1st tie 2016 Duckhorn Vineyards Merlot, Napa Valley, CA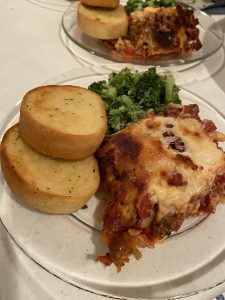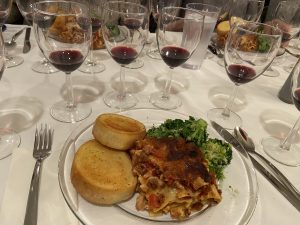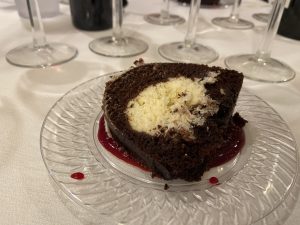 March 2020 Odd Reds Well where do I start with this month. We were able to do our first tasting but not the second one due to the Coronavirus shutdown. These are wines that are usually very rare. We tried to focus on Varietals that you may see blended in but in this case they are the primary varietal or even stand alone. These pair great with burgers and pizza or any kind of grilled beef or BBQ. We paired the wines with Grilled Teriyaki Beef, Peppers & Onions, Root Vegetable Black Bean Quinoa Bake and Chocolate Cinnamon Bread. (Mushrooms were for a Vegan dish).
1st 2018 Albert Bichot Chat De Varennes Beaujolais Villages, France (Gamay)
2nd Tie 2017 Gran Pasas Monastrell, Yecla, Spain (Monastrell also known as Mouvedre)
5th 2017 Esterhazy Zweigelt, Austria (Zweigelt)
4th 2017 Peirano Estate Petite Sirah, Lodi, CA (Petite Sirah)
2nd Tie 2018 Chronic Cellars Suite Petite, Paso Robles, CA (89% Petite Sirah, 11% Syrah)
3rd 2017 McManis Petit Verdot, CA (predominantly Petit Verdot with some Tannat and Petite Sirah)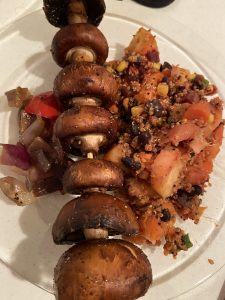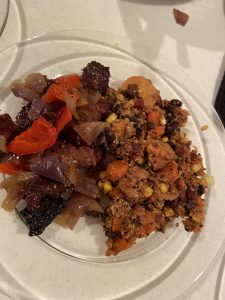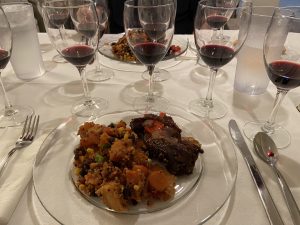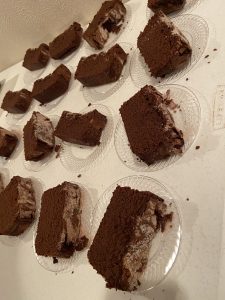 April 2020 Red Blends was cancelled for the time being. I will try to reschedule something to include these wines later in the year.
May 2020 Chardonnay was cancelled for the time being. I will try to reschedule something to include these wines later in the year.
June 2020 Sauvignon Blanc Yes we are back eating and drinking wine! After 2 and a half months of Coronavirus shutdowns it was so great to see everyone again. This month we tasted Sauvignon Blancs, these are great crisp dry wines. They have strong citrus characteristics, maybe some jalapeno, passion fruit, grapefruit, lemon, grass, etc. These are great wines to have on the patio on a warm summer evening, drinking them chilled helps to cool you off and makes them clean and crisp. Tonight we paired them with Salmon filets stuffed with Crab and a Rice Pilaf with Grilled Asparagus and Green Onions and for dessert we had Key Lime Pie. Also had a Vegan Key Lime Dessert which was very good.
3rd/3rd NV JNSQ Sauvignon Blanc, CA
6th/4th Tie 2018 Angeline Reserve Sauvignon Blanc, Sonoma County, CA
5th/4th Tie 2018 Flat Top Hills, CA
1st/2nd 2019 Rapaura Springs Sauvignon Blanc, Marlborough, NZ
2nd/1st 2019 Koha Redwood Hills Awatere Valley Sauvignon Blanc, Marlborough, NZ
4th/5th 2018 Leefield Station Waihopai Valley Sauvignon Blanc, Marlborough, NZ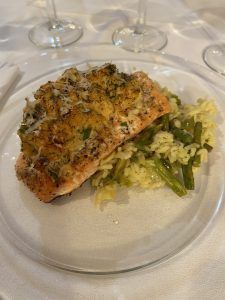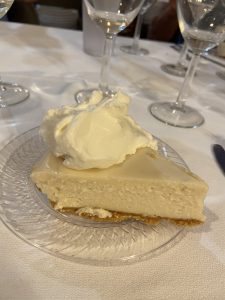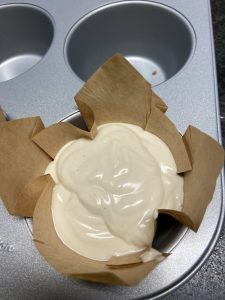 July 2020 Sweet White Wines (Riesling & Moscato) These are great wines for HOT evenings on the patio, and to pair with spicy foods. The sweetness just cuts thru the heat no matter what kind it is. These are low alcohol wines in general so it makes for a good drink on the hot evening patio. Rieslings will not be as sweet as Moscato, but they generally show some peach or melon maybe some pineapple or apple flavors. Moscato, is very sweet and most have some sort of effervescent, you will have orange, honeysuckle also peaches. We paired it with Grilled Chicken w/ a Spicy Peach Glaze, Roasted Carrots, Farro Salad & Berry Trifle.
1st Tie/6th 2018 Clean Slate Riesling, Mosel, Germany
5th/7th 2018 Chateau Ste. Michelle Riesling, Columbia Valley, WA
3rd/3rd 2018 Hogue Late Harvest Riesling, Columbia Valley, Washington
6th/4th 2018 14 Hands Moscato, Washington
4th/1st NV Castello del Poggio Moscato, Italy
1st Tie/5th NV La Perlina Moscato, Veneto, Italy
2nd/2nd 2018 Elio Perrone Sourgal Moscato d'Asti, Italy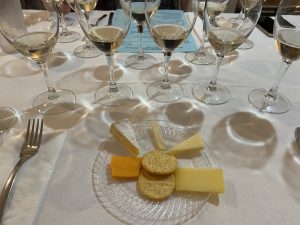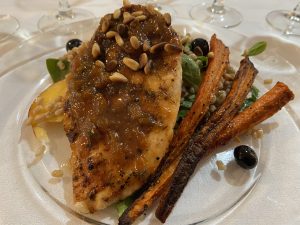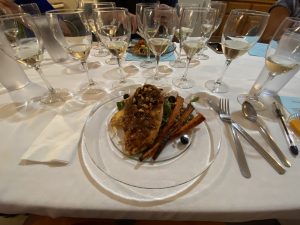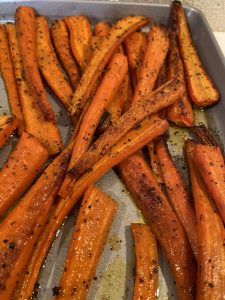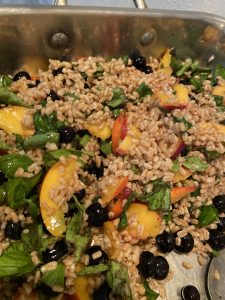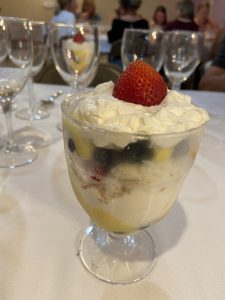 August 2020 White Wines These are off dry wines, like Pinot Grigio, Chenin Blanc, Viognier, or white blends. These are wines that are great for evenings on the patio again during the 'dog daze of summer'. They will pair with salads, chicken, pork and many other dishes. So I ended up selecting 3 grapes that are unique and limited production, we tasted a couple Pinot Grigios, and finally a couple white blends. I paired it with Baked Acorn Squash stuffed with Ground Turkey & Pine Nuts from Michael Symons cookbook Fix it with Food, Roasted Garlic Parmesan Cauliflower and a Lemon Bundt Cake from Nothing Bundt Cake that just opened in Topeka, and I wanted to support them and recommend everyone support them.
5th/3rd 2018 L'Ecole No. 41 Semillon Columbia Valley, Washington (85% Semillon, 15% Sauvignon Blanc)
4th/2nd 2018 Anko Torrontes, Salta, Argentia (100% Torrontes)
3rd Tie/4th 2018 Toscolo Vernaccia Di San Gimignano, Tuscany, Italy (100% Vernaccia)
1st/5th 2018 Barone Montalto Pinot Grigio Terre Siciliane, Italy (100% Pinot Grigio)
2nd Tie/6th 2019 Bieler Family Daisy Pinot Grigio, Columbia Valley, Washington (75% Pinot Grigio, 15% Sauv Blanc, 7% Riesling, 3% Moscato)
2nd Tie/ 1st 2018 Rodney Strong Upshot White Blend, California (27% Chardonnay, 21% Grenache Blanc, 18% Gewurztraminer, 17% Pinot Noir, 11% Viognier, 6% Sauvignon Blanc)
3rd Tie/6th Tie 2019 (Cline Cellars) Farmhouse White, California (Pinot Gris, Chardonnay, Muscat Canelli, Palomino, Marsanne, Viognier, Gewürztraminer)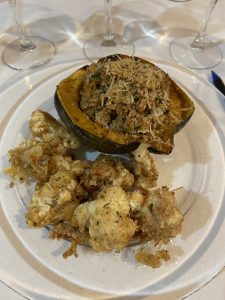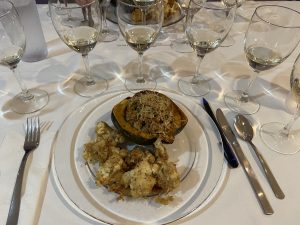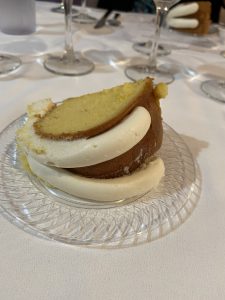 September 2020 International Reds In the past several years we have done wines from South America in September. This year I decided to branch out and try wines from several other countries also. These are all wines that you can have for a tailgate party, or backyard BBQ this fall. As we all begin to get together again these are easy to drink wines for everyone! We have 2 wines from Argentina, 2 from South Africa, 1 each from Portugal, Spain, and France. We paired Grilled Flank Steak w/ Chimichurri Sauce, Roasted Butternut Squash & Onions, Roasted Asparagus, and Flourless Chocolate Cake.
2nd/3rd Tie 2018 Amalaya Estate Grown Malbec Salta, Argentina (85% Malbec, 10% Tannat, 5% Petite Verdot)
3rd/3rd Tie 2018 (Belasco) Llama Old Vine Malbec, Mendoza, Argentina
5th/5th 2018 Backsberg Pinotage, Coastal Region, South Africa (90% Pinotage, 10% Other (Grenach, Shiraz, Zinfandel)
1st/4th 2018 (Opstal) Sixpence Breedekloof Valley Red Blend, South Africa (65% Cabernet Sauvignon / 35% Merlot for 2019)
4th/3rd Tie 2015 Patamar Reserva Red Blend, Lisboa, Portugal (25% Touriga Nacional, 25% Shiraz, 25% Alicante Bouschet, 25% Caladoc)
6th/2nd 2016 Bodega Gancedo Mencia, Bierzo, Spain (100% Mencia)
7th/1st 2016 Chateau Saint Nabor Cuvee Prestige, Cote Du Rhone Village, France (50% Grenache, 20% Syrah, 15% Mourvedre, 15% Carignan)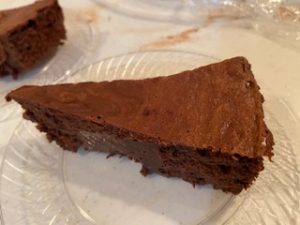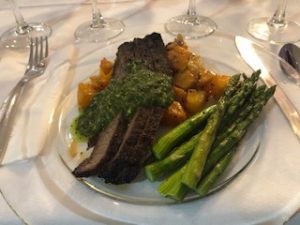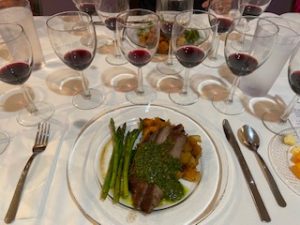 October 2020 Italian Red Wines This month I decided to do some wines that we have not had in a couple years. Italian Reds are great easy to drink wines, some can be pricey… but in general they are affordable and great for fall dinner parties or sitting around a fire pit with family and friends. As you will see below we tasted wine made from several different grapes, including the famed Sangiovese. We paired our wines with Grilled Chicken Parmesean, Spaghetti, Roasted Asparagus and Tiramisu for dessert.
2nd/ 2018 Cantine Sant' Agata Barbera D'Asti "Baby", Piemonte, Italy (100% Barbera) No Oak
6th Tie/ 2015 Rizzi Barbaresco, Treiso, Piemonte, Italy (100% Nebbiolo)
4th/ 2018 Matane Primitivo Puglia, Italy (100% Primitivo) No Oak
5th/ 2016 Toscolo Chianti Classico, Tuscany, Italy (95% Sangiovese, 5% Cabernet Sauvignon)
6th Tie/ 2014 Castel Firmian Nerofino, Trentino, Italy (50% Teroldego, 50% Lagrein)
3rd/ 2018 Mottura Negroamaro Del Salento, Puglia, Italy (100% Negroamaro)
1st/ 2016 Masi Campofiorin Rosso Del Verona, Veneto, Italy (Corvina, Rondinella, Molinara)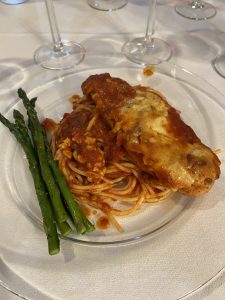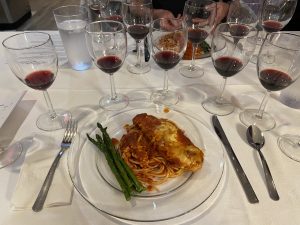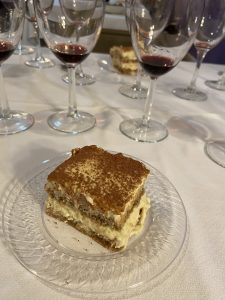 November 2020 Thanksgiving wines (Pinot Noir, Rose, Gewurtz, Gruner Veltliner) It's hard to believe we are already talking about November and ready to think about Thanksgiving. This year I think Thanksgiving will take on a lot more meaning and importance. It is traditionally the busiest week of the year for wine sales. There are several wines that will pair with your Thanksgiving turkey and we are going to test out several of those this month. In that respect we will be having a couple white wines and red wines (Pinot Noir) that will pair well. These are the wines you will get if you are at our house on Thanksgiving day. In voting we did the Pinot Noir separate from the first 3.
1st/1st NV Fetzer Gewurztraminer, Monterey, CA
2nd/3rd 2018 Laurenz V. Singing Gruner Veltliner, Austria
3rd/2nd 2019 Lange Rose of Pinot Noir, Dundee Hills, OR
3rd tie/3rd 2015 Cambria Julia's Vineyard Pinot Noir, Santa Maria Valley, CA
1st/4th 2016 Left Coast Latitude 45 Estate Pinot Noir, Willamette Valley, OR
3rd tie/1st 2016 Penner-Ash Estate Pinot Noir, Yamhill-Carlton, OR
2nd/2nd 2018 Cristom Mt. Jefferson Cuvee Pinot Noir, Eola-Amity Hills Willamette, OR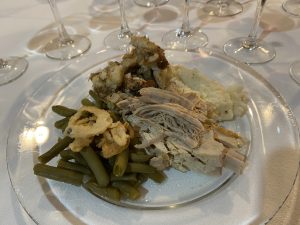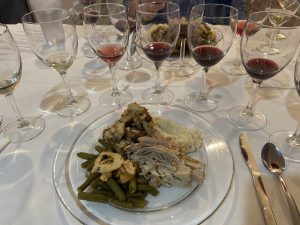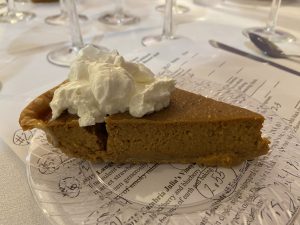 December 2020 Dessert Wine Tasting This year we are tasting dessert wines, they can be considered dessert in and of themselves but we go over the top and pair them with a buffet of desserts! This is the one night a year you are guaranteed to go over your RDA of calories. We are tasting wines from several countries and several different styles of wine. We start with a meal to help absorb the alcohol as several of these wines are around 20% ABV. We had Ceasar Chicken and Rice w/ Asparagus for dinner. The desserts we had were as follows: Midnight Fudge Cake, Espresso Cheesecake, Rustic French Apple Tart, Strawberry Crumb Bars, Cherry Yum Yum
3rd Tie/4th MD 20/20 Peaches and Cream, New York
2nd/2nd Tie NV Gallo Family Vnyd Sweet Strawberry, CA
5th Tie/4th Langman Heaven's Kiss Dessert Wine, Sierra Foothills, CA 375ml
1st/1st Tie Villa M Sweet Red, CA (Brachetto grape)
3rd/ 1st Tie 2014 Niepoort LBV Porto, Gaia, Portugal (Touriga Nacional, Touriga Franca, Tinto Cão, Tinta Francisca, Tinta Amarela, Sousão, Tinta Roriz)
4th Tie/2nd Tie Kopke Porto Fine Tawny Port, Portugal
5th Tie/3rd Tie Wisdom and Warter Delicate Cream Sherry, Jerez, Spain (Palomino & Pedro Ximenez)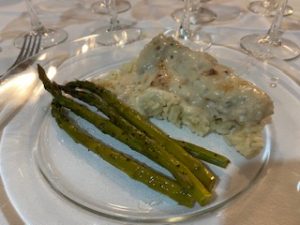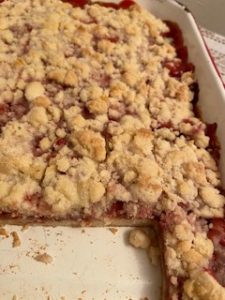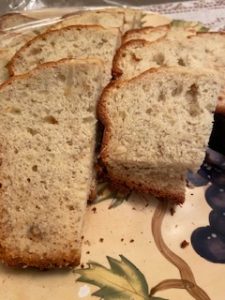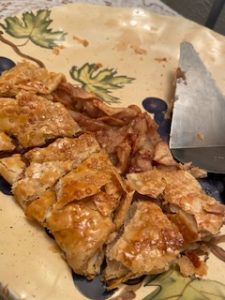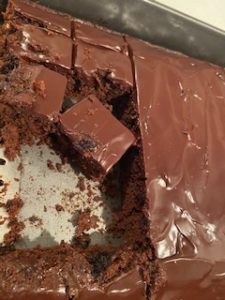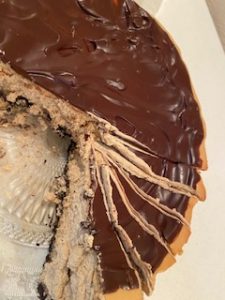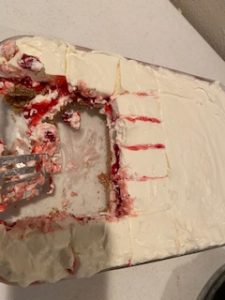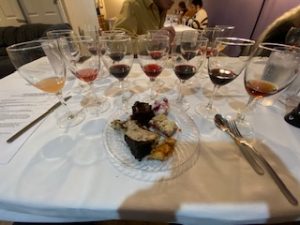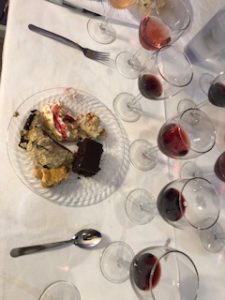 Bottom of the Page.
Google+