This page will talk about different wines.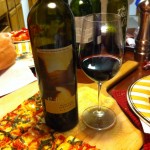 At our house we consider Bella Vineyards to be our house wine. Bella was an upstart winery when I first found them in the early 2000's. They are located at the very North end of West Dry Creek Road in Sonoma County, and have some of the Best Zinfandel!
We also love to grow our own tomatoes and and make our own pizza crust with a beloved recipes from old friends, Art & Betty. They introduced me to Margharita Pizza, absolutely yummy. So during the summer Pizza and Zin are a staple at our house.
5/20/14 Wine Reference Links
Last night someone asked me what websites I like as far as information on wine/grapes and pairing. I said I would post a couple of my favorite so here they are.
http://www.winedin.com/pair_food_wine.php This is a site that you can utilize to type in what you are cooking and it will recommend wine varietals to pair with it. NOTE: you must scroll down below the ad placed right under where you type in your food. I would explore this website I think it has a lot to offer.
http://www.winepros.org/wine101/grape_profiles/varietals.htm This site has Lots to offer also, but I find myself going to this page to find info on specific grapes/varietals.
Wine App for phone: A new one that I have found is Vivino. I have just started using this so I don't know everything about it yet but it seems to be good to keep track of what you have tasted etc.
4/22/14 Charbono, What is it?
So tonight we plan to have some friends Pam & Charlie over for dinner. They recently went out to Napa and checked out a couple wineries we recommended. One of the wineries was Summers Winery they brought us back a bottle of Charbono as a thank you. So we are having them over this evening to do a vertical tasting of Summers Charbono tonight. FYI, another great California Charbono is Robert Foley's Charbono.
So what is Charbono… it is a very obscure grape, you will find it in California under the name Charbono, in Argentina it is called Bonarda, in France it is called Charbonneau. In California there are only a handful of wineries that grow and make Charbono they say there are only about 80 acres of it planted today. Charbono is a medium bodied wine, with purple inky color, it has nice fruit blueberry and mixed fruit flavors. (Will update more once we taste tonight!)
Here are some other synonyms for Charbono from the Vitis International Variety Catalogue: Over the years Douce noir has been known under a variety of synonyms including: Alcantino, Aleante, Batiolin, Bathiolin (in Albertville), Blaue Gansfuesser, Bonarda (in Argentina), Bourdon noir, Carbonneau, Charbonneau (in Jura France), Charbono (in California), Corbeau (in the Ain and Isère departments as well as Jura), Cot Merille, Cot Rouge Merille, Cote Rouge, Dolcetto Grosso, Dolutz, Douce noire, Folle Noire d L'Ariege, Grenoblois, Korbo, Mauvais noir, Ocanette, Picot Rouge, Plant de Calarin, Plant de Montmelion, Plant de Savoie, Plant de Turin (in Jura), Plant noir (in the Haute-Savoie department), Turca (in the Trentino region of Italy), Turin (in Jura) and Turino.
So our dinner was great… we had filets with grilled vegetable cous cous. We had 2 vintages of Summers Charbono 2005, 2006, 2011.
Google+