January 2018 We have had a major freeze set in to start off the year! The nice thing about it being cold outside is that you can sit inside, hopefully by a fire, and sip some really good Cabernet Sauvignon that will warm you up from the inside out. This month we are going to taste 2 Cabs from Washington, and 4 Cabs from California, it will be interesting to see the differences and the favorites. Pairing it with Roasted Beef Tenderloin, Herb Scalloped Sweet Potatoes w/ Bacon & Gruyere, Asparagus Bacon Bundles, Chocolate Almond Torte.
1st Tie/2nd 2015 Resolute Red Hills Cabernet Sauvignon, CA
2nd Tie/4th 2015 Highway 12 Sonoma/Lodi/Napa Cabernet Sauvignon, CA
1st Tie/5th 2015 Louis Martini Sonoma Cabernet Sauvignon, CA
3rd/6th 2015 Luke Wahluke Slope Cabernet Sauvignon, WA
4th/3rd 2014 Saviah Walla Walla Cabernet Sauvignon, WA
2nd Tie/1st 2015 Trig Point Diamond Dust Cabernet Sauvignon, CA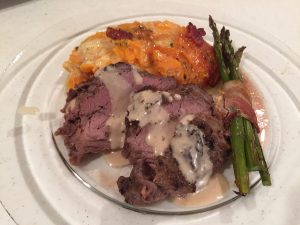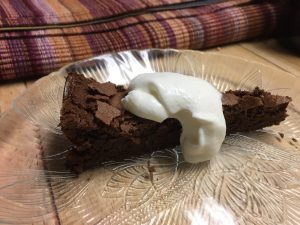 February 2018 Still battling the cold weather and maybe a few of you are battling a cold also. The question is what will help both colds? Merlot of course, always recognized as a smooth red wine it will warm you up from the inside out, and when it is that smooth a glass or two or three later and you will be sleeping like a baby and you will not even remember your cold. Well it all sounds good, right? Merlot is still trying to recover from its crash in the early 2000's when the movie sideways hit it head on. This month we are trying Merlot from California, Washington, France and Italy. Check it out! We paired Lasagna, Broccoli-Cheese Casserole, Garlic Herb Pull Apart Rolls and Death by Chocolate Cheesecake.
1st /3rd 2015 Toad Hollow Richard McDowell's Selection Merlot, Sonoma County, CA
6th/4th 2014 Chateau Subilaux Bordeaux, France
3rd/5th Tie 2014 Barone Fini Merlot, Trentino, Italy
7th/1st Tie 2014 Kendall Jackson Grand Reserve Merlot, Sonoma County, CA
5th/1st Tie 2014 Airfield Estate Merlot, Yakima Valley, WA
2nd/5th Tie 2014 Columbia Merlot, Columbia Valley, WA
4th/2nd 2013 Franciscan Merlot, Napa Valley, CA
extra not voted on: 2013 Canvas Merlot, CA (But everyone really liked this)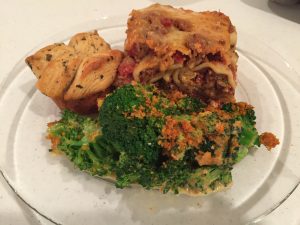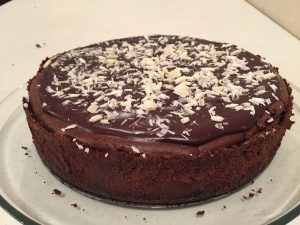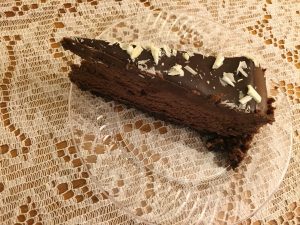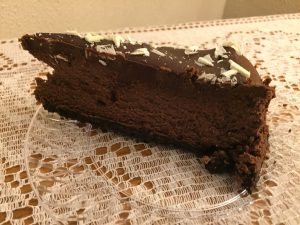 March 2018 Syrah and Petite Sirah, its child. This month we are tasting Syrah which can still have some good tannins, a full bodied red wine for those cool nights we could still encounter. It is also known as Shiraz and we will check out a couple from Australia. These wines pair well with a good steak, BBQ, Pizza/Burgers. We are also going to taste Petite Sirah, which is a child of Syrah & Peloursin. This wine is generally inky, purple, and so smooth that before you turn around the bottle is empty and will pair with all of the above plus things like salmon and grilled chicken or pork also. I decided to to have Grilled Bourbon & Vanilla Brined Pork Chops w/ Kahlua Glaze, Mashed Sweet Potatoes, Roasted Asparagus, & Chocolate Kahlua Coffee Pound Cake.
2015 1st/2nd Plungerhead Petite Sirah, Lodi, CA
2015 3rd/1st Spellbound Petite Sirah, CA
2013 5th Tie/5th Graziano Petite Sirah, Mendocino County, CA
2012 2nd/3rd Henry's Drive 'H' Syrah, Padthaway, Australia
2012 4th/NA Hedges 'Groedhart Family' Syrah, Red Mountain, WA
2013 6th/4th Barossa Valley Estate Shiraz, Australia
2014 5th Tie/6th Shane 'Villian' Syrah, Santa Lucia Highlands, CA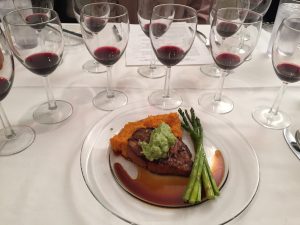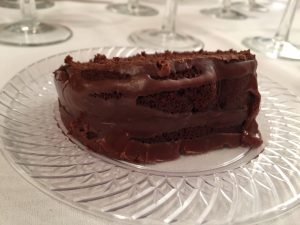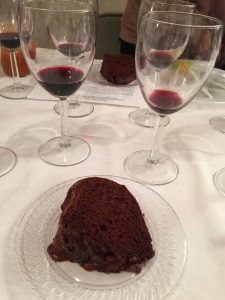 April 2018 This month we are checking out Red Blends. These wines are lots of times a great value wine, and popular for BBQ's and parties. They are easy to drink wines as the grapes meld together and the dry tannins are mellowed out by other grape varietals that have less tannin, are more fruit forward. There are so many options of Red Blends that I had a really hard time narrowing this tasting down to 7 wines. Not only will I post the results of those wines but at the bottom of this months notes I will list some additional wines for you to try. We paired a Raspberry Chipotle Bacon Cheeseburger, Sweet Potato Fries, Cheesy Corn & Blueberry Muffin Cake.
6th Tie/4th 2014 Barton & Guestier Cote-Du-Rhone, France
1st/3rd Tie 2015 Silk & Spice, Portugal
5th/5th 2015 Purple Heart Red Wine, Sonoma County, CA
2nd/2nd 2015 Black Ink, Red Wine, CA
4th/1st 2015 Predator Six Spot Red, Lodi, CA
6th Tie/6th 2016 Broc Cellars LOVE Red Blend, North Coast, California
3rd/3rd Tie 2014 Cooper & Thief Bourbon Barrel Red Wine Blend, California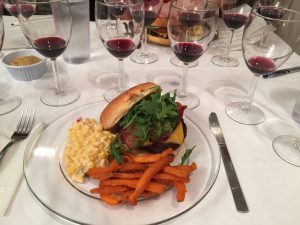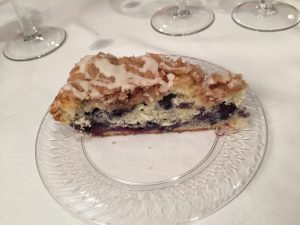 Italian Wine Dinner April 2018 I had a request to do an Italian dinner, so we packed out the basement with people and had some awesome Italian wines! European wines are historical to me, they were being drank long before California wines, and they are drank morning, noon and night. This was a chance to taste wines from Tuscany, Piedmonte, & Abruzzo regions of Italy. We paired Braised Roast with Vegetables over Creamy Parmesan Polenta, 5 Cheese Marinara Pasta, and Triple Chocolate Pie w/ Hazelnut Crust.
7th 2014 Santa Martina Toscana Rosso, Tuscany, Italy
1st 2015 Rocca Giovanni Barbera D'Alba Pianromualdo, Piemonte, Italy
3rd 2015 Medici Ermete Solo Reggiano Rosso, Reggio Emilia, Italy
6th 2012 Sordo Gabutti Barolo, Serralunga d'Alba, Italy
4th 2016 Casata Parini Montepulciano D'Abruzzo, Italy
5th 2013 Salcheto Vino Nobile Di Montepulciano, Italy
2nd 2012 Silvio Nardi Brunello Montalcino, Italy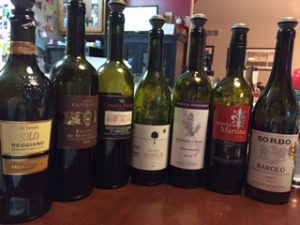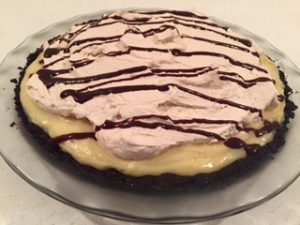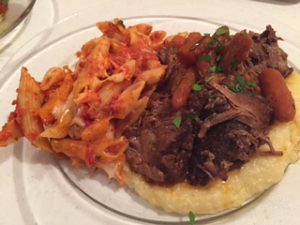 May 2018 Chardonnay, As the sun came up this morning driving thru the Flint Hills, it just seems like spring is finally here, even though the weather has not been telling us that. Therefore, I have decided that we will just force Spring to show up by drinking white wine! Chardonnay is a great place to start with it's beautiful golden color, sometimes you can have a nice crisp Chard, and other times it is creamy and smooth. Let's see what we find this year to usher in some sunshine and warmer temps. We will pair Pistachio Crusted Lemon Chicken, Creamy Goat Cheese Asparagus Quinoa Salad, and Apple Pie.
3rd Tie/2nd 2016 Neyers 304 Chardonnay, Sonoma Coast, CA
6th/4th 2016 Stoller Dundee Hills Chardonnay, Willamette Valley, OR
5th/5th 2014 Light Horse Chardonnay, CA
4th/6th 2015 B.R. Cohn Russian River Valley Chardonnay, Sonoma County, CA
2nd/1st 2015 Cambria Bench Break Chardonnay, Santa Maria Valley, CA
3rd Tie/3rd Tie 2016 St. Francis Chardonnay, Sonoma County, CA
1st/3rd Tie 2016 Michael David Chardonnay, Lodi, OR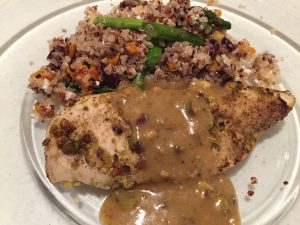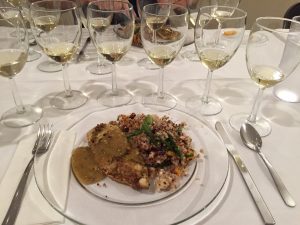 June 2018 Sauvignon Blanc Well summer has arrived, at least the temperatures have! That just means it is time for some nice crisp white wine, Sauvignon Blanc. Some will have notes of Lemon, Grapefruit, Gooseberry, Passion Fruit, others may have grass or jalapeno, but all will quench your thirst on a hot summer day, or chilling out on the patio watching the sunset. Paired with Chicken Souvlaki w/ Zucchini Tzatziki, Parmesan Risotto, Grilled Aparagus, & Key Lime Dessert Bars.
3rd/5th 2017 Francois Lurton Les Fumees Sauvignon Blanc, France
5th Tie/6th 2017 Long Meadow Ranch Rutherford Estate Sauvignon Blanc, Napa Valley, CA
5th Tie/7th 2015 Six Sigma Asbill Valley Sauvignon Blanc, Lake County, CA
1st/3rd 2017 LaPlaya Estate Sauvignon Blanc, Curico Valley, Chile
2nd/4th 2016 Babich Black Label Sauvignon Blanc, Marlborough, NZ
4th/1st 2017 Te Pa Sauvignon Blanc, Marlborough, NZ
6th/2nd 2017 The Kings Favour Sauvignon Blanc, Waihopai Valley, Marlborough, NZ
Everyone loved: 2015 The Ned Late Harvest Sauvignon Blanc, Marlborough, NZ (375ml)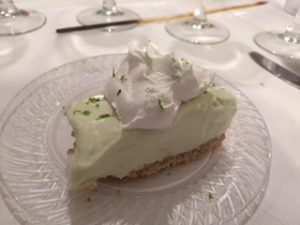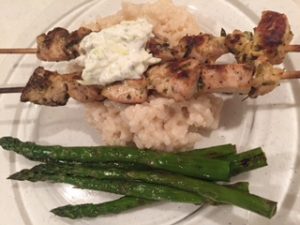 July 2018 Moscato/Riesling/Rose Wines! So in the heat of summer you want something cold and semi-sweet to sweet! These wines also pair well with spicy food. So pick some up and fill up the fridge with several of these and enjoy them on these Hot Summer Nights! For the tasting we paired the wines with a Korean Grilled Chicken w/ a Sweet & Spicy Thai Glaze, Orange Quinoa Salad (see recipe page on my website), Candied Bacon & Garlic Green Beans & Peach & Blackberry Crumble.
1st/1st NV Rosatello Moscato, Italy
2nd/3rd 2015 Von Schleinitz VS Riesling, Mosel, Germany
3rd/2nd 2015 Monchhof Robert Eymael Riesling, Mosel, Germany
5th Tie/5th 2015 Ryan Patrick Olsen Brothers Vineyard Riesling, Washington
5th Tie/7th 2017 Schlosskellerei Gobelsburg Cistercien Rose, Austria
6th/6th 2017 Jadot Rose, Coteaux Bourguignons, France
4th/4th 2017 Decoy Rose, California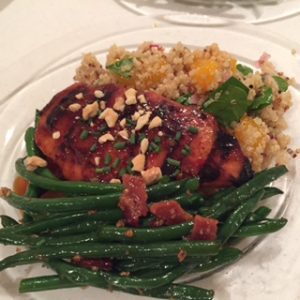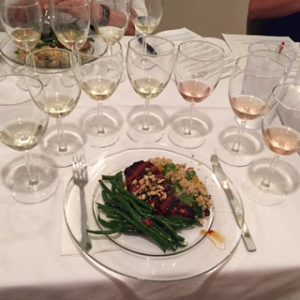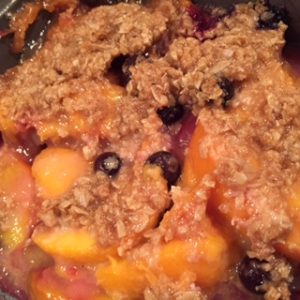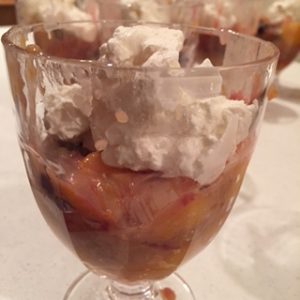 August 2018 Odd Whites, These are off dry white wines that are nice and crisp to drink. They are great to sip on after a long day, or as I was working outside in the heat and when done just wanted to sit and relax with something cold. They have more of a mineral style flavoring vs fruit but that's what makes them so great. There are several grapes represented in the list below, many that we don't hear about very much at all but are stars in their respective countries. Pairing of these wines for the tasting was with Grilled Flounder, my House Salad, Crabcakes, Pearl Cous Cous w/ Grilled Vegetables in Lemon Vinegarette. Dessert was a Lemon Mouse in a Cinnamon Sugar Cup. These wines are know to pair well with all seafood, salads and would also be good with chicken dishes.
3rd/1st 2017 J Pinot Grigio, CA
4th tie/6th 2016 Inama Vin Soave Classico, Verona, Italy
1st/2nd 2016 Scaia Garganega/Chardonnay, Delle Venezie, Italy
4th tie/7th 2015 Raimat Albarino, Spain
5th/4th 2015 Ladera Sagrada Castelo do Papa Godello, Valdeorras, Spain
6th/5th 2014 Can Feixes Blanc Seleccio, Penedes, Spain
2nd/3rd 2016 Monopole White Wine, Rioja, Spain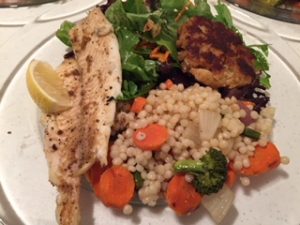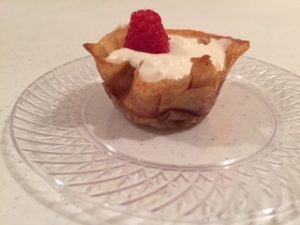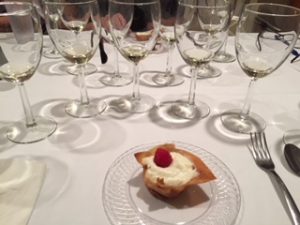 September 2018 Reds from South America As the weather begins to cool down and we start thinking about tailgating at the college football games or evenings grilling and relaxing on the patio, these are the red wines many will turn to. These wines go well with anything grilled! They are medium bodied, not to dry, easy to drink and reasonably priced wines for large groups. This month we paired these wines with Grilled Beef Tenderloin, Grilled Smoked Beef Sausage, Roasted Garlic Mashed Red Potatoes, Asparagus and Caramelized onion & Herb Polenta Muffins. Dessert is a No bake Espresso Mud Pie!
3rd/1st Tie 2017 Colonia Las Liebres Bonarda Clasica, Mendoza, Argentina
7th/3rd Tie 2017 Aupa Pipeno, Maule Valley, Chile (80 Pais/20 Carignan)
6th/5th 2014 Fabre Montmayou Cabernet Franc Reserva, Mendoza, Argentina
2nd/2nd 2016 LaPlaya Estate Red Blend, Valle de Colchagua, Chile (Syrah/Cab Sauv/Carmenere)
4th/1st Tie 2015 Salentein Reserve Malbec Valle de Uco, Mendoz, Argentina
5th/4th 2016 Anko Malbec, Salta, Argentina
1st/3rd Tie 2016 Tall Dark Stranger Malbec, Mendoza, Argentina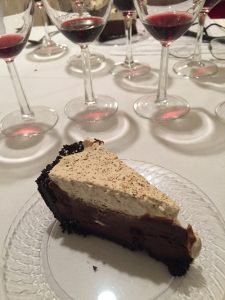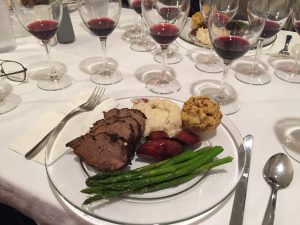 October 2018 Zinfandel This is another wine that is great for those cool fall evenings by the fire pit. It is also great for tailgating, it pairs well with lots of different foods, anything grilled, and especially BBQ. Dinner for these tastings was BBQ Beef Brisket, 7 Cheese Mac & Cheese, Roasted Broccoli, Chocolate Cake w/ Triple Berry Coulis.
1st Tie/6th 2016 Rabble Mossfire Ranch Zinfandel, Paso Robles, CA
5th/5th 2014 Beran Zinfandel, CA
3rd Tie/3rd 2016 Armida Poizin Zinfandel, CA
4th/2nd 2015 Caricature Old Vine Zinfandel, Lodi, CA
2nd/4th 2016 Angry Bunch Zinfandel, Lodi, CA
1st Tie/1st Tie 2015 Gehricke Russian River Valley Zinfandel, Sonoma County, CA
3rd Tie/NA 2010 Bella Lily Hill Zinfandel, Dry Creek Valley, Sonoma County, CA
NA/1st Tie 2012 Bella Lily Hill Zinfandel, Dry Creek Valley, Sonoma County, CA
***week 2 results may change, I put in by memory, need to confirm results.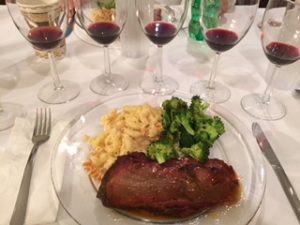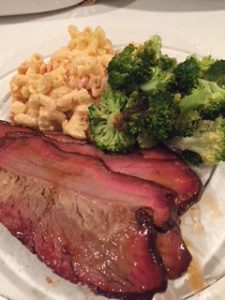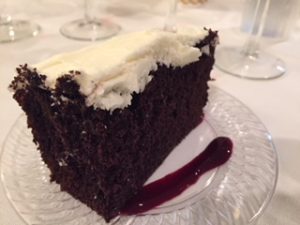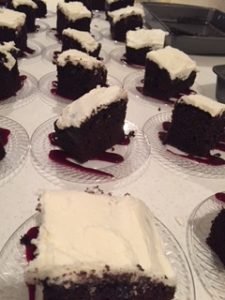 November 2018 Pinot Noir One of the best red wines to pair with Thanksgiving dinner. Whether you are doing ham or Turkey, I'm doing Turkey, pinot noir will pair well. It is a lighter red wine, with lower tannins, traditionally known as red Burgundy as pinot is the red wine of Burgundy. The wines I've selected this month are the ones I would serve at my house for Thanksgiving. We are going to push our price point a little but it is a special occasion and spending a little more is allowed. Pairing with Turkey, Stuffing, Mashed Potatoes, Green Beans and Spiced Cranberry Bread Pudding.
4th/1st Tie/3rd 2016 MWC Yea Valley Pinot Noir, Victoria, Australia
6th/3rd/4th 2015 Fess Parker Rita Hills Pinot Noir, California
1st/2nd Tie/2nd 2016 Meiomi Pinot Noir, California
3rd/4th/1st 2014 Elk Cove Pinot Noir, Willamette Valley, Oregon
2nd/2nd Tie/5th 2015 King Estate Signature Pinot Noir, Willamette Valley, Oregon
5th/1st Tie/7th 2015 Lange Pinot Noir, Willamette Valley, Oregon
7th/2nd Tie/6th 2016 Cristom Mt. Jefferson Cuvee Pinot Noir, Willamette Valley, Oregon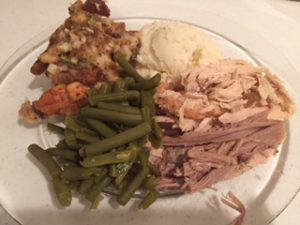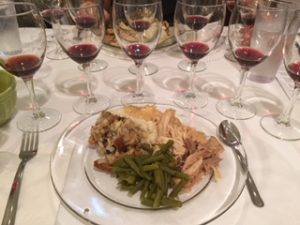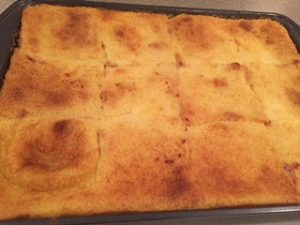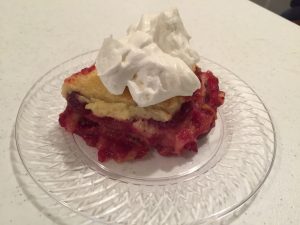 December 2018 Dessert Wines This month we are checking out dessert wines, these can be considered dessert in and of themselves, or they can be paired with desserts. Sometimes a few of these even pair with appetizers. This month we went for the pairing with desserts version! So we started off with Spaghetti & Meatballs (see recipe on recipe tab page) just to give us a little food in our stomachs to absorb the higher alcohol in these wines. Desserts that we had are as follows, *Chai cake with cream cheese frosting, Crescent roll apple dumplings, Crescent roll pear & cranberry dumplings, S'mores Bars, Brownie Bites, **Pecan Pie (week 2), Triple layer chocolate pie, Cheesecake, and Blue cheese.
4th Tie/3rd Tie Heinz Eiffel Eiswein, Germany 375ml
4th Tie/2nd Disznoko Tokaji 5 Puttonyos, Hungry 500ml
2nd/5th Grahams 10yr Tawny Port, Portugal 750ml
1st/1st Heitz Ink Grade Port, California 750ml
3rd/3rd Tie Quady Starboard Batch 88 Port, California 750ml
5th/4th Cresecent Moon Starry Starry Night Port, Kansas 375ml
NA/6th Bluejacket Crossing Fado, Kansas 750ml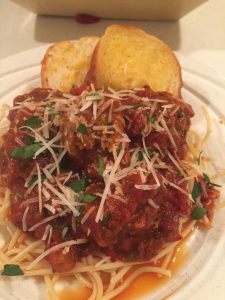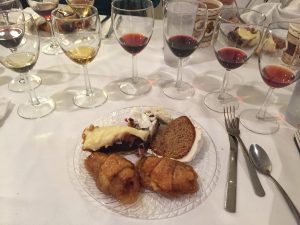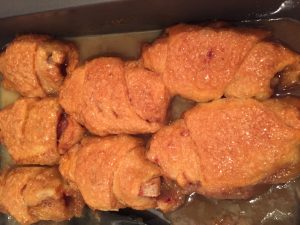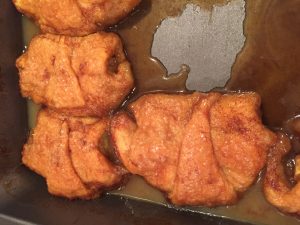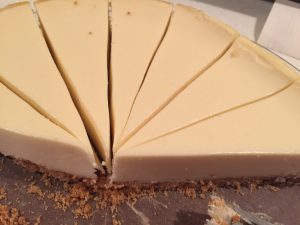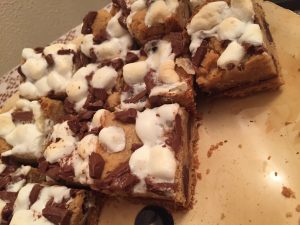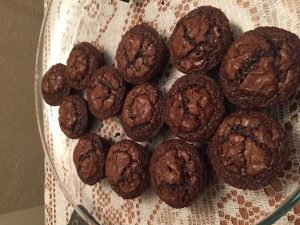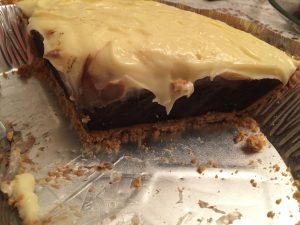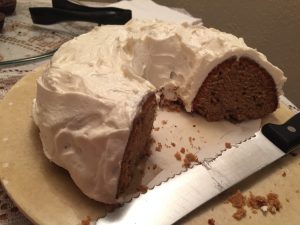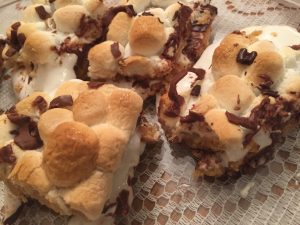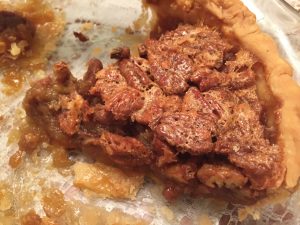 *Chai cake with Cream Cheese Frosting:
week 1 I used: https://www.kingarthurflour.com/recipes/chai-spiced-pound-cake-recipe
week 2 I used: https://livforcake.com/chai-cake/
**Pecan Pie I used Rea Drummonds recipe but I modified it with more pecans and I added molassas.
week 2: https://www.foodnetwork.com/recipes/ree-drummond/pecan-pie-recipe-2042433
Google+