November 2013 Napa & Sonoma
This was a long weekend in Napa and Sonoma. I told Bill I did not want this trip to be a 'hit as many wineries as we can' trip. I wanted this to be a 'find quality wines and take our time tasting' trip. So where did we go you ask?
On Friday we started at Alexander Valley Vineyard with a Private Tour and Tasting that was scheduled ahead of time. Here are a few Pics from our visit.
We were blessed by the chance to meet Hank Wetzel, owner & winemaker, while we were there. Alexander Valley Vineyards consistently year after year produces Excellent wines that are not only velvety smooth and easy to drink but at everyday prices. They also produce some higher end red wines, The Cyrus, and Schoolhouse Reserve Cabernet Sauvignon. Both of these wines are excellent and you can drink them now, they will open up as you drink, but they are even better if you can lay them down for a couple years in a cellar.
Summers Estate Winery had one of our favorite wines of the entire weekend! Some may think I am partial to this winery since it is my maiden name (no relation unfortunately) but I'm not, they just have excellent wines. They also have a very rare wine, Charbono.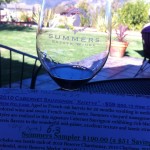 There are only a handful of wineries in California that grow and make Charbono, Summers makes a fantastic one! The 2010 Summers Reserve Cabernet Sauvignon was literally one of the best wines we had all weekend, and as you can tell from the pics this is a great winery to sit on the patio, visit and savor some great wine!
Storybook Mountain It had been several years since I've had Storybook wines, they always had good Zinfandels, so I was anxious to get an appointment and tasting. Storybook is totally run by the Seps family and a couple of employees that have been with them for decades. As I expected the wines were still great. I would highly recommend you pick up or order a couple bottles and try them. Here are a couple pics from our visit.
Other wineries we visited on Friday were, B Cellars Winery, Soda Rock Winery, and ???
On Saturday, we had planned to taste at several wineries in Napa Valley so let me step you thru our day….
Google+