January 2021 Cabernet Sauvignon As we look forward to starting a NEW YEAR and a possible snow storm to bring it in, we will be tasting one of the favorite red wines to warm you up on these cold winter nights and bring a smile to your heart. Cabernet Sauvignon is not one of the oldest grapes but it is one of the most well known and popular. In general it is a dry red wine that pairs well with stews and steaks. This month we paired it with a wonderfully grilled steak, Steakhouse Baked Potatoes, Steakhouse Baked Potatoes, Roasted Carrots w/ Goat Cheese & Pistachios, Chocolate Souffle w/ Raspberry.
4th/2nd Tie 2016 Trim Cabernet Sauvignon, CA
3rd/4th Tie 2017 McNab Ridge Winery Cabernet Sauvignon, Mendocino County, CA
5th/3rd 2015 No Curfew Cabernet Sauvignon, CA
6th Tie/2nd Tie 2018 Sean Minor 4B Cabernet Sauvignon, Paso Robles, CA
6th Tie/4th Tie 2018 Omen Cabernet Sauvignon, Paso Robles/Sierra Foothills, CA
1st/2nd Tie 2018 Chapel Hill The Parson Cabernet Sauvignon, Adelaide, Australia
2nd/1st 2018 Silver Ghost Cabernet Sauvignon, Napa Valley, CA
* 2018 7 Cellars The Farm Cabernet Sauvignon, Paso Robles, CA (this wine was tried week 1 but did not pass the taste test to make it to week 2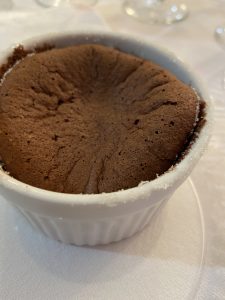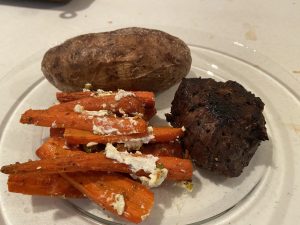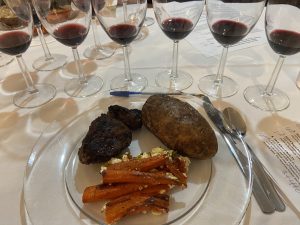 February 2021 Merlot We always say red wine will warm you up and Merlot definitely did that this month. While we were in the throws of the Ice Age v Global Warming fight our first tasting this month took place on a day when the wind chill was -35 YES that is a minus sign, and the second tasting a week later occurred on a day that was 62 degrees. That is a difference of 97 degrees! So while Merlot is smooth, silky, and has descriptions that go on and on, know this, it pairs well with Steak and Italian no matter what the weather is doing outside, so check one of these out! We paired it with my version of Baked Chicken Parm over Parmesan Orzo, Roasted Broccoli, Italian Bread, and Chocolate Bundt Cake w/ Raspberry Cream filling.
5th Tie/2nd 2017 Toasted Head Merlot, CA
4th Tie/5th Tie 2018 Alexander Valley Vineyards Merlot, Alexander Valley, CA (100% Merlot)
4th Tie/5th Tie 2017 Goldschmidt Chelsea Guidestone Rise Merlot, Alexander Valley, CA (100% Merlot)
2nd/3rd 2018 Hayes Ranch Merlot, CA
3rd/1st 2018 J. Lohr Los Osos Merlot, Paso Robles, CA (83% Merlot, 16% Malbec, 1% Cabernet Sauv)
1st/5th Tie 2016 Charles & Charles Merlot, Columbia Valley, WA (86% Merlot, 14% Cabernet Sauv)
5th Tie/4th 2018 High Heaven Vintners Sea of Tranquility Merlot, Columbia Valley, WA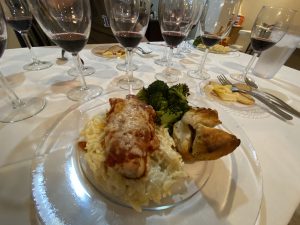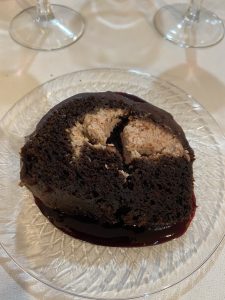 March 2021 Odd Reds/Shiraz/Petite Shirah This month we are coming out of one of the coldest spells we have ever experienced, which calls for more red wines. So lets check out a couple of Shiraz from down under in the Barossa region of Australia with it's brambly, jammy and maybe some spicy notes also all characteristics that will warm you up. Petite Sirah's are just down right easy to drink, they are smooth and elegant and dark purple! It is literally one of my favorite varietals. Tempranillo from Spain is another easy to drink wine, getting you ready for evenings on the patio this spring. Cabernet Franc is one of the 5 grapes of the historic Bordeaux region, you don't find very many stand alone Cab Francs, this one is smooth and elegant one of the best I've had lately and if you want to try one, Fabre Montmayou is the on to check out. Last but not least is Grenache, this is another grape that you don't find a lot of stand alone wines, it is typically one of the primary grapes in the Rhone wines and in what the Auzzie's like to call GSM, which is a great blend also. It can be a little drier, spicier, but this one was light and easy to drink so give it a try also. We paired these wines with Beef Roast w/ Carrots and Onioins, Boursin Mashed Potatoes, Roasted Asparagus and Chocolate Cake.
5th Tie/2nd 2019 Fabre Montmayou Reserva Cabernet Franc, Mendoza, Argentina (100% Cabernet Franc)
1st/3rd 2017 Bodegas Luis Gurpegui Muga Primi Tempranillo, Rioja, Spain (100% Tempranillo)
5th Tie/5th 2017 Le Paradou Grenache, France (100% Grenache)
3rd/1st 2018 Michael David Petite Petit Petite Sirah, Lodi, Calif. (85% Petite Sirah, 15% Petite Verdot)
4th/2nd Tie 2018 Andis Petite Sirah, Sierra Foothills, California (100% Petite Sirah)
2nd/2nd Tie 2019 First Drop Mother's Milk Shiraz, Barossa, Australia
5th Tie/4th 2019 Torbreck Woodcutter's Shiraz, Barossa Valley, Australia (100% Shiraz)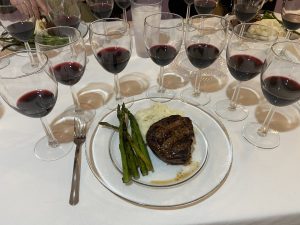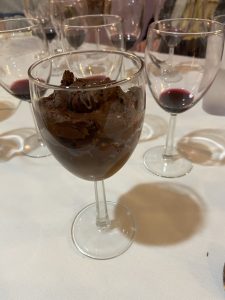 Tasting 1 we had Steaks w salted caramel and chocolate mousse, Tasting 2 we had pot roast, I will find pics if I can.
April 2021 Red Blends So when the wind blows like it has the last couple days it mixes things up! Hence we are going to have wines that are all mixed up, Red Blends! This is usually one of our most popular tastings, as Red Blends are usually easy to drink and reasonably priced. (Unless you drink the one I ordered today ;o) ) But seriously, these are wines for spring BBQ's, burgers or pizza, sitting on the patio or deck watching the sunset and relaxing after a long day.
4th/3rd 2018 Tenuta La Pergola Monferrato Rosso, Piedmont, Italy (50% Barbera di Monferrato, 30% Bonarda, 10% Dolcetto Antonio, 5% Freisa, 5% Barbera Vengore)
2nd/6th 2016 Split Rail Winery Swamp Donkey Red Wine, Snake River Valley, Idaho (Syrah, Mourvèdre, Grenache, Cabernet, Petit Verdot)
3rd tie/1st NV Dark Horse Double Down Red Blend, CA (Zinfandel, Petite Syrah, Tannat, Teroldego)
6th/4th NV Fess Parker Frontier Red Lot 201 Red Wine, Central Coast, CA (53% Syrah, 24% Sangiovese, 10% Merlot, 8% Grenache, 3% Cab Sauv, 1% Zin, 1% Alvarelhão)
5th/5th tie 2017 Whitehall Lane, Tre Liones Red Wine, Napa Valley, CA (Cabernet Sauvignon, Merlot, Syrah, Zinfandel)
1st/5th tie NV Howlin' Owl Wine Co. The Frivoler Red Wine, Columbia Valley, Washington (32.4% Merlot, 23.6% Syrah, 22.5% Sangiovese, 8.2% Petit Verdot, 4.5% Mourvedre, 2.6% Cab Sauv, 2.4% Grenache, 2.1% Cinsault, 1/7% Cab Franc)
3rd tie/2nd 2018 Luke 'The Companion' Red Blend, Columbia Valley, Washington (60% Cabernet Sauvignon 20% Merlot 20% Syrah)
Sorry there are no pictures this month, we were to busy eating and drinking, we forgot to take photos. But we had Bacon Cheese Burgers/ w/ home cut sweet potato fries and Chocolate Cake.
May 2021 Chardonnay Time is flying by so fast it is hard to keep up! This month we are switching to white wines and we will start out with the biggest of all whites, Chardonnay. This is a wine that when oaked can literally coat the inside of your mouth, it can be thick and smooth. If you have an unoaked Chard you can expect something crisp and clean. I will try to mix it up a little and we will see what the favorites are. We paired our Chardonnay with Chicken Cordon Blue, Saffron Risotto, Roasted Asparagus & Peach Dump Cake.
3rd/2nd 2019 Chehalem INOX Unoaked Chardonnay, Willamette Valley, OR (100% Chardonnay)
6th/7th 2017 Sisters Forever Unoaked Chardonnay, Central Coast, CA (100% Chardonnay)
2nd/4th 2019 Imagery Chardonnay, CA (95% Chardonnay, 5% Chenin Blanc)
4th/3rd 2019 Simple Life Chardonnay, CA (92% Chardonnay, 4% Chenin Blanc, 4% Viognier)
5th/1st 2019 Charles Woodson's Intercept Chardonnay, Monterey County, CA (100% Chardonnay)
7th/6th 2019 100 Nails Ranch Chardonnay, Sonoma County, CA
1st/5th 2019 Raymond Reserve Chardonnay, Napa Valley, CA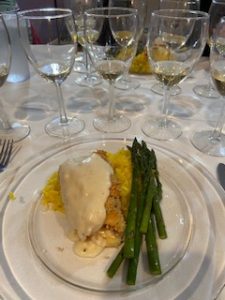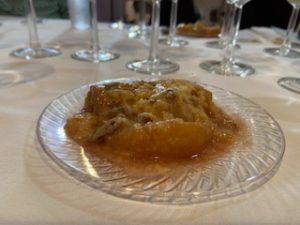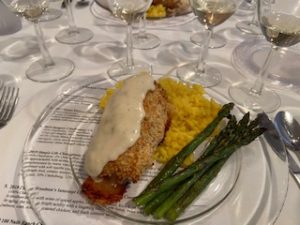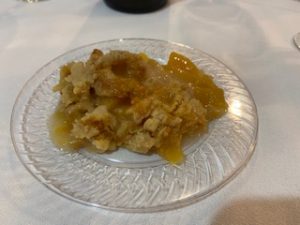 Sauvignon Blanc June 2021 Finally Sunshine! So as June starts to heat up, lets checkout a white wine that is clean and crisp. A wine that lots of times has a nice citrus (grapefruit, lemon, lime) on the palate, some have jalapeno or passion fruit characteristics also. This is a wine that is refreshing wine for salads or seafood, it is also great to sip on the patio/deck after work in the evenings, or at 6am in the morning, start your day with citrus right! We paired our wines with Chicken Souvlaki w/ Zucchini Tzatziki, Lemon Rice w/ Grilled Pineapple Salsa, Roasted Broccoli & No Bake Key Lime Cheesecake
2nd/1st 2019 Sunny with a chance of flowers Sauvignon Blanc, CA
6th/8th 2018 Bodkin The Victors Spoils Sauvignon Blanc, Sonoma County, CA (100% Sauvignon Blanc)
3rd/5th 2019 Rodney Strong Charlotte's Home, Sonoma County, CA (100% Sauvignon Blanc)
4th/4th 2018 John Anthony Sauvignon Blanc, Napa Valley, CA (100% Sauvignon Blanc)
5th/7th 2019 Freemark Abbey Sauvignon Blanc, Carneros Napa Valley, CA (90% SauvBlanc, 10% Semillon)
2nd tie/3rd 2019 Craggy Range Te Muna Sauvignon Blanc, Martinborough, NZ
2nd tie/4th 2020 Misty Cove Estate Series Sauvignon Blanc, Marlborough, NZ
1st/2nd 2020 Kuranui Sauvignon Blanc, Marlborough, NZ (87% Sauvignon, 8% Chardonnay, 5% Viognier)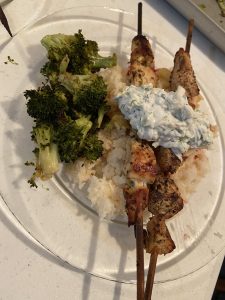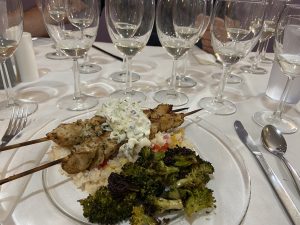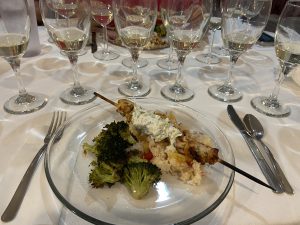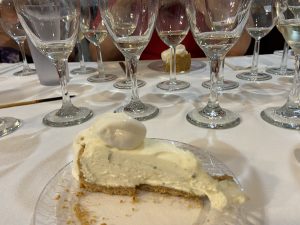 Rose & Moscato July 2021 It is hard to believe that the year is half over already time is speeding by! Which is why we should all take some time off and "drink some wine"! This month I am going to highlight Rose wines, normally I may show one or two but my theory lately is "we need to stop and smell the roses" so we are going to do just that. I will also have a couple moscatos to give you a chance to taste those also. These are great wines for the evening wind down on the patio or deck and since you drink them chilled they will help cool you off when the temps start to rise again next week. We paired these wines with: Korean Grilled Chicken w/ Sweet & Spicy Thai Glaze, Orange Quinoa Salad (see recipe page in menu above), Candied Bacon & Garlic Green Beans, and Strawberry Shortcake.
3rd/5th 2020 Long Shadow's Winery Julia's Dazzle Rose, WA (100% Pinot Gris)
2nd/4th 2018 Cambria Julia's Vineyard Rose of Pinot Noir, Santa Maria Valley, CA (100% Pinot Noir)
1st/1st 2019 Barton & Guestier Rose D'Anjou, Loire Valley, France (75% Grolleau, 25% Gamay)
4th/3rd 2019 French Blue Bordeaux Rose, Bordeaux, France (80% Cabernet Franc, 10% Cabernet Sauvignon, 10% Merlot)
5th/2nd 2019 Bieler Pere & Fils Sabine Rose AIX-en-Provence, France (35% Grenache, 33% Syrah, 13% Cinsault, 12% Cabernet Sauvignon, 7% Rolle)
1st/1st 2020 Innocent Bystander Moscato, Victoria, Australia (66% Gordo Muscat, 34% Black Muscat)
2nd/2nd 2017 Castello Del Poggio Moscato, Provincia di Pavia, Italy (100% Moscato)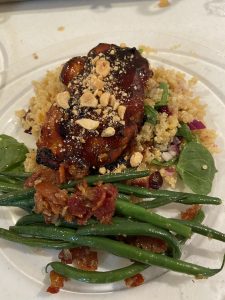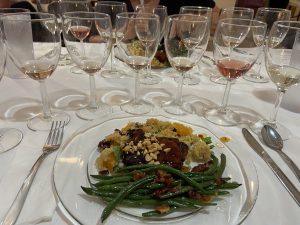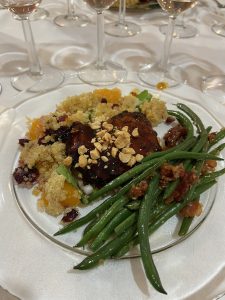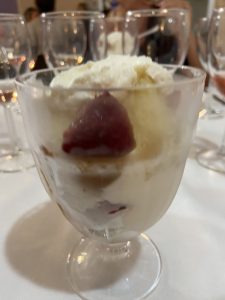 August 2021 Other Whites & White Blends Time is flying by so fast right now, I need something like a nice cold glass of white wine to slow me down and as we hit the 100 degree days chill me down. This month we will be tasting white wines like pinot grigio and white blends. These wines are clean and crisp, not necessarily super dry. They will pair with lots of different foods and are easy to drink just on their own on a hot summer night on the patio after work. We paired these wines with Grilled Salmon w/ Basil Pesto over Rice w/ Asparagus, and Lemon Bundt Cake.
5th/6th 2019 Gianni Gagliardo Fallegro Favorita, Langhe, Italy (95% Vermentino, 5% complementary grapes)
3rd/5th 2020 Il Casato Pinot Grigio Valdadige, Vallagarina, Italy (100% Pinot Grigio)
4th Tie/NA 2019 Inama Vin Soave, Soave Classico, Veneto, Italy (100% Garganega)
1st/4th 2019 Portlandia Pinot Gris Willamette Valley, Oregon (96% Pinot Gris, 2% Gewürztraminer & 2% Riesling)
4th Tie/7th 2020 Humble Roots Fiano, South Australia (Fiano)
6th/3rd 2019 Dry Creek Vineyard Dry Chenin Blanc, Clarksburg, California (100% Chenin Blanc)
NA/1st 2019 Reserve du Naufraget Vouvray, Loire, France (100% Chenin Blanc)
2nd/2nd NV Gazela Vinho Verde, Portugal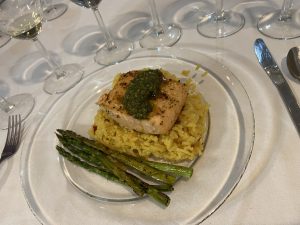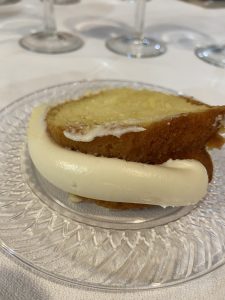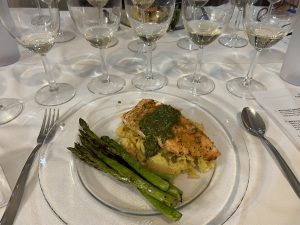 September 2021 we did not do a normal tasting. As I will be gone over the tasting dates taking some of you to Washington Wine Country!
October 2021 Zinfandel
It seems like fall has finally arrived! So it is time to crack open the red wine! This month we will be tasting Zinfandel, easy to drink and jammy, sometimes brambly, sometimes a hint of pepper. Zinfandel is great for that tailgate party or backyard barbeque. It pairs well with just cheese and crackers if you want to sit out and watch the sunset OR rise ;o) with a glass of wine on a cool October day. This month we paired the Zinfandels with BBQ Country Pork Ribs, Nancy's Fried Noodles,
Broccoli Cheese Casserole
&
Death by Chocolate Cheesecake
.
4th/3rd Tie 2020 McPrice Myers Pound for Pound Zinfandel, Paso Robles, CA
6th/1st 2019 Seghesio Sonoma Zinfandel, Sonoma County, CA (100% Zinfandel)
3rd/2nd 2018 The Introvert Zinfandel, Lodi, CA
5th/3rd Tie 2017 Klinker Brick Winery Brickmason, Lodi, CA (80% Zin, 10% Syrah, 5% Cab Sauv, 5% Petite Sirah)
2nd/5th 2018 Ironstone Vineyards Reserve Old Vine Zinfandel, Lodi, CA (100% Zinfandel)
1st/4th 2018 Turley Old Vines Zinfandel, CA
No Vote from Cellar: 2013 Bella Maple Vineyards Zinfandel, Dry Creek Valley, CA (100% Zinfandel)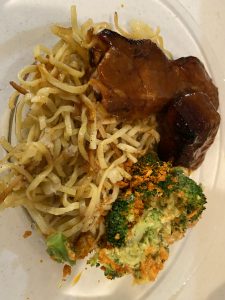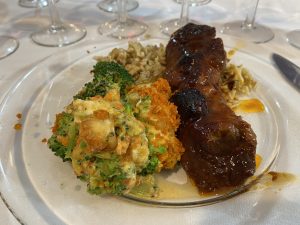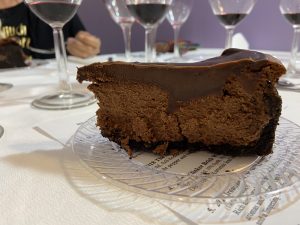 November Pinot Noir Now that we have made it to November, fall is solidly in the air and we are all looking forward to celebrating Thanksgiving this year with family and friends. Whether you are planning to have turkey or ham, Pinot Noir is a great wine for a crowd. Pinot Noir is a lighter red wine and not very dry on the palate. For those of you who have heard of Red Burgundy wines, those are Pinot Noir. This year I am pairing Chicken Pinot Noir w/ Wild Mushrooms & Fresh Basil, Mashed Potatoes, Roasted Asparagus & Gingerbread Sheet Cake
2nd/1st 2020 Patricia Green Cellars Dollar Bills Only Pinot Noir, Willamette Valley, OR
3rd/ 2019 Inscription Pinot Noir, Willamette Valley, OR
6th Tie/ 2019 Chehalem Mountains Pinot Noir, Willamette Valley, OR
4th/ 2017 A to Z Essence Pinot Noir, OR
1st/2nd 2019 BOEN Tri Counties Pinot Noir, CA
6th Tie/ 2019 30 Degrees Pinot Noir, Monterey County, CA
5th/ 2019 Belle Glos Las Alturas Pinot Noir, Santa Lucia Highlands/Monterey Co., CA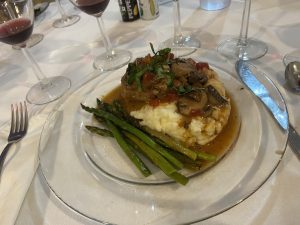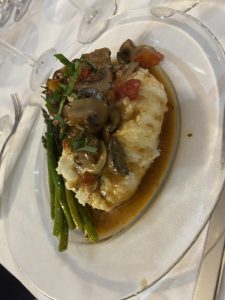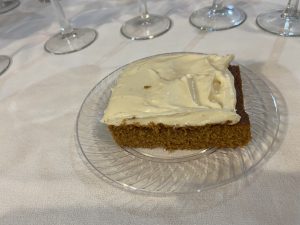 December Sparkling Wines Get ready for Bubbles!!! This December as we get back in the swing of attending work parties, and private parties, family gatherings, and maybe even putting on a party for our friends and neighbors. Not only will you want wine but the holidays call for Bubbly! Bubbles, Bubbles, Bubbles everywhere! At this month's tasting we will be trying several Sparkling wines that can be used with appetizers and several that are sweeter and will pair with desserts. For this tasting, we had **Chicken Spinach & Artichoke Lasagna w/ Asparagus for dinner and we had The Best Cheese Ball, Lemon Herb Garlic Butter Shrimp, French Onion Tarts for appetizers. We had Creme Brulee Cake, New Year's Eve Crack, POM Bites, Cheesecake & Strawberry Swirl Cheesecake.
2nd/2nd Bodkin Cuvee Agincourt Sparkling Sauvignon Blanc, Sonoma County, CA (100% Sauvignon Blanc)
1st/1st Poema Extra Dry Cava, Spain (40% Macabeo, 30% Xarel-lo, 30% Parellada)
3rd/3rd 2020 Mark Ryan Lu & Oly Untethered Bubbles, Washington (100% Chardonnay)
Voted on the dry ones above separetely from the sweet below.
4th/1st Chandon Blanc Demi-Sec, Napa Valley, California (90% Pinot Noir, 10% Chardonnay)
2nd/2nd Tie Korbel Sweet Cuvee, California (Chenin Blanc, Chardonnay, French Colombard & Muscat Canelli)
3rd/2nd Tie Earl Stevens Sparkling Cotton Candy, California
1st/3rd Stella Rosa Black Lux (100% Trepat)
So I thought I had pictures of everything…. I guess I missed all the desserts. Oh well if you were here, you enjoyed it and I will put the links for the desserts in also.
**Note: I use the garlic white sauce recipe in this, but I then use spinach and artichoke dip from sams and shredded rotisserie chicken vs adding spinach and artichokes separately.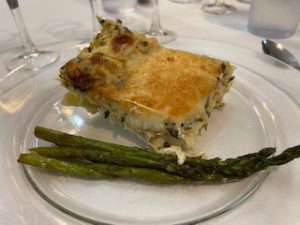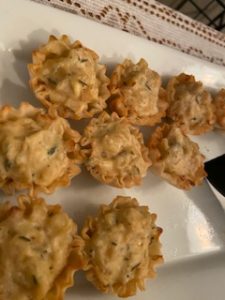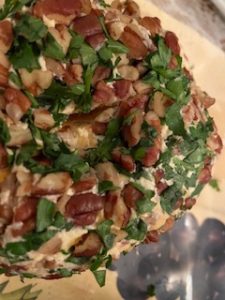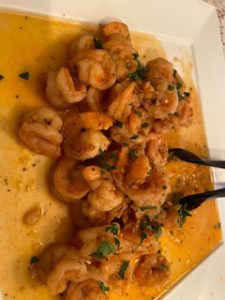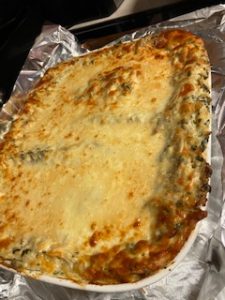 Google+