January 2022 Cabernet Sauvignon As we start round 2 of snow with below zero wind chills it is time for us to stay inside and warm up with a glass of Cabernet Sauvignon. Cabernet is considered to be a dry and heavier red wine, but we will taste some that hopefully are smooth and easy to drink aslo. Normally you would pair this with some sort of Beef dish, but we like to just sip it in the evening in front of a fire also. We paired our wines this month with an old fashioned dinner, Swiss Steak over Rice with Sweet Carrots and Chocolate Cake.
4th Tie/3rd 2018 Mind & Body Cabernet Sauvignon, CA
6th/2nd NV Big Red Monster Lot: #3 Cabernet Sauvignon, Paso Robles, CA (Cab Sauv, Petite Sirah, Tannat)
5th/1st 2018 Perrin + Dobbs Pitch Black Cabernet Sauvignon, Paso Robles, CA (Cabernet Sauvignon 85%, Syrah 15%)
4th Tie/4th 2019 Grounded Cabernet Sauvignon, CA (75% Cab Sauv, 24.5% Merlot, 0.5% Cab Franc)
2nd/5th 2018 Louis M. Martini Cabernet Sauvignon, Sonoma County, CA
3rd/6th Tie 2018 Chat. Ste. Michelle Indian Wells Cabernet Sauvignon, Columbia Valley, WA (85% Cab Sauv, 13% Syrah, 1% Merlot, 1% Cab Franc)
1st/6th Tie 2017 Long Shadows Chester Kidder Red Wine, Columbia Valley, WA (68% Cab Sauv, 26% Syrah, 6% Petit Verdot)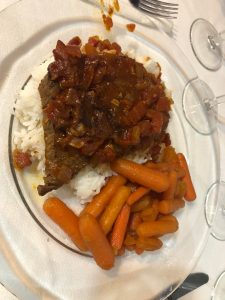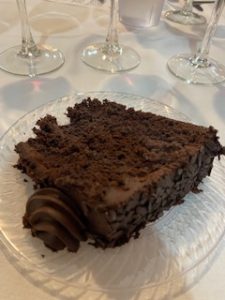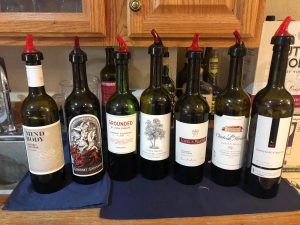 February 2022 Merlot We used to say this was a wine that could have a description that was a paragraph long, as the winemakers tasting notes included every aroma or flavor and finish there is. Today it makes me think of the weather forecast for Wednesday, It could be 2 inch but maybe 6, however there is a chance it's 10-12. So there might be tar and leather, mint and chocolate, herbs and cherries all could be a characteristic of Merlot. This month we are pairing our Merlots with Rustic Shepard's Pie, Roasted Green Beans and Chocolate Wine Cake (see recipe in pic below).
3rd/1st 2019 Blackstone Winemaker's Select Merlot, CA
5th/6th tie 2019 Brady Vineyard Merlot, Paso Robles, CA
7th/6th tie 2018 Chat. St. Jean Merlot, CA
1st/3rd 2018 H3 Merlot, Horse Heaven Hills, WA (91% Merlot, 9% Syrah)
6th/5th 2019 Hahn Merlot, CA
4th/4th 2018 Markham Vineyards Merlot, Napa Valley, CA (Merlot, & Cabernet, Petite Sirah, Syrah)
2nd/2nd 2018 Whitehall Lane Merlot, Napa Valley, CA (79% Merlot, 13% Cabernet Sauvignon, 6% Malbec, 2% Petit Verdot)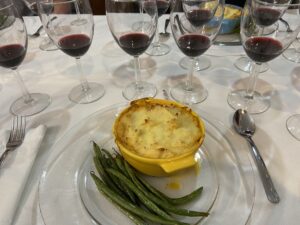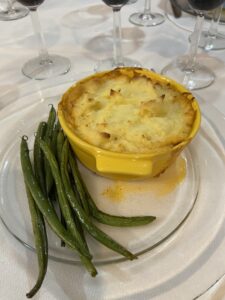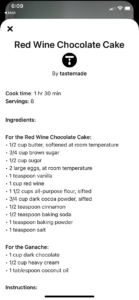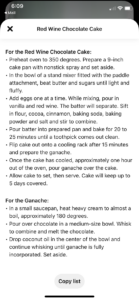 March 2022 Odd Reds It is so nice to be sitting here enjoying the sunshine and warmer weather, therefore we need to start thinking about wines that we can enjoy with dinner on the patio or relaxing in the evening around a fire pit. This month we will be tasting a variety of red wines. I'm thinking a Syrah/Shiraz, Petite Sirah, Tempranillo, Granacha these are wines that we find lots of times in blends or finishing off the last 20-25% of a Cab or Merlot. These wines are sometimes darker, denser, lighter, fruitier, etc. We paired these wines with Meatloaf, Roasted Butternut Squash & Onions, Asparagus and Cherry Yum Yum.
1st/4th 2019 Borsao Seleccion Garnacha, Aragon, Spain (Grenache, Tempranillo)
2nd/3rd tie 2020 Brecca Garnacha De Fuego, Aragon, Spain (100% Garnacha)
7th/5th 2016 Sierra Cantabria Crianza, Rioja, Spain (100% Tempranillo)
4th/6th 2016 Cvne Cune Reserva, Rioja, Spain (85% Tempranillo, 15% Garnacha Tinta, Graciano & Mazuelo)
5th/3rd tie 2017 Borsao Zarihs Shiraz, Campo de Borja, Spain (Syrah)
6th/1st 2017 Criss Cross Petite Sirah, Clarksburg, CA (88% Petite Sirah, 9.3% Syrah, 1.3% Montepulciano, 1.4% Other Varietals)
3rd/2nd 2016 Langman Estate Raymond's Rows Petite Sirah, Sierra Foothills, CA (94% Petite Sirah, 6% Syrah)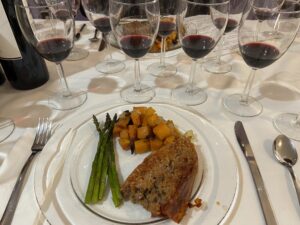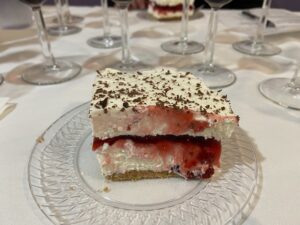 April 2022 Red Blends Ah, to wake up after the thunderstorms came through last night, realizing spring is here! With the arrival of spring we are out on the patio in the evenings, spending weekends out at the lake enjoying a glass of wine around the firepit, picnic or at a family get together. Red Blends are generally easy to drink and pair well with BBQ, burgers or pizza and can be a little easier on the pocket book (or not), so let's see if we can find a few new favorites for this year. This year we paired our Red Blends with Teriyaki Beef Kabobs, Roasted Carrots w/ Goat Cheese & Pistachios, Corn Pudding and Chocolate Cake.
4th/1st NV Meiomi Red Blend California (it is a secret)
5th/4th 2019 Rebellious Red Blend, California (44% Zin, 23% Cab Sauv, 8% Merlot, 7% Syrah, 7% Mourvedre, 7% Petite Sirah, 3% Malbec, 1% Sauv Blanc)
6th tie/5th 2019 Kokomo Red Wine Cuvee, North Coast, California (35% Grenache, 23% Zin, 18% Carignan, 12% Petite Sirah, 12% Syrah)
3rd/3rd tie 2019 Vina Robles The Arborist Estate Red Blend, Paso Robles, California (Huerhuero Syrah 45% Huerhuero Petite Sirah 29% Jardine Petite Sirah 3% Creston Valley Petite Sirah 8% Huerhuero Grenache 10% Huerhuero Tannat 5%)
2nd/3rd tie 2018 J. Lohr Pure Paso Proprietary Red Wine, Paso Robles, California (69% Cab Sauv, 27% Petite Sirah, 2% Syrah, 2% Malbec)
6th tie/6th 2018 Lone Birch Estate Red Blend, Yakima, Washington (45% Merlot, 30% Syrah, 25% Cab Sauv)
1st/2nd 2020 Fidelity Red Wine Alexander Valley, Sonoma County, California (71% Merlot, 14% Cab Sauv, 7% Petit Verdot, 4% Cabernet Franc, 4% Malbec)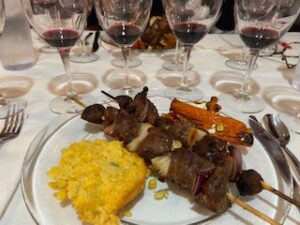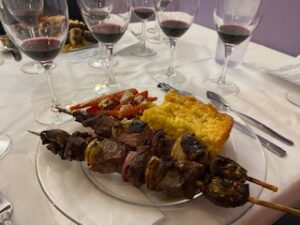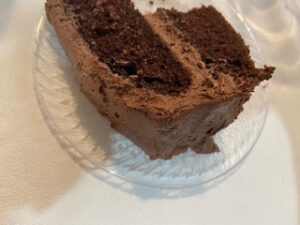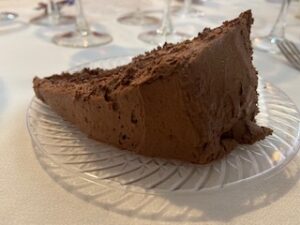 May 2022 Chardonnay
Ok, It is May and we are supposed to be having warmer weather! We are also supposed to have nice calm relaxing days where we sit on the patio and sip liquid butter. Chardonnay is a great wine that can carry with it may characteristics, you can have unoaked crisp citrus, a more oaked Chard that is drier, on yet another note some are creamy and elegant, or you can taste some that make it seem like you are eating butter. I will try to find a good mix for us to try and we will pair it with something that will hopefully hold up to all those optional flavors! We paired our wines with
Roman Chicken
,
Alfredo
Pasta, Broccoli and
Crème Brulee
4th tie/5th 2020 Cupcake Light Hearted Chardonnay, CA
5th tie/7th 2020 King Estate Chardonnay, Willamette Valley, OR (100% Chardonnay)
3rd/2nd 2020 Phantom Chardonnay, Clarksburg, CA
2nd/4th 2019 Chalk Hill Sonoma Coast Chardonnay, CA (100% Chardonnay)
5th tie/6th 2018 Chat. Ste. Michelle Canoe Ridge Chardonnay, Horse Heaven Hills, WA (100% Chardonnay)
4th tie/3rd 2019 DeLoach Chardonnay, Russian River Valley, CA
1st/1st 2021 Devil's Corner Chardonnay, Tasmania, Australia
We did 3 extra wines as a Butter Bar:
1st/3rd 2020 Dark Horse Buttery Chardonnay, California 750ml
2nd/2nd WoodBridge Buttery Chardonnay, California 3L Box
3rd/1st Bota Box NightHawk Buttery Chardonnay, California 3L Box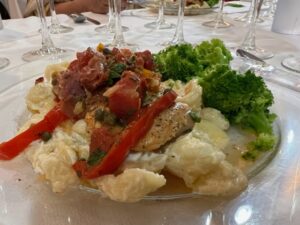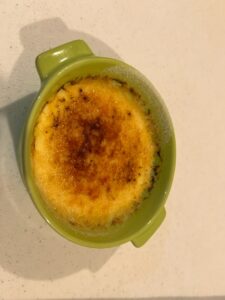 June 2022 Sauvignon Blanc As we move into the warmer months of summer, it is time for those crisp white wines that will cool us off. Sauvignon Blanc is known for being clean and crisp, with flavors thru the range of citrus from grapefruit to lemon and sometimes lime. You can sometimes catch some passion fruit or jalapenos. It is usually something that will pair well with salads, crab, or chicken. A perfect wine for just sipping on also as there is usually exciting flavor in just the wine itself. I paired it with Margarita Pizza, Chicken Souvlaki w/ Zucchini Tzatziki, Lemon Orzo Pasta Salad, Key Lime Bars.
5th/2nd Tie 2020 Kim Crawford Illuminate Sauvignon Blanc, Marlborough, NZ
4th Tie/3rd Tie 2020 Polkura Aylin Sauvignon Blanc, Leyda, San Antonio Valley, Chile
4th Tie/1st 2020 Kate Arnold Sauvignon Blanc, North Coast, CA
6th/3rd Tie 2019 Silverado Miller Ranch Sauvignon Blanc, Yountville, Napa Valley, CA
3rd/2nd Tie 2020 Waipara Springs Sauvignon Blanc, Waipara Valley, NZ
1st/4th 2020 Fairhall Downs Sauvignon Blanc, Martinborough, NZ
2nd/3rd Tie 2020 Nautilus Sauvignon Blanc, Marlborough, NZ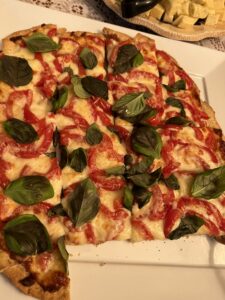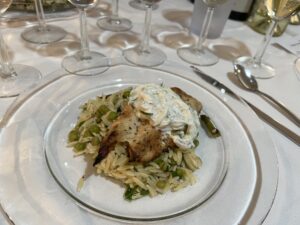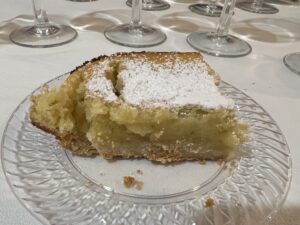 July 2022 Sweet White Wines Riesling & Moscato
It looks like there is a little bit of a come back in the market for Rieslings, some German and some USA. The last decade plus it has been Moscato that has dominated this part of the market and we will also continue to explore a couple of them, many times from Italy. With sweeter wines you can enjoy just sipping on them or sometimes pair them with a little more spicy entree. We paired it with
Jerk Grilled Chicken with Caribbean Rice,
Asparagus and No Bake Blueberry Cheesecake.
1st 2021 Luca Bosio Moscato D'Asti, Italy
2nd 2020 Ruffino Moscato D'Asti, Italy
4th Tie 2019 Schmitt Sohne Late Harvest Riesling (Spatlese), Mosel, Germany
3rd 2020 VS Von Schleinitz Riesling, Mosel, Germany
6th 2019 High Heaven Vintners Starshower Riesling, Columbia Valley, WA
5th 2020 Wagner Vineyards Dry Riesling, Finger Lakes, NY
4th Tie 2020 Ridgecrest Estate Dry Riesling Ribbon Ridge, Willamette Valley, OR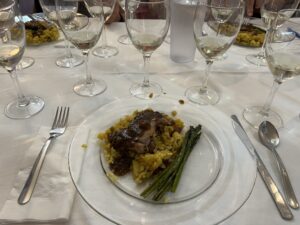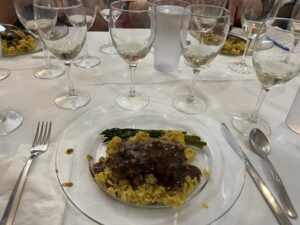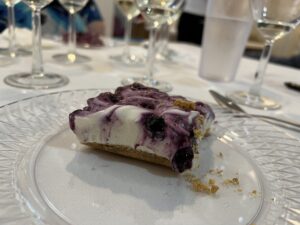 August 2022 Odd Whites and Pinot Grigio Well August was HOT over 100 so many days, and it literally blew up on me to the extent that I had to cancel the second tasting due to a medical emergency in the family. We are all ok but it was hard to cancel as I never do that…. So On those hot summer nights, and now going into the fall here are some great white wines that are easy to drink Check these out!!! We paired it with Baked Cod over Lemon Pepper Orzo and Nancy's Salad, Lemon Curd Shortbread Tart.
1st Tie 2020 Conundrum White Blend, CA (Chardonnay, Sauvignon Blanc, Semillon, Muscat Canelli, Viognier)
1st Tie 2020 Toscolo Vernaccia di San Gimignano, Tuscany, Italy (100% Vernaccia)
3rd 2021 Terra D'Oro Chenin Blanc & Viognier, Clarksburg, CA (85% Chenin Blanc, 15% Viognier)
5th 2018 Halter Ranch Adelaida District Grenache Blanc, Paso Robles, CA (76% Grenache Blanc, 15% Picpoul Blanc, 9% Viognier)
2nd NV Blanc Pescador Mediterranean White Wine, Spain (61% Macabeo, 33%Xarel-lo, 6% Parellada)
4th 2020 Casa Smith VINO Evergreen Vineyard Pinot Grigio, Columbia Valley, WA (100% Pinot Grigio)
1st Tie 2020 Noble Vines 152 Pinot Grigio, Monterey County, CA (Pinot Grigio)
1st Tie 2021 Bortoluzzi Pinot Grigio, Delle Venezie, Italy (100% Pinot Grigio)
Pictures below: first is a vegetarian dish Roasted Cauliflower w/ Chimi Churri rest are Baked Cod.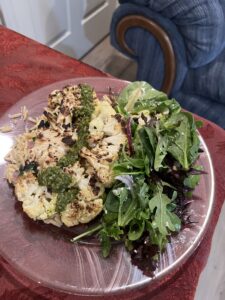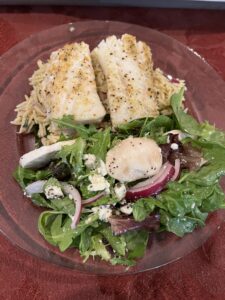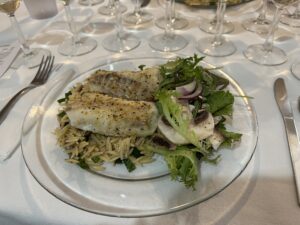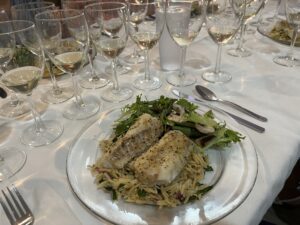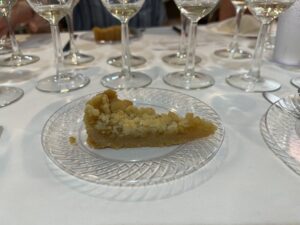 September 2022 South American Reds Malbec & Blends
This month we are trying wines that about 10 years ago were all the rage and climbing in popularity, Malbec. These seemed to have lost a little favor maybe to red blends in popularity but are still easy to drink and resonably priced. They are great for tailgating or BBQ on the deck. I paired these wines with an Argentinian favorite, Grilled Flank Steak w/ chimichurri, Roasted Carrots,
Baked Black Beans /w Chorizo
&
No Bake Espresso Chocolate Cheesecake.
4th Tie/4th Tie 2021 Altos Del Plata Malbec, Mendoza, Argentina
5th/1st 2021 Ruta 22 Malbec, Mendoza, Argentina
1st/3rd 2020 Gouguenheim Malbec, Uco Valley Tupungato, Argentina
2nd/5th 2019 Girl and Dragon Malbec, Mendoza, Argentina
4th Tie/2nd 2021 Domaine Bousquet Natural Origins Malbec, Mendoza, Argentina
3rd/6th 2018 Clos de los Siete Valle de Uco, Mendoza, Argentina (55% Malbec, 19% Merlot, 12% Syrah, 10% Cabernet Sauv, 2% Petit Verdot, 2%Cab Franc)
2nd Tie/4th Tie 2017 Dharma Reserva, San Carlos-Mendoza, Argentina (60% Malbec, 40% Cab Franc)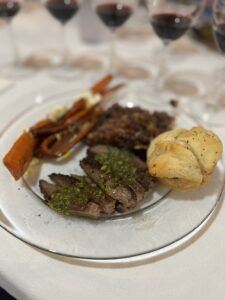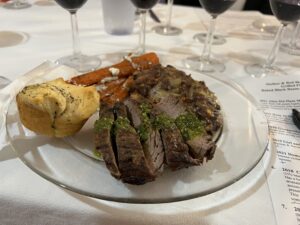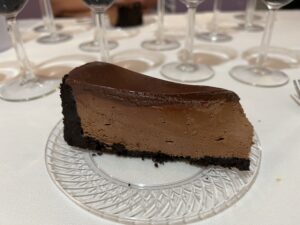 October 2022 Zinfandel We did not do a normal tasting this month as we did our wine trip to Texas. Therefore, I had a few of the regulars over and we tasted some zins. These are great for tailgaiting and BBQ's or patio parties. We had BBQ Pork Tenderloin, Mac and Cheese, Asparagus and Chocolate Brownie Cake.
2017 Sebastiani Zinfandel, North Coast, CA (91% Zinfandel, 6% Petite Sirah, 2% Syrah, 1% Cab Sav)
2018 The Specialyst Zinfandel, Lodi, CA (95% Zinfandel, 5% Petite Sirah)
2019 Mettler 'Epicenter' Old Vine Zinfandel, Lodi, CA
2020 Sobon Estate Old Vine Zinfandel, Amador County, CA
2020 Andis Painted Fields Old Vine Zinfandel, Sierra Foothills, CA (93% Zinfandel, 7% Barbera)
2020 OZV Estate Old Vine Zinfandel, Lodi, CA
2020 Lapis Luna Zinfandel, North Coast, CA (80% Zinfandel, 20% Sangiovese)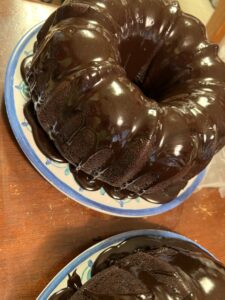 November 2022 Pinot Noir This is a month that involves lots of family and parties are starting to gear up. It is great to find a wine that is on the lighter side, and not very dry that will be a crowd pleaser! While Pinot Noir is one of the harder grapes to grow it is one of the most popular for an easy to drink wine that will pair with Turkey, Ham or Salmon. This month we are going to pair it with Baked Salmon, Mushroom Onion Cherry Wild Rice, Green Beans and Pumpkin Cake with Caramel Cream Cheese Frosting! P.S. Yes I cheated, I threw in one wine that was not a Pinot, because it is a favorite of mine to take to parties, and it is a little heavier, but still not to dry red wine from Italy.
1st/4th 2018 Masi Campofiorin, Italy
4th tie/1st 2019 Castle Rock Pinot Noir, Monterey County, CA
6th/2nd tie 2020 Tassajara Pinot Noir, Monterey County, CA (87% Pinot Noir, 5% Petite Sirah, 4% Tannat, 2% Chardonnay, 2% Tempranillo)
3rd/3rd 2020 Kendall Jackson VR Piont Noir, California (100% Pinot Noir)
4th tie/2nd tie 2021 J Lohr Falcon's Perch Pinot Noir, Monterey County, CA (100% Pinot Noir)
5th/6th 2021 Martin Ray Pinot Noir, Sonoma Coast, CA (100% Pinot Noir)
2nd/ 5th 2021 Ken Wright Cellars Pinot Noir, Willamette Valley, OR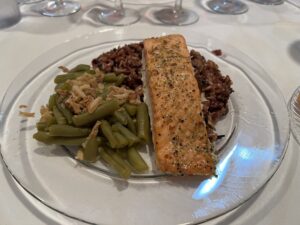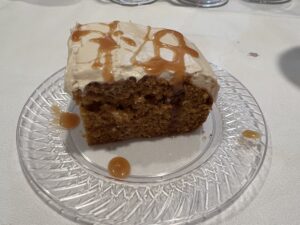 December 2022 Dessert Wines This year we are back to checking out dessert wines! These wines are actually dessert in and of themselves but I like to pair them with even more desserts! So we have a meal and then we have a dessert buffet. These are wines that you don't need to pour a lot of, but they are great to use to end a dinner party, giving people something that they normally would not have. For dinner we had Spanish Pork Braise with Champagne Risotto. For the dessert bar we had: Strawberries, Copycat Lindor Truffle Chocolate Dessert, Cheesecake, Apple Crumble, Cinnamon Cherry Pastry, Carrot Cake, Pecan Pie Bars, Blue Cheese.
I also gave everyone the following link to take a test: Vinepair.com/white-wine-match-quiz/ or Vinepair.com/red-wine-match-quiz/
1st/1st 2017 Schlink Haus Beerenauslese, Germany 375ml (Riesling & Muller Thurgau)
3rd/3rd tie NV Fonseca Bin 27 Reserve Porto, Portugal
4th/ 4th NV RL Buller Vicotoria Tawny, Australia (Carina, Cabernet Sauvignon, Greanache, Shiraz)
5th/5th tie Pacos 10 Years Old Tawny, Portugal (Touriga Nacional, Touriga Franca, Tinta Roriz, Tinta Barroca, Tinto Cão)
2nd/2nd NV Lustau PX San Emilo Very Sweet Jerez-Xeres-Sherry, Spain (Pedro Ximenez)
7th/5th tie NV Lustau East India Solera Cream Sherry, Spain (Oloroso and Pedro Ximénez)
6th/3rd tie NV Broadbent Madeira Reserve 5 Year Old Fine Rich, Madeira Island, Portugal (Tinta Negra)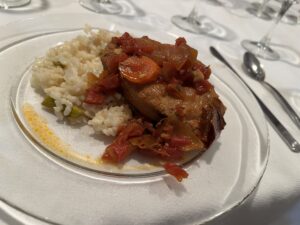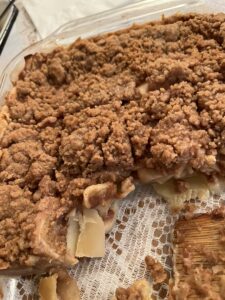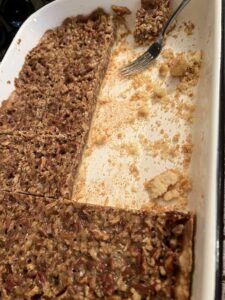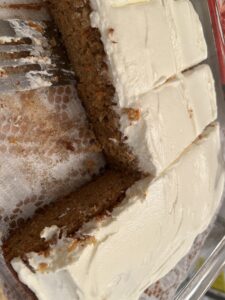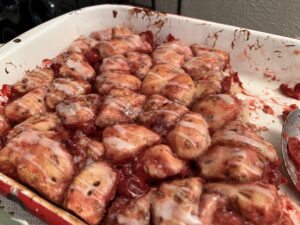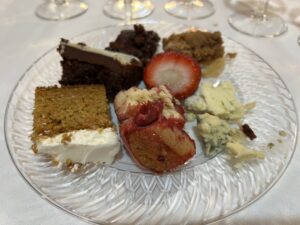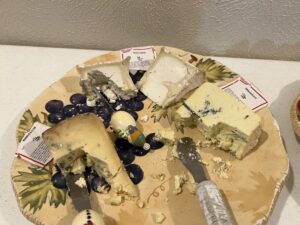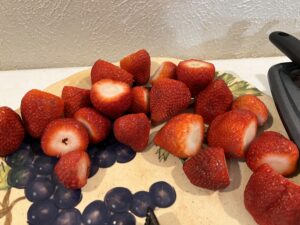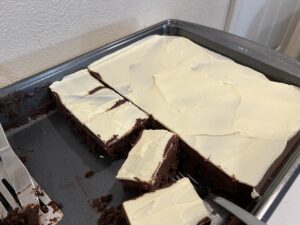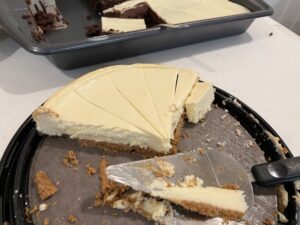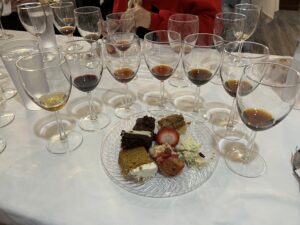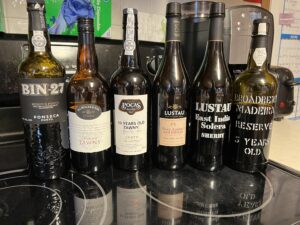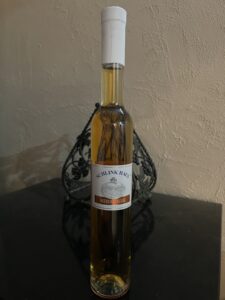 Google+