January 2017 We have had kind of a mild winter so far but the bitter cold hit last week and it is here to stay for a while. The nice thing about it being cold outside is that you can sit inside, hopefully by a fire, and sip some really good Cabernet Sauvignon that will warm you up from the inside out. This month we are going to taste 3 Cabs from Washington, and 3 Cabs from California, it will be interesting to see the differences and the favorites. Pairing it with Garlic/Rosemary/Thyme herb crusted Beef Tenderloin with Espresso Balsamic Glaze, Boursin Mashed Potatoes, Caramelized Onions & Brussels Sprouts with Bacon, & a Chocolate Tart.
6th/6th Double Canyon Horse Heaven Hills WA
2nd/4th Inconceivable 'After the Flood' WA
4th/2nd EOS Central Coast CA
1st/3rd Gunsight Rock Paso Robles CA
5th/5th Decoy Sonoma County CA
3rd/1st Columbia Crest Grand Estates WA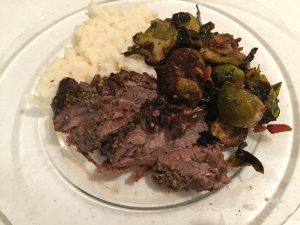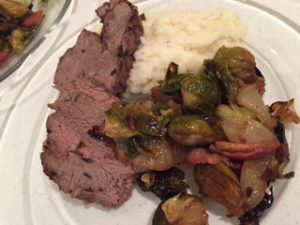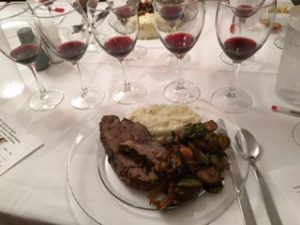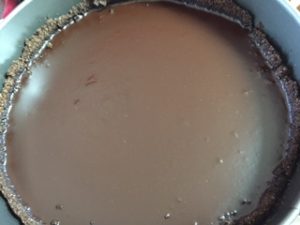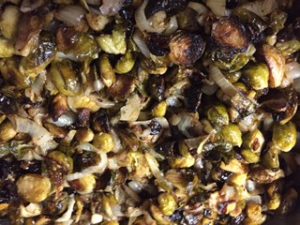 February 2017 You would expect it to be about 20-30 degrees, with snow on the ground and a nice glass of red wine to warm you up by a fire. Well not this year, it has been 60-80 degrees and you just want to be outside grilling and sitting around on the patio or deck drinking a smooth easy to drink red. In both cases the answer is the same MERLOT! This is a wine that can be paired with pizza and burgers or a nice italian red sauce meal like lasagna, to a steak off the grill. So this month we paired it with Beef and Cheese Lasagna, Roasted Asparagus, and a Double Dark Chocolate Scone with White Chocolate drizzle and Raspberry Sauce.
2nd/4th Bogle, CA
3rd Tie/6th Annabella Napa Valley, CA
5th/3rd Brutocoa Bliss Vineyard, Mendocino, CA
4th/5th Rodney Strong Sonoma County, CA
3rd Tie/1st Drumheller, Columbia Valley, WA
1st/2nd Darkhorse, CA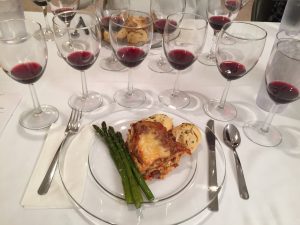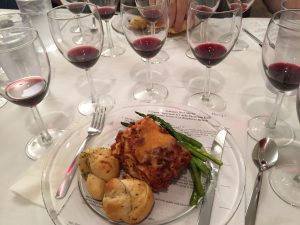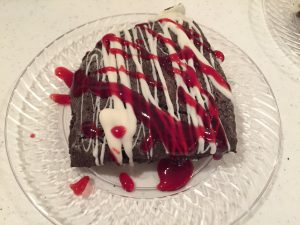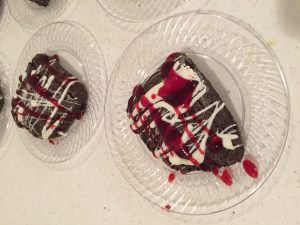 March 2017 So March came in like a lamb with sunshine and 70 degree afternoons, how can we drink red wine? Well we are in Kansas and if you wait 24 hours you will experience just about every season. We started this past week with tornadoes on Monday and expect Snow tomorrow, Saturday, to end the week. Therefore we need some red wine! Syrah and Shiraz are the same grape just 2 different names, We will be tasting wine from several regions around the world this month and it will be interesting to see which one is the favorite. Shiraz can pair with a wide range of food, from pizza and burgers to chicken, pork, lamb and yes beef. Right now I am still trying to figure out what we will have specifically. I can say Chocolate though.
1st/6th Clayhouse Red Cedar Vineyard Syrah, Paso Robles California
3rd/2nd Luca Laborde Double Select Syrah, Uco Valley, Mendoza, Argentina
4th Tie/4th Tie Cadaretta Syrah, Columbia Valley, Washington
2nd Tie/3rd Layer Cake, McLaren Vale & Barossa, Australia
2nd Tie/1st 19 Crimes, Southeastern Australia
4th Tie/4th Tie Pepperjack Barossa Red, Australia
2nd Tie/5th Vinaceous Snake Charmer, McLaren Vale, Australia
I ended up pairing these Shiraz wines with Cuban Beef with Onion & Avocado Salad, Roasted Carrots w/ Goat Cheese & Pistachios, Basil Pesto Tortellini, and Chocolate Fudge Bundt Cake.
April 2017 Spring has sprung, and that means it is time to get outside and BBQ! It's also a good time to check out all the Red Blends or traditionally known as Red Table Wine. A mix of varietals that blend to a smooth, not very dry, elegant, wine that will go great with Burgers and Pizza! Perfect for the patio, around the fire pit.
2nd Tie/7th Quinta de Cabriz Dao Colheita Seleccionada, Portugal
1st/5th Bodegas Ego Goru Verde Monastrell, Spain
5th/2nd Z. Alexander Uncaged Red North Coast, California
4th/1st Peirano Illusion Red Lodi, California
6th/6th Marietta Cellars Arme Lot 3 North Coast, California
2nd Tie/3rd 19 Crimes Banished Dark Red, Australia
3rd/4th Vina Robles Petite Sirah Paso Robles, California
For dinner we had BBQ Pork Tenderloin, Grandma's Fried Noodles, Roasted Broccoli with Parmesan Crumbs & Black Forest Trifle.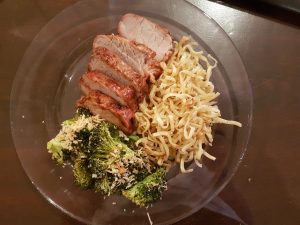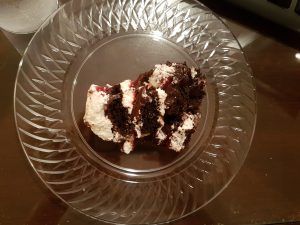 May 2017 It is time to hit the white wines, starting with Chardonnay. After another fairly mild winter it is about time to crack open the white wines. The Chardonnay's in this years list are all oaked, some mildly oaked but none are unoaked. With over 400 clones and linage dating back to approx 250AD I call it the big daddy of white wines.
6th/4th Callie Collection Cental Coast Chardonnay
2nd Tie/1st Chalk Hill Sonoma Coast Chardonnay
1st/6th Raeburn Russian River Valley Chardonnay
3rd/5th Tie McMannis California Chardonnay
5th/3rd Nielson by Byron Santa Barbara Chardonnay
2nd Tie/2nd Sebastiani North Coast Chardonnay
4th/5th Tie Ventana Arroyo Seco Chardonnay
Paired with Spinach and Goat Cheese Hasselbeck Chicken, Alfredo Risotto, Asparagus & Creme Brulee.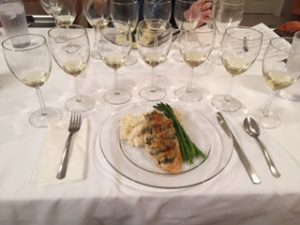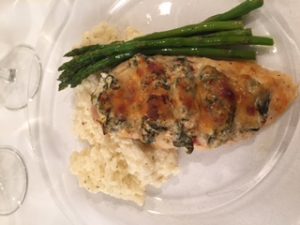 June 2017 Wow we went from spring to summer almost overnight, and with temperatures in the 90's it is nice to come home and have something light and crisp to drink. Sauvignon Blanc is a great answer to that what to drink question. It is clean crisp, light in body but strong in flavors. Think grapefruit, jalapeno, gooseberry, lemon, lime, citrus, hay and grass. It pairs well with salads, and seafood/fish along with chicken dishes.
1st/1st 2015 Domaine de Montcy Cheverny, France
3rd/7th 2016 Hanna Sauv Blanc, Russian River Valley, CA
5th/6th 2014 Bogle Sauv Blanc, CA
2nd Tie/4th 2015 Mt. Beautiful Sauv Blanc, North Canterbury, New Zealand
6th/5th 2016 Innocent Bystander Sauv Blanc, Marlborough, New Zealand
2nd Tie/3rd 2016 Yealands Single Vineyard Sauv Blanc, Atwatere Valley, New Zealand
4th/2nd 2014 Yealands Estate S1 Block Sauv Blanc, Atwatere Valley, New Zealand
Paired with Sea Bass w/ Brown Butter Citrus glaze, Sweet Potato Rounds w/ Goat Cheese, Cranberries & Pistachios, Spinach & Arugula Salad and Key Lime pies for dessert.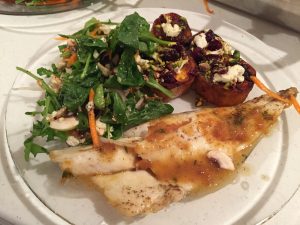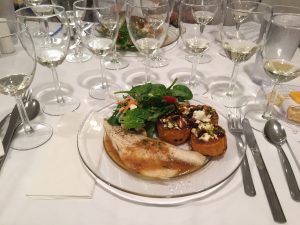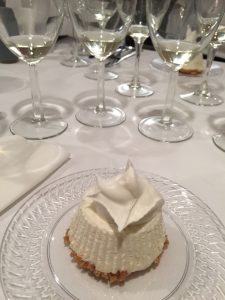 July 2017 In the heat of summer you just want something cold to drink, and sweet also. Riesling fits that bill quite well. Riesling wines can range from sweet to dry which is one of the things we will look at this month, having 3 different levels of German Riesling. We will also check out Rieslings from 3 states and a surprise wine from Kansas.
5th/5th 2015 J Lohr Estates Bay Mist Riesling, Monterey, California
4th/3rd 2016 A to Z Riesling, Oregon
6th/4th 2015 Saviah Cellars The Jack Riesling, Columbia Valley, WA
1st/1st 2015 Max Ferd Richter Veldenzer Elisenberg Riesling Kabinett, Mosel, Germany
3rd/2nd Tie 2016 St. Christopher Piesporter Goldtropfchen Riesling Spatlese, Mosel, Germany
2nd/2nd Tie 2015 Leonard Kreusch Piesporter Michelsberg Riesling Auslese, Mosel, Germany
7th/7th 2014 Aubrey Honey Wine, Johnson County, Kansas
Paired with Grilled Honey Lemon Chicken, Lemon Basil Orzo w/ Parm, Roasted Vegetables, Salted Caramel Apple Pie Cheesecake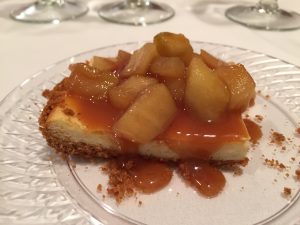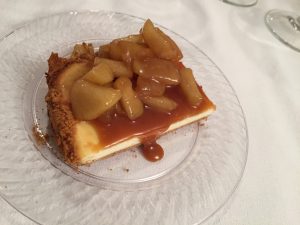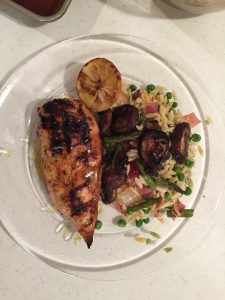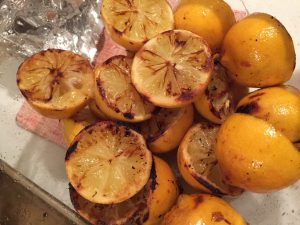 August 2017 There are lots of white varietals out there that are used in blends especially in Italy and France. Some are made into stand alone wines but they can be very rare, especially in Kansas. So this month we are searching out some great whites, I would categorize as off dry, to dry, some will be single varietals and others will be blends. With this style of wine you could easily do some sort of fish, or chicken and I decided to also try pork. I am pairing these with a Grilled Italian Glazed Pork Tenderloin, a Farro, Kale, Butternut Squash Gratin, Baked Parmesan Zucchini, & Pineapple Upside Down Cake.
5th/6th 2015 Pioiero Roero Arneis, Vezza d'Alba, Italy 100% Arneis
6th/5th 2014 Available Pinot Grigio, Puglia, Italy
4th Tie/2nd Tie 2014 Bertani Due Uve Pinot Grigio & Sauv Blanc, Venezia Giuli, Italy 50% PG, 50% SB
1st/2nd Tie 2016 Tenshen White Wine, Central Coast, Ca Rhone Style: Viognier, Rousanne, Grenache Blanc & Chardonnay
2nd/3rd 2016 Cote Mas Blanc Mediterranee, Languedoc, France 35% Grenache Blanc, 25% Vermentino, 25%Chardonnay, 15% Sauvignon Blanc
4th Tie/1st 2014 Zaca Mesa Viognier, Sant Ynez Valley, California 97.5% Viognier, 2.5% Grenache Blance
3rd/4th 2016 Triennes Sainte Fleur Viognier, Provence, France 100% Viognier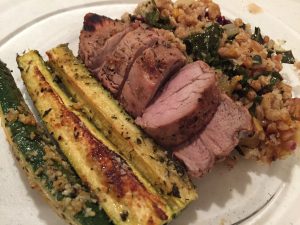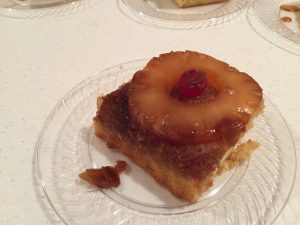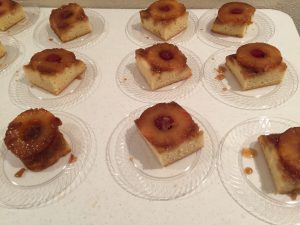 September 2017, It is hard to believe that we are entering the Fall of 2017, I remember everyone gearing up for Y2K… Yikes! So now that we have seen the temps drop just a little and we are all tailgating at those college football games and enjoying Grilling in the backyard we need some good easy to drink red wine. First up this fall are South American Reds, Malbec from Argentina, Carmenere and Cabernet Sauvignon from Chile. These are great value wines and pair well with anything grilled, guess what we will be having… Grilled Beef, Grilled Beef Sausage, Grilled Vegetables, Potatoes, and Chocolate Blueberry Cake.
1st/1st 2015 Casas Del Bosque Carmenere, Valle de Rapel, Chile
6th/5th 2013 Oveja Negra Cabernet Franc Carmenere Rsv, Maule Vly Chile
5th/7th 2012Haras De Pirque Hussonet Cabernet Sauvignon Gran Rsv, Chile
4th tie/4th 2016 Padrillos Malbec, Mendoza, Argentina
2nd/6th 2015 Vaglio Aggie Tupungato Malbec, Mendoz, Argentina
4th tie/3rd 2014 Bianchi Leo-L10 Premium Malbec, Mendoza, Argentina
3rd/2 nd 2013 Clos d' Argentina Winemakers Selection Malbec, Mendoza, Argentina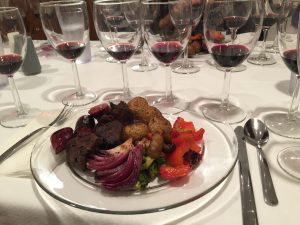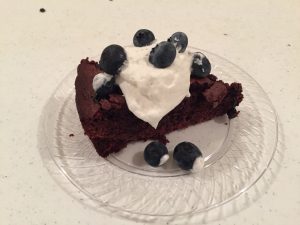 October 2017 Zinfandel… 20 years ago if you would have said that word most people would think of the light pink sweet wine called White Zinfandel. NOT ANYMORE! When you say Zinfandel it is the big bold juicy RED ZIN! So lets check some out this month! Zin is fruit forward, and very easy to drink. It goes great with everything from burgers, pizza, pasta with red sauce to chicken or steaks from the grill. It also pairs really well with BBQ.
3rd/5th 2015 Our Daily Zin Zinfandel, CA
5th Tie/4th 2015 Ravenswood Zen of Zin Old Vine Zinfandel, CA
6th/7th 2014 Lava Cap Reserve Eldorado Zinfandel, Sierra Foothills, CA
4th/3rd 2014 Three Wine Company Old Vines, Zinfandel, Contra Costa County, CA
2nd/2nd 2014 3 Ball Zinfandel, Paso Robles/Sonoma/Amador, CA
5th Tie/6th 2015 Chronic Cellars Dead Nuts Zinfandel, Paso Robles, CA
1st/1st 2015 Rombauer Napa Valley Zinfandel, Napa, CA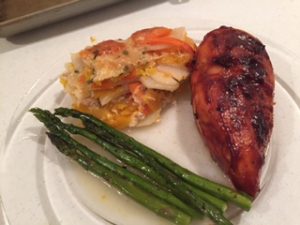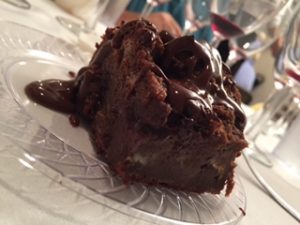 Mocha Cream Sauce Recipe:
1/4 cup sugar
1/4 cup unsweetened cocoa powder
1 teaspoon cornstarch
5 ounces evaporated milk
1/4 cup brewed espresso or coffee
2 tablespoons coffee liqueur or brewed espresso or coffee
In a small saucepan stir together sugar, cocoa powder, and cornstarch. Add evaporated milk, espresso, and liqueur. Cook and stir over medium heat until thickened and bubbly. Cook and stir for 2 minutes more. Serve immediately or chill before serving. Makes about 1 cup.
This will set up like a pudding, we rewarmed and added a slight amount more regular milk to make it pourable.
November 2017, It is hard to believe that Thanksgiving is almost here. Being in the wine industry this is literally the busiest holiday of the year. Bringing together family and friends for a day of sharing and giving thanks for all that we have. Most people will have turkey, some will have pork, salmon or ham for thanksgiving dinner. No matter what is on the menu, Pinot Noir is one of the most popular wines for this celebration. It is a little lighter red, that is less dry and easier to drink, it pairs well with a multitude of entrees.
2nd/4th 2016 Stoller Rose of Pinot Noir, Dundee Hills, Oregon
1st/1st 2013 PINO Pinot Noir, Oregon
6th/3rd 2014 Great Oregon Wine Co. Rascal Pinot Noir, Oregon
4th/7th 2014 Mt. Difficulty Roaring Meg Pinot Noir, Central Otago, New Zealand
5th Tie/2nd 2015 Hahn Pinot Noir, Monterey County, California
5th Tie/6th 2014 Landmark Overlook Pinot Noir, California
3rd/5th NV Vin Vault Pinot Noir, California
Herb Roasted Pork Loin w/ Chardonnay Herb Sauce, Wild Rice, Roasted Carrots and Cherry Spice Cake.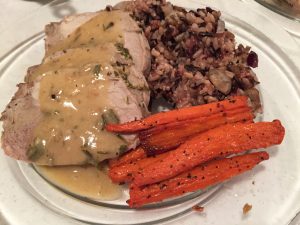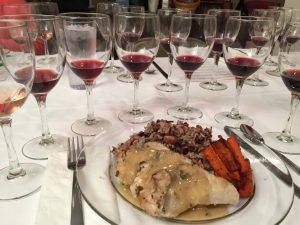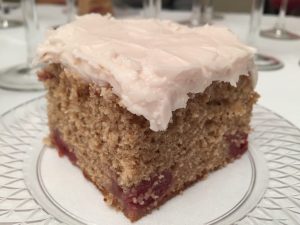 December 2017 Sparkling Tasting It is hard to believe another year has gone by and it is time to celebrate with great friends and family. Sparkling wine/Champagne can be enjoyed any time during the year, and as an apertif or with a meal. Sweeter Sparklings can be dessert in and of themselves. We will also enjoy a ruby and tawny port to add to the sweet ending of a great evening and year.
For dinner will have Grilled Chicken w/ Brocolli Cous Cous, however, before dinner we will have several appetizers: Butternut Squash Hummus, Crème de Brie Champagne & Crab Gratin, Spinach & Artichoke twists. After dinner we will enjoy Peach Crumble Pie, Raspberry Brie Bites, Tiramisu, Chocolate Cake with the sweeter sparklings & ports.
2nd/2nd/2nd Codorniu Anna Brut Rose Cava, Spain
5th/5th Tie/1st Mezza di Mezzacorona Extra Dry, Italy
1st/4th/4th Nicolas Feuillatte Brut Reserve, France
6th/5th Tie/5th Ruffino Rose, Italy
4th/1st/3rd Mondoro Asti, Italy
3rd/3rd/6th Blue Nun 24K Gold Sparkling, Germany
Croft Reserve Tawney Port, Portugal
Croft Ruby Port, Portugal
Pictures and recipe links will be posted soon.
Google+