In January 2014 we tasted the following Cabernet Sauvignon wines. I started this website after this tasting so I don't have all the info at my fingertips right now while I am on the road but here are the wines for a reference. We had Beef Wellinton, 5 cheese mac & cheese, roasted green beans & tomatoes and Esspresso Crinkles/Chocolate Icebox Cake
2010 Columbia Crest H3 Cabernet Sauvignon, Horse Heaven Hills, WA; 2010 Liberty School Cabernet Sauvignon, Paso Robles, CA; 2011 Dark Horse Cabernet Sauvignon, CA; 2010 Souverain North Coast Cabernet Sauvignon, CA; 2008 Atlas Peak Napa Valley Cabernet Sauvignon, CA; 2010 Paul Hobbs Crossbarn Napa Valley Cabernet Sauvignon, CA
In February we tasted Merlots. We had 3 Merlots from Washington State and 4 from California, the goal was to taste wines priced from $10 to $25. Following are the wines in the order they were tasted with notes as to which were favoites at the bottom of the list: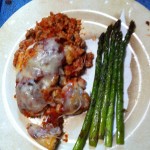 2011 Canoe Ridge Expedition Horse Heaven Hills Merlot, WA $ 2011 Columbia Crest Grand Estate Columbia Valley Merlot, WA $ 2012 14 Hands Columbia Valley Merlot, WA $ 2011 Liberty School Central Coast Merlot, CA $ 2010 Kenwood Sonoma County Merlot, CA $ 2011 Toasted Head California Merlot, CA $ 2011 Markham Napa Valley Merlot, CA $
In March we are tasting Shiraz as the Aussies call it, traditionally this would be known as Syrah. For this tasting however we are going to focus on Australia with one value outlier from California. So we have had one of the coldest winters on record here, and Shiraz is a great red wine to warm up a cold winter night. So what is the temp going to be today? Try 70 degrees and sunshine! Pair it with a little meatloaf and roasted garlic mashed potatoes and spring will be here soon. So here are the wines we are going to taste in March. Prices are approximate.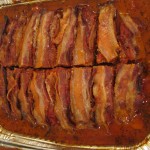 2010 Dandelion Lionheart Barossa Shiraz $25 6th/3rd 2011 Mt. Monster Limestone Coast Shiraz $19 7th/5th 2011 Yalumba Y Series Shiraz Viognier $15 3rd/4th 2011 Ravenswood Shiraz (CA) $12 2nd/7th 2012 Redbank Long Paddock Victoria Shiraz $15 4th/6th 2012 Lucky Country McLaren Vale Shiraz $20 5th/2nd 2012 Fish Eye Shiraz (3.0Lbox) $18 1st/1st
April is a transition month for those of us who are Monday night winos. We are finishing up with the reds and looking forward to the white wines. In the past we have done specific countries, but this year we are going to check out 1 winery that has just decided to bring their wines to Kansas. Row Eleven Wine Co. has several wines available, we are going to taste the following: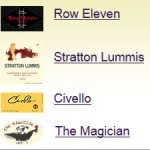 Civello (white blend) $12.99 1st/2nd Stratton Lummis Chardonnay $19.99 2nd/1st Row Eleven Russian River Valley Pinot Noir $31.99 4th/1st tie The Magician (red blend) $16.99 3rd/1st tie The Riddler (red blend) $21.99 1st/2nd Stratton Lummis Cabernet Sauvignon $26.99 2nd/3rd Here are some additional pics from Monday April 21,2014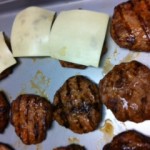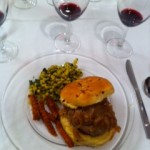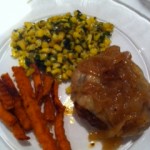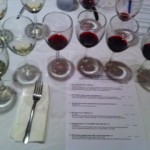 May starts our summer white wines! This month we are going to check out Chardonnay wines. Chardonnay has a long history and is predominately known as White Burgundy or Chablis in France. In America though we just call it Chard! We went thru a phase in the 80's and 90's with wineries competing to see who could have the most oaked Chard. Today we have gone in the opposite direction, many of the wineries are now producing an oaked and an 'unoaked' Chard. So we are going to check out both styles and see what we think. Here is the lineup for week 1 at least.
Unoaked: Dipinti Las Vis (Italy) $15 5th/1st Hedges Independent Producers Dionysus (WA) $16 7th tie/7th Mer Soleil Silver $28 4th/6th Hoopla $20 7th tie/didn't do Oaked: Angeline Reserve $16 2nd/3rd Black Stallion $21 3rd/5th Souverain $16 6th/4th Chateau Ste. Michelle Indian Wells (WA)$23 1st/2nd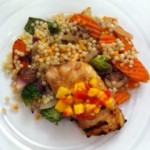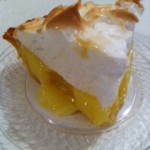 June, finally some warm weather! So with the sun shinning and the evenings perfect for patio dining we are going to look at Sauvignon Blanc wines this month. This is a great white wine for a warm evening, it has flavor characteristics that range from grass, lemon, grapefruit, gooseberry, passion fruit, jalapeno to name just a few! Here are the wines we will be tasting so get ready for a lot of flavor.
Hall Napa Valley, CA $26 5th/ Merry Edwards Russian River Valley, CA $47 2nd/2nd 900 Grapes Marlborough, NZ $18 3rd/ The Ned Marlborough, NZ $15 4th Tie/ Brancott Flight Song Marlborough, NZ $19 1st/1st Neil Ellis Sincerely Western Cape, SA $14 7th/didn't do Indaba Western Cape, SA $13 6th/ Mulderbosch Western Cape, SA $20 4th Tie/ Dinner for the evening was a butterflied chicken breast with roasted garlic & provolone rolled inside then grilled and finished on the grill with my homemade Basil Pesto, Wild Rice, Salad (below) and Key Lime Bars. Also pictured below Rolled Eggplant and the sheet of fresh off the grill chicken as Bill finished up grilling.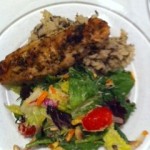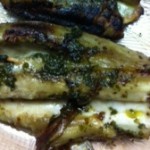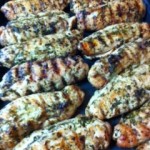 July brings on the heat, in more ways then one. We will be tasting Rieslings which are sweet but they are one of the best wines for spicy foods. So I did a test tonight and we are definitely doing Thai so you know what that means… heat! Don't worry even though there is some spice it hopefully will not be to much and there is some Riesling to tone it down.
Once I finalize the wines I will list them here but in the mean time here is a picture of dinner.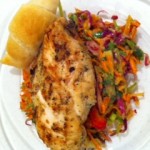 August Kessler R Riesling 2nd/2nd Starling Castle Riesling 1st/1st Elk Cove Estate Riesling 4th/6th Stonecap Riesling 6th/4th Mercer Canyons Gone Fishing Riesling 3rd/3rd Chateau St. Jean Riesling 5th/5th
August, is usually blistering hot and you want some white wine to chill out on the patio. This year in Kansas has been an anommoly, I probably just jinxed it! However, these wonderful 70 degree evenings have been perfect for white wine on the patio! So this, we are focusing on a couple varietals that you don't hear to much about, Chenin Blanc and Viognier. We are also having several white blends, which are wonderful. Put this with a little savory pulled pork, sweet potatoes, fresh green beans & tomatoes and Fresh Peach Cake with Vanilla Ice Cream for dessert. Can't get much better then that!!!
Ballentine Chenin Blanc 1st/5th Dry Creek Vineyard Chenin Blanc 2nd Tie/3rd McManis Viognier 3rd/2nd Tangent Viognier 5th/6th Fifty Shades White Silk 4th/4th Tie Market Vineyards Liquidity 6th/4th Tie Milestone White Blend 2nd Tie/1st
These wine were paired with Michael Chiarello's Forever Pulled Pork.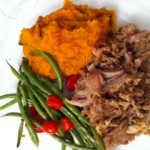 September, Just a quick note now, I will update with more soon. Here are the wines! So this month went by so fast, we usually taste wines from Argentina primarily Malbecs in September and this month was no different. We had a great line up and week over week a lot of agreement as you can see below.
2013 Alamos Torrontes 1st/1st 2012 Callia Alta Torrontes 3rd/3rd 2012 Bodini Chardonnay 2nd/2nd 2012 Alamos Malbec 1st/2nd 2012 Zuccardi Serie A Malbec 5th/5th 2012 Bodega Caro Aruma 4th/4th 2011 Ca'de Calle Reserve Red 2nd/3rd 2012 Alberti la Mano Dercha Rsv 3rd/1st Cabernet Sauvignon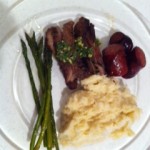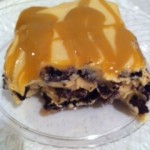 Dinner for this tasting was Grilled Beef Tenderloin with Chimichuri, Grilled Smoked Beef Sausage, Roasted Asparagus & Roasted Garlic Mashed Potatoes. For dessert I made my own version of a Chocotorta go to the recipe page of my site to see the recipe for this.
October is Zinfandel month, not necessarily super dry but enough body and brambly, cobblery juice and pepper to warm us up on those cool fall evenings by the BBQ, Burgers or Pizza.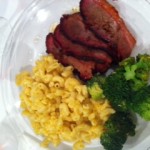 Acre Zinfandel 1st/2nd Bogle Old Vine Zinfandel 2nd/4th Candor Lot 5 Zinfandel 4th/1st Eberle Estate Zinfandel 6th/6th Predator Old Vine Zinfandel 5th/3rd Rodney Strong Knotty Vine Zinfandel 3rd/5th
We paired these zinfandels with BBQ Beef Brisket, Ultimate Mac & Cheese, Steamed Broccoli.
November brings families together for Thanksgiving. This month we will focus on Pinot Noir and also highlight a couple whites (Pinot Grigio, Gewurztraminer). Pinot Noir is technically the varietal of what we know as a Red Burgundy. Burgundy is considered one of the greatest wines in the world and can age for decades. Pinot Noir, is a lighter red that is typically not as dry as other red wines and can pair well with Salmon, Pork, Beef, and YES Turkey. This month we will Try the following wines, and pair them with a Roasted Herb Pork Loin, Butternut Squash Risotto, Green Beans & Pumpkin Spice Layer Cake.
Fetzer Gewurztraminer 1st/1st tie/1st/1st Ecco Domani Pinot Grigio 2nd/1st tie/2nd/3rd Riff Pinot Grigio 3rd/2nd/3rd/2nd Castle Rock Willamette Valley Pinot Noir 1st/3rd/2nd/4th Liberty School Central Coast Pinot Noir 2nd/1st/1st/1st Schug Carneros Pinot Noir 3rd/4th/4th/2nd Figge Pelio Vineyard Pinot Noir 4th/2nd/3rd/2nd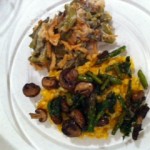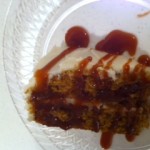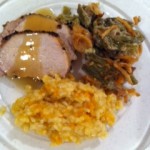 December 2014 it is amazing to me how fast time seems to fly by. I remember being a child and thinking that it would take forever to get out of school, or for Christmas to come again next year. So this month we are focusing on dessert! Most of us don't usually take time to have dessert wine, but it really is a nice finish to a nice dinner or a long day. This month we tasted the following dessert wines:
Pacific Rim Riesling Dessert Wine 1st/3rd/2nd NxNW Riesling Dessert Wine 1st/4th/1st Hardy's Whiskers Tawney Port 2nd/1st/5th Graham's Six Grapes Reserve Ruby Port 1st/6th/3rd Terra d'Oro Zinfandel Port 4th/5th/4th Bogle Petite Sirah Port 3rd/2nd/6th
Theses were paired with the following desserts: Tiramisu, Caramel Cinnamon Apple Crostota, Chocolate Tart with Chocolate Ganache, Crumb Cake with Holiday Jam, Creme Brulee Cake, Cheesecake, Chocolate Cupcakes w/ Salted Caramel Frosting, Pecan Pie Bars, Brownie Bites, Sweet Almond Florentines, Blue Cheese. For dinner we had Grilled Salmon with Wild Rice and Roasted Asparagus and wine from the cellar.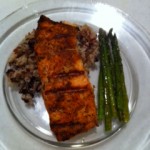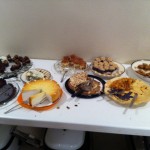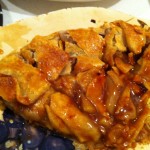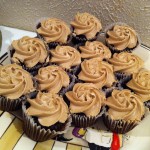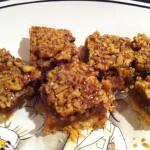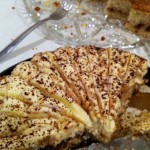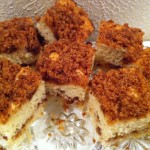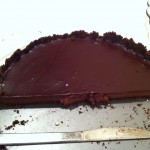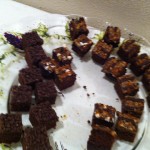 Just a few desserts!
Google+