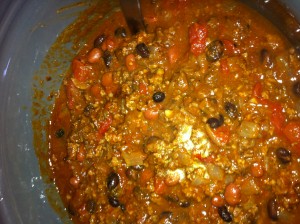 So as Halloween approached this year, it looked like it was going to be cold and rainy. The first thing that came to mind was Chili! So I got all the ingredients together and put it on around 1pm so it would be ready for dinner. We had a bottle of Cryptic Red Wine that we had opened 2 days ago and vacu-vinned so it was still fresh. This is a great medium bodied red that had huge blackberry on the nose and triple berry on the palate, low tannins so it was very smooth and not very dry on the finish. All this made for a warm and spooky dinner as we passed out candy to the goblins, ghouls and nerds!
Ingredients
2 Tblsp Canola Oil
2# 90% Lean Ground Beef
1 Onion diced
1 15oz can Petite Diced Tomatoes
1 15oz can Fire Roasted Tomatoes
1 15oz can Bush's Black Beans drained & rinsed
1 6oz can Tomato Paste
1 15oz can Beef Broth
1 Tblsp Chili Powder
2 tsp ground Cumin
2 tsp ground Oregano
1 tsp Red Pepper Flakes
1/4 tsp Cayenne Pepper ground
Instructions
Get Crock Pot out and ready.
In a large skillet heat oil and add ground beef cooking until browned.
Add diced onion and continue to heat a couple minutes to warm onions.
Pour beef and onion mix into crock pot, and add rest of the ingredients to crock pot stirring as you go to make sure everything is mixed in well.
Cover and cook on 250-300 degrees for 4 hours stirring occasionally. If crock pot only has hi/low do high for 2 -3 hours then low.
Notes
I make sure that I use low sodium beans, tomatoes, broth if at all possible. I did use a little salt and pepper to season beef as I cooked it but other then that no additional s&p added.
http://lifewithwineandfood.com/chili-cryptic-for-cold-halloween-night/
Google+